Sarah Rasby starts her Wednesday night yoga class with ambient music, dim lights and candles to create a peaceful atmosphere. She then leads her students through a number of stretches, and then into a meditative, sleep-like state.
Rasby, a yoga instructor at Lincoln's Lotus House of Yoga, said she understands the stresses of college life. As an outlet for burdened students, she offers free, hour-long yoga sessions on Wednesday nights in the Knoll Residential Center.
Rasby's friend and director of the University Honors Program Patrice McMahon first mentioned the idea of starting yoga for students on campus.
"We were just kind of talking about the program here and probably the need for some more mindfulness practices, and I said I would love to come share what I know with the students," Rabsy said. "We just kind of did a Q&A, and I came for one session ... It got a really great response from everybody." 
Rasby said she likes to make her practice space as calming as possible to allow her students to truly relax and open up their minds to think clearly.
"It basically allows you to find more space in your mind that's less clutter and just more space to be present, to be in touch with your emotions and your feelings but not get attached to them," she said. "Literally being in tune with your breath is probably the most powerful part, so I love that connection that it gives to your body."
Her students said they feel calm when they attend Rasby's yoga sessions and feel their stress melt off of them as they go through the motions.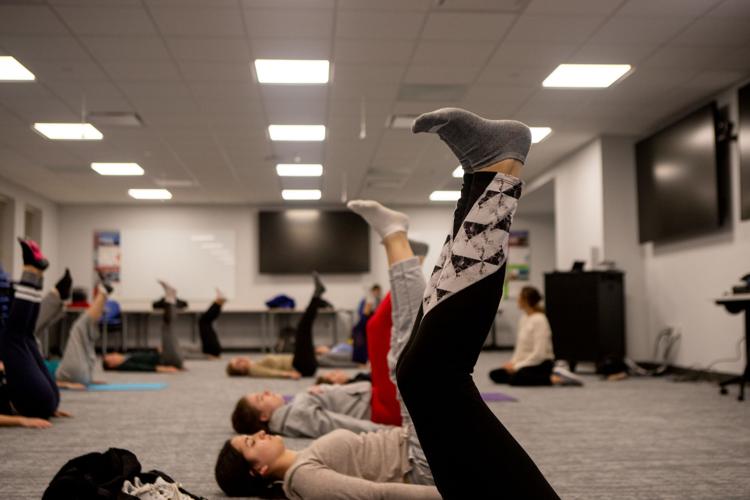 "I like coming because I think it's very relaxing, and I know that after a long day, this is a really good opportunity to relax and destress," Josephine Sandoval, a junior actuarial science major and a regular in Rasby's class, said. "I actually do homework after this, and when I do my homework, I find myself being very relaxed, and it's very easy to focus."
Rasby said she started practicing yoga when she was in college and looking for a good way to relax from the complexities of college life. She wanted something that would keep her grounded, but with a little bit of movement from the body, and that's when she discovered yoga.
"I got a yoga DVD I saw in a magazine, and I would do yoga in the basement of my sorority house," she said. "I instantly remembered feeling like this kind of energy across me, and I just felt instantly better afterwards, and I thought, 'There is something to this.'"
Driven by the change she saw in her own life, Rasby said she decided to start teaching yoga in hopes that it might help others the same way it helped her. 
Through her class at Knoll, Rasby echoes these same intentions of helping college students find the relief she did. 
"I saw the impact it had on my life," Rasby said. "At the end of college, I got really depressed, and it was what brought me back to a sense of stability and back to a sense of purpose and joy. It helped me heal, and I want to help others do that."
Rasby said she hopes students will find peace through yoga and will continue on with it as an outlet to channel the stress and worries of college.
"I hope that they will take away just the lesson or the notion that they can relax, that they can help find something that will calm their mind and make them feel more confident," she said. "It's something that is very accessible to anybody, and there is not a right or wrong way to do it."