Marco Barker, the vice chancellor of the Office of Diversity and Inclusion at the University of Nebraska-Lincoln, never has time to take a lunch.
Tuesday, Feb. 11, was a pleasant exception.
"Oh, that's a lie," Jerri Harner, Barker's executive assistant, said about Barker's scheduled afternoon break. "He never takes a lunch."
Barker, who had three meetings that day, attributes his busy schedule to being new to the position and trying to find his footing at the university.
He started as the vice chancellor on April 1, 2019, after previously holding diversity roles at Westminster College, the University of North Carolina at Chapel Hill and Louisiana University. That Tuesday morning, he reflected on his inaugural year in office.
Since he is new to the university, he wanted to use this first year to acclimate and see how the campus operated. He described this past year in office as a lot of listening. While he knows people are anxiously awaiting action regarding diversity and inclusivity, he said he needs to take time to learn about the university and hear from different people.
"My job is both how we shape policy and getting the right people in the room, which takes a lot of relationship-building," Barker said. "I'm still learning how we celebrate [national heritage months] here, and I do think there is an opportunity for us to better highlight and elevate those."
He started his day at 9:30 a.m., going straight into his office to get settled before getting his photo taken for The Daily Nebraskan and breaking down the rest of the day, week and even month with Harner. Barker had just returned from a work trip out of town and said it was customary for him and Harner to start the week off with a rundown of his meeting schedule.
The first was with the Department Executive Officers on East Campus, held in a conference room in Massengale Residential Center, where Barker made a presentation to the department heads about making diversity and inclusion tangible focuses in their departments. The meeting was casual, with a nacho bar provided for lunch.
Barker presented a graphic depicting the Big Ten Conference schools and where each ranked in terms of diversity. Nebraska was ranked second to last.
While Barker admitted the university faces some geographical barriers in that regard, he joked that it should at least be beating the University of Iowa, which was two places above Nebraska on the chart. Barker told the department heads that he may not know the individual barriers they face in making diversity and inclusive excellence a priority, but he was there to help. 
"I recognize that [centralizing diversity initiatives] is somewhat new to our campus," Barker said at the workshop. "My hope is that whether you're in finance or the College of Business, we're able to come back and say, 'Wow, these colleges are really thinking about education and scholarship as it pertains to diversity in their own way.'"
After a quick break, Barker was back to another meeting at Varner Hall on East Campus. This meeting was more of a brainstorming session, where he met with Judy Walker, associate vice chancellor for Faculty and Academic Affairs, and Stancia Whitcomb Jenkins, associate to the president of the University of Nebraska and assistant vice president for Diversity, Access and Inclusion. Together, they talked about the logistics of making the tenure track at the university more inclusive.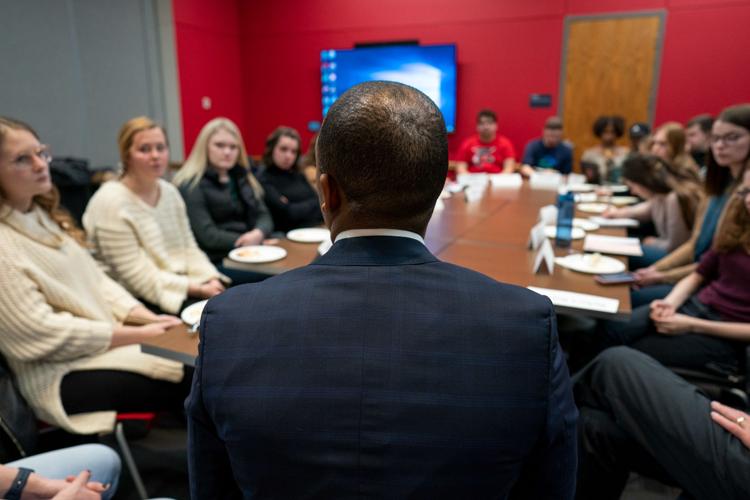 Later in his office, Barker compared the tenure track to a plane flight. Some identities, he said, can face more challenges on the path to tenure.
"Often women, people of color and other underrepresented identities can face headwinds and don't move along that pathway [of tenure] at the same rate as some white faculty or male faculty," he said.
Between meetings, Barker had what he calls his "desk time," where he catches up on emails and other tasks. On this day in particular, Barker logged his work trip receipts with the assistance of Harner.
The last meeting of the day was at 6 p.m. with the Executive Vice Chancellor's Student Advisory Board over dinner in the Nebraska Union. The board meets a few times a year, and they requested Barker attend this meeting to learn about his position and vision for the university, as well as to voice their concerns to him.
Bouthaina Ibrahim, a freshman journalism major, shared a story of a guest speaker using the N-word in one of her first semester classes, and how she was unsatisfied with the way her professor handled the situation.
She, and others, wanted to know what was being done to regulate behavior like this in the classroom. Barker said he understood it was tough for students in this situation, where an occurrence is not specifically a compliance violation but still makes them uncomfortable. He said the university is looking at models of communication between students and administration to ensure everyone is having an inclusive experience in the classroom. He also said he noticed this lack of communication when he first arrived at UNL.
"We need to ask if we, as an institution, have provided you with the outlets to address these sorts of issues," Barker responded. "We've not created a clear mechanism for how we hear about those experiences."
In Barker's eyes, everybody impacts diversity and inclusion.
"Each and every one of us contributes to [diversity on campus]," he said.
At the end of the day, Barker came back to his airplane simile, this time pulling privilege into the conversation. Though he said privilege can be misconstrued as shame, he sees it as a way to give voice to others.
"In life, understanding that because of our own experiences, we've all probably had different types of headwinds and tailwinds," he said. "Being able to recognize if we've been fortunate enough to have tailwinds doesn't mean that it's bad, it just means you've had opportunities."
As Barker and his office look toward the future, he said he hopes all students, faculty and staff can self-reflect by asking themselves if every type of person can thrive in the environment they are creating at the university.
"I would ask everyone to really dig deep and think about as a core value, do we as a community believe that every single person should belong at Nebraska?" he concluded. "Our state motto is 'The Good Life,' and I really hope that Nebraska can really believe in everyone being able to have a good life here."
This article is part of a series on diversity. For the complete list, read the introduction.