As part of our Curious Cornhuskers initiative, an anonymous reader asked The Daily Nebraskan, "Who's responsible for the little cat houses across campus?"
The 13 cat houses spread around City Campus are maintained by Husker Cats, a nonprofit volunteer group of faculty, staff, students and community members dedicated to stabilizing the population of feral cats on campus, according to Jill Flagel, director of Faculty/Staff Disability Services and Husker Cats volunteer.
Flagel said the houses are designed to be safe, protected and covered areas for the cats' food and water but are not designed to serve as shelter for the felines.
"It's just a matter of keeping that organized, and so we have a place where the food is stored and someone can go in and then feed them and take care of the cats," she said.
Since 2008, Husker Cats has reduced the number of feral cats on campus and provided vaccinations, shots and healthcare for the felines through the help of local veterinarians. The volunteers have also worked to keep the colonies on campus healthy, both for the safety of the UNL community and for the cats themselves, Flagel said.
The organization runs on private donations and minimal funding from UNL through a memorandum of understanding, including the fact that houses are not on Innovation Campus or East Campus.
"This is kind of like their own community," J.S. Engebretson, communications and marketing manager in the College of Engineering, said. "If you live in a neighborhood, you want to make sure that everyone in the neighborhood is doing okay, so it's an important thing to do."
According to Flagel, the volunteers work out a feeding schedule and feed the cats each morning with the intention that the feeding stations will be empty come nightfall and not turn into a food source for raccoons.
"They know when [they're] going to get fed, and so that's the expectation," Engebretson said. "We want to make sure it's as regular and dependable as possible, so rain or shine, snow, whatever, it's time for them to get their food, our volunteers will be out there."
Engebretson said volunteers also clean and take care of the houses when need be, such as when snow piles up.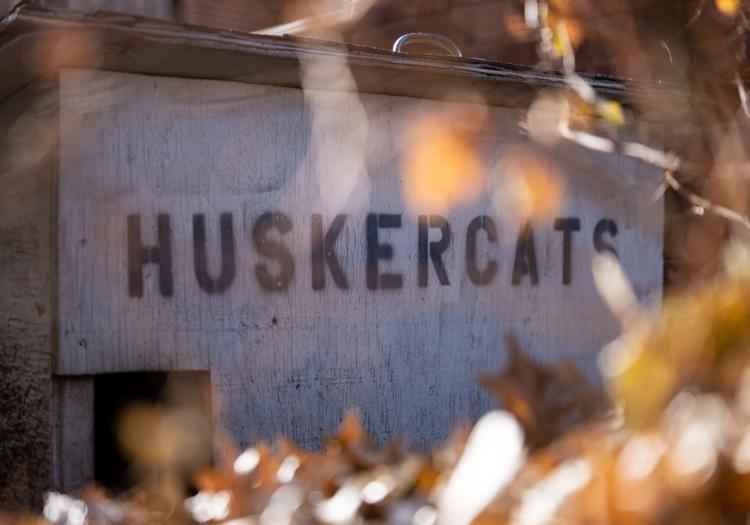 During the cold winter weather, Flagel said the cats have enough of a wild instinct to seek out areas to stay warm and create territories around campus.
"They're very savvy," she said. "As much as it pains me to know they're out there when it's really cold out … we also know they've got places they can go."
Neither Engebretson nor Flagel are Husker Cats feeders, but Engebretson said she has done some writing for the organization and utilized her communication skills to help members meet with media. Each week she also volunteers at The Cat House in Lincoln, a no-kill shelter which Flagel said is a valuable partner and friend of Husker Cats.
"Feral cats are always going to be kind of something out there, and they can be a challenge," Engebretson said. "If you can create a safe and healthy environment for them, you basically create this community that you can monitor, and you can make sure that this population is stable."
For 11 years, Husker Cats has worked to stabilize the feral cat population at UNL through a Trap-Neuter-Return-Monitor program. If the population is not monitored, the situation could grow into a worse issue, with repopulation causing more cats and more health concerns, Engebretson said. 
If the cats are removed from campus, they may be hurt or killed trying to return to their territories, Engebretson said. They would also leave a hole on campus for other, unhealthy cats to come in.
"There will be a vacuum, so new cats will come in, and now we've kind of got that population that hasn't been vaccinated, they haven't been spayed or neutered, now we've got kittens," she said.
By having a manageable, monitored population on campus, the Husker Cats volunteers can always be aware of when a new cat may arrive to campus and the organization is able to jump in, Flagel said.
She said people have dropped off cats or kittens on campus in the past but, because they are usually domesticated and used to human contact or have health issues, Husker Cats will step in and help find a home for the cat.
Flagel said Husker Cats is always looking for volunteers and donations. Those interested, she said, can go to the Husker Cats website or Facebook page to get involved.
"One of the most important things is that [Husker Cats] is done in a way to make our campus a better place," Flagel said. "It's not that we're all crazy cat people, it's because we really care about the health of the animals and because they're going to be here … on campus, no matter what."