A couple stands at the corner of South 29th and O streets, switching directions frequently to face the flow of traffic. 
With gloved hands and zipped coats, the couple and their daughter flag down cars with a sign that reads, "HAND SANITIZER FREE TO ELDERS (LIMIT 1)." The woman excitedly points at a table displaying neat rows of travel-sized hand sanitizers and stacks of packaged toilet paper. A car pulls into the parking lot, and the woman delivers the items through a cracked window. 
Vernon Blackeyes, from the Pine Ridge Reservation, and his girlfriend Sara Anderson, from the Omaha Reservation, spent this past week providing for Lincoln's elderly population. As the number of COVID-19 cases nationally increases, so does the demand for essentials like toilet paper and hand sanitizer.
Shelves of stores can be found empty as retailers have a difficult time keeping up with the public's demand. The couple spent hours visiting stores all over Lincoln this past weekend and even drove to nearby small towns, like Wymore and Beatrice, to find hand sanitizer and toilet paper.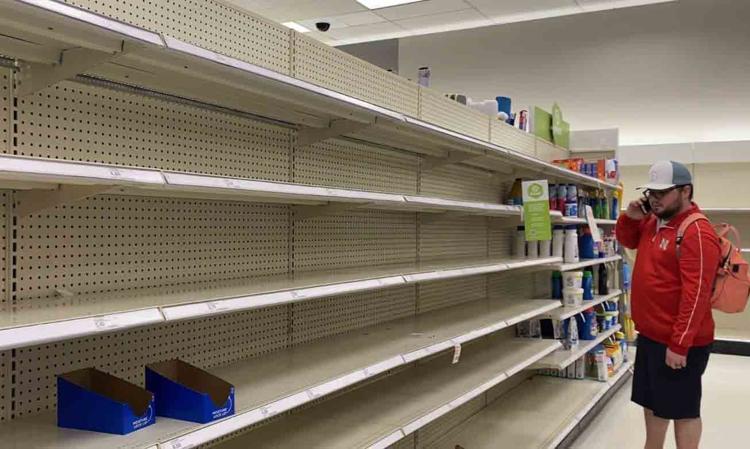 The difficulty of the task reinforced Blackeyes' determination to give away the items.
"If I can't find it, they can't either," he said. 
It was a stranger's compassion at a Goodwill that inspired Blackeyes to distribute hand sanitizer and toilet paper to Lincoln's elderly community. 
Blackeyes and Anderson were standing at the register of Goodwill, gathering money to pay the remainder of their total, when an older woman standing in line behind them offered to help pay. The couple turned down the offer since they had enough money to cover the bill. However, Blackeyes gave the woman a small bottle of hand sanitizer as a thank you for offering to pay. 
"Her eyes lit up," he said. "It was in that moment that I wanted to hand them out for free. I mean, [the elderly] are the most vulnerable."
Anderson said she hopes to be an example to her and Blackeyes' two daughters, a 2-year-old and a newborn. The couple also takes care of Anderson's mother, who has chronic obstructive pulmonary disease and diabetes.
"That's one of our teachings as Native American people: our elders are special to us. You never overlook them because those are the hands that raised you," she said. "Those are the wise ones. They are why we're here."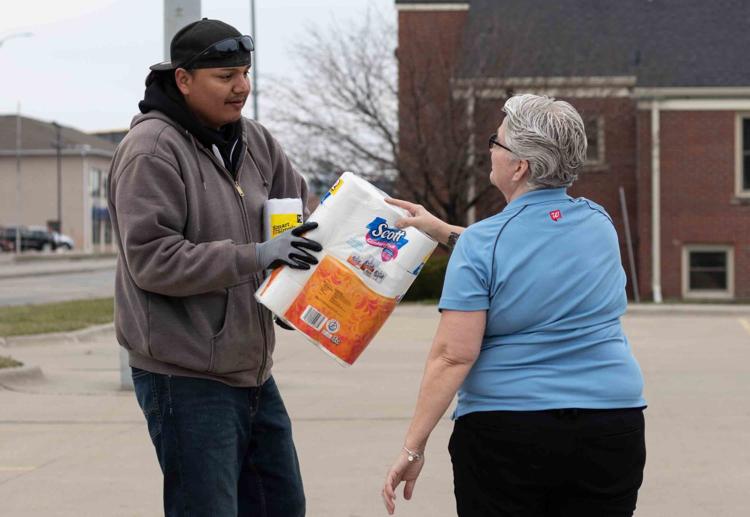 Theresa Nance said Facebook posts highlighting Blackeyes' efforts and compassion inspired her. She stopped by the couple's corner spot Sunday, March 15, to thank them and donate toilet paper to their effort.
Nance, who has been working at Walgreens for 20 years, said she's noticed a change in the empty shelves and in customer's panicked attitudes. 
"Our shelves are empty," she said. "As soon as we put it on the shelves, it's gone, and then they're mad at us because it won't be back until Sunday."
Richard Wittman, a Lincoln resident who visited the couple to receive the supplies, was also moved. 
"It's nice to have somebody looking out for somebody because it's not often that people consider other people," he said, "I'm disabled — I got in a car accident a couple of years ago and haven't been able to work. So this helps out a lot." 
The couple said they hope to inspire others to be considerate and give back.
"Just be kind, look out for your elders, look out for each other," Anderson said. "Set that example for your kids."