On Wednesday, civil rights activist Ruby Bridges visited the University of Nebraska-Lincoln to remind people that the ethical fight between good and evil — right and wrong — that Martin Luther King Jr. fought is an ongoing battle.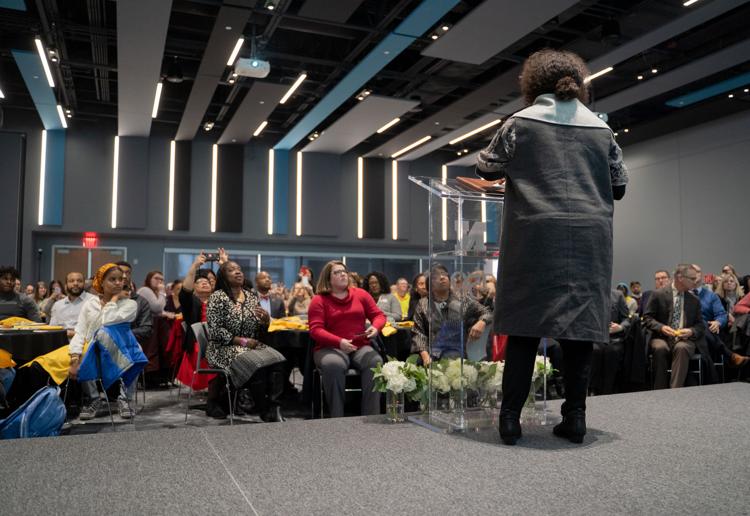 Bridges was only six years old when she became the first black child to integrate an all-white school in New Orleans. She said she experienced a lot of evil throughout her life, such as the murder of her eldest son and how she was treated when she went to the first grade. Although she believes anyone can be evil, she also thinks people can be good and rise above. So, she urged attendees to follow in King's footsteps, carry out justice and do what they can to fight for equality. 
"We shouldn't just admire Dr. King, but follow his lead," Bridges said. "Not just remember him on one day of the year, but let our actions honor him every day of the year."
Bridges said she learned King's message to judge by the content of someone's character instead of the color of their skin from her first grade teacher, Barbara Henry. 
Every white teacher in the school had refused to teach Bridges, except for Henry, and Bridges  became her only student for the 1960-61 school year as parents withdrew their children from the school, according to a handout at the event. 
"I remember looking around her into the classroom and all I saw was empty desks and I then thought, 'My mom has brought me to school too early,'" Bridges said. "And indeed, we were too early — years too early."
For an entire year, Henry taught her only student everything she needed to know in the first grade. The two read stories, created art and music, and Bridges grew to love going to school.
"I knew that if I just got past the crowd and inside of the building, in my classroom, I was going to have a good day," she said. "Mrs. Henry made sure of that."
Neither Bridges nor Henry missed a day of school, and Bridges said they were there for each other each step of the way.
Bridges realized she could not judge Henry on whether she was good or evil just by her looking at her. She said the fight between good and evil will only be won if people put their differences aside and strive to be good.
"If we are going to win this fight, we have to unite," Bridges said. "We have to stand up for good and be accounted for and not let evil win."
Today, she said she still doesn't understand why that isn't a reality, as she learned the message with her ABCs.
"I realized very early on, [Henry] looks exactly like [the protestors] outside, but she's nothing like them," Bridges said. "She's not like them at all. She showed me her heart and I knew that at six years old, she cared about me."
Nkenge Friday, assistant vice chancellor of diversity and inclusion, said though Bridges is thought of as a part of history, she is proof of a "living, breathing history" that demonstrates the improvements since the civil rights movement. Friday said despite that progress, there is still "quite a ways to go."
Almost 60 years after people yelled racial slurs at her for going to school, she said people have to come together and use their power because collectively, change will come.
"Red, yellow, brown, black or white, all of us are a part of this great American quilt," she said. "Seek, come, work, together. The answer is love."