A candlelight vigil to honor survivors of sexual assault was held Monday evening on the steps of the University of Nebraska-Lincoln's Broyhill Fountain outside the Nebraska Union. Following the vigil, participants marched silently through UNL's campus, holding signs calling for an end to sexual assault on campus.
The vigil resumed nightly protests at 8 p.m. Monday almost a week after a reported sexual assault at the Phi Gamma Delta fraternity, commonly known as FIJI. 
Late Sunday night, the Sigma Chi fraternity self reported an alleged sexual assault that occurred on its property between Thursday and Friday. The fraternity announced it on social media, issued a self suspension and removed a member in connection to the incident.
Hundreds of people gathered in the area and lit each others' candles, holding them throughout speeches before placing them on the steps of the union during a moment of silence in solidarity with survivors of sexual violence.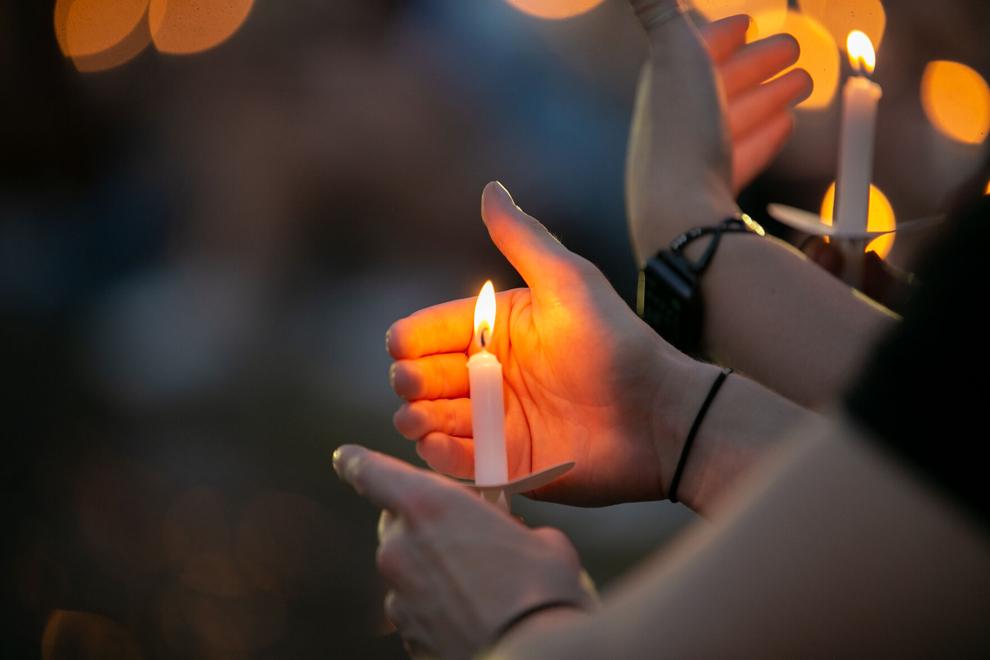 Sheryl Mason was one of the many survivors who shared their stories. She said she remained silent for 33 years after being raped during her first few days on campus in 1988, not telling her mother about the incident until the day of the vigil.
"You don't want to have your daughter standing up here 33 years later and talking about the rape," Mason said. "You don't want to be me telling your mother 33 years later that you were raped at UNL campus where you were supposed to be safe." 
She said almost nothing has changed in those 33 years, but one thing has: students are speaking out.
"We need to start to reverse the rape culture in the fraternity system," Mason said. "And while demands for change can come from us, they can come from outside that system, where it really needs to happen is inside the system."
She called out fraternities for their very design, which she said has allowed assaults and rapes to continue. Mason also told fraternity members they must be part of the change, too.
Rhetoric also expanded to include the intersectionality of indigenous people and sexual violence, focusing on missing and murdered indigenous women.
Renee Sans Souci, a Native educator and activist, detailed how true change must incorporate the history of the land and what it means moving forward. A member of the Omaha Tribe, she said her tribe was self-sustaining until killings and smallpox reduced the tribe from thousands upon thousands to just around one thousand in about four years.
"It impacts you for generations to come; we never recovered," Sans Souci said. "But to know this history is to know what happened to women and children."
Women and children were among the first targeted by colonists, she said, which has continued centuries after. 
Sans Souci recounted growing up in Lincoln, how she was abducted and how people on R Street would slow down and attempt to solicit her. This, she said, is not a new phenomenon, is not going away and will not be resolved overnight.
"It's something for you to take upon yourselves to learn, to understand," she said. "To understand the violence, the rapes, the ongoing continuation, the exploitation of our land, of Mother Earth, because the land is connected to us. You can't separate us from the land."
Around 10 p.m., students retrieved candles from the steps of the union and silently lined up before walking down Greek row. Students watched through Greek house windows, the 50-50s and University Suites as marchers passed. 
The march this evening was silent, lacking the characteristic chanting from previous nights. Protestors held signs with phrases including, "Rape is everyone's issue," "Stop protecting abusers" and "How many more?"
"We need to emphasize that even though we can be loud and radical, sometimes the survivors who aren't out here are still being silenced at home," community activist Dominique Liu-Sang said. "It was a way to show solidarity with those survivors who aren't out here."
The Association of Students of the University of Nebraska President Batool Ibrahim said she was proud of UNL students for demanding change, describing sexual assault as a major issue plaguing campuses nationwide. 
"It's an epidemic that has been happening across college systems throughout the United States," Ibrahim said. "But it was UNL. It was the UNL student body that organized it. It was the UNL student body that protested it. It was the UNL student body that truly uplifted survivors on our campus and their needs. It was UNL." 
Ibrahim highlighted ASUN's work in trying to create an emergency fund that would be made available to assist students in purchasing new bedding, sheets and other items. She said ASUN's executive team is working on ways to make campus more inclusive for survivors of sexual violence. 
"It's been so powerful to see you all organize, and I'm honored to serve you all," Ibrahim said. 
Students will gather Tuesday night at 10 p.m., Liu-Sang said, to consolidate demands for the university. On Wednesday, the group will host a sit-in at Canfield Administration Building from 2:30-5:30 p.m. 
"We're gonna push a lot of boundaries, we're gonna push a lot of barriers, and [Chancellor Ronnie Green] needs to stop hiding in his office, and he actually needs to come out and make some real change," Liu-Sang said.
There will alo be a discussion on how the community will respond to new sexual assault allegations on campus. 
"While people are giving Sigma Chi praise for making that [Instagram] post and like airing out their allegations, the fact that it happened not even a month later but barely a week later, on the same campus and the fact that the university still has not made change ... and Sigma Chi being another whole fraternity only a mere two to three blocks away shows that this isn't just a FIJI issue," Liu-Sang said. "This is the Greek system as a whole."
She said UNL must do away with Greek life and replace it.
"You cannot fix leaky pipes with duct tape," Liu-Sang said. "You have to replace the whole system. You have to replace everything about it."
For the first time during the protests, she also shared her story of being sexually assaulted by a close friend. 
Liu-Sang said she and protesters understand due process, as Green and university administrators have said will be upheld, but that does not change the severity of the issue. She asked who is truly there to protect the campus if it's not administration, UNL Police Department or Green.
"At this point, any organization that is on campus that hasn't been a proponent of that change, they are performative, and we don't do performative," Liu-Sang said. "Us students, we will not allow performative or reactionary actions to be the fall of this movement because this is more than Me Too. It's Us Too."
If you or someone you know is a survivor of sexual assault or violence, you can reach out to UNL's Center for Advocacy, Response and Education at victimadvocate@unl.edu, Institutional Equity and Compliance at 402.472.3417 or Counseling and Psychological Services at 402.472.7450 for additional resources.
Nick McConnell contributed to the reporting of this article.
This article was updated on Aug. 31, 2021, at 7:38 a.m. to clarify attribution regarding future protests.