A protest focused on removing the Phi Gamma Delta fraternity from the University of Nebraska-Lincoln's campus escalated and changed tone shortly after midnight Saturday amid reports of a Black man allegedly being tased by a Lincoln Police Department officer in downtown Lincoln. 
The protest began around 10 p.m. Friday as students and community members gathered on the steps of the Nebraska Union for the fourth consecutive night.
Shortly after 11 p.m., protesters marched from the union to O Street between Centennial Mall and 14th streets to call for the fraternity — commonly referred to as FIJI — to be removed from campus and for UNL to reform its handling of sexual assault cases. Some patrons coming and going from downtown Lincoln bars on the busy Friday night at the end of the first week of school and the night before the Huskers' opening away game cheered for the protesters, and some were absorbed into the crowd.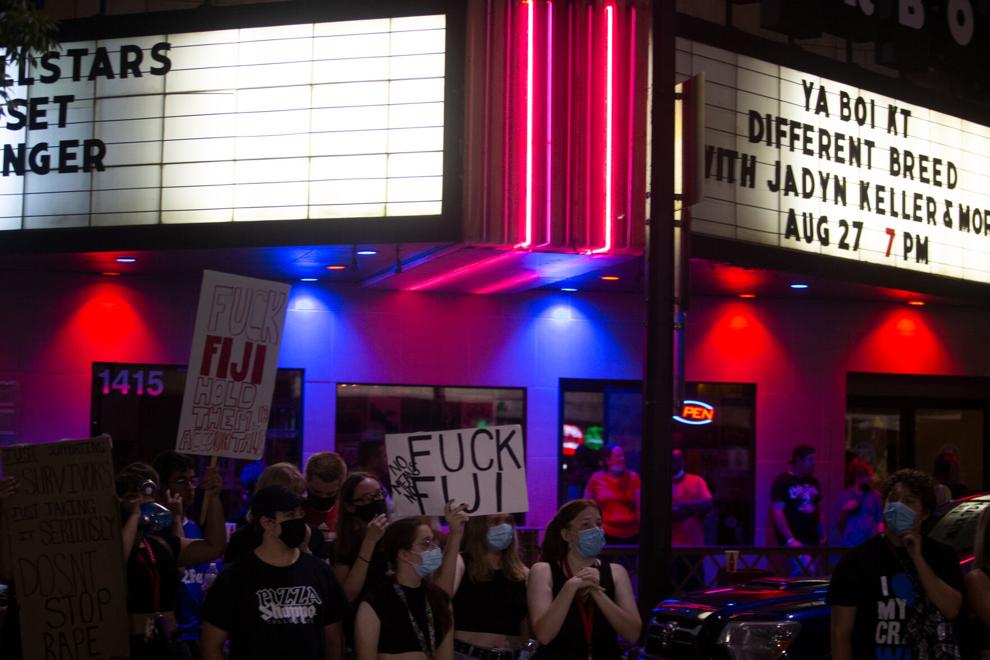 The crowd zig zagged and wrapped around the block of bars on O Street, creating human barriers for both intersections, chanting, "Abolish FIJI" and demanding justice for survivors of sexual assault.
"One, we are the people; two, say it louder; three, we want justice for survivors," protesters shouted, their words echoing through the high rises and parking garages of downtown Lincoln.
As the crowd returned to the Nebraska Union to hear from a few speakers, organizers obtained a video of the reported tasing incident and immediately directed the protesters back to O Street. Amid shouting of "No justice, no peace" and "Black Lives Matter," police were beginning to leave the scene. Protesters surrounded the vehicles and shouted at officers for several minutes. 
Around a dozen police cars were lined up in the adjacent street, lights flashing and officers in their vehicles. As the vehicles backed up, officers stepped outside to join colleagues and forcibly direct protesters from the vehicles' path. Protesters hurled swears at officers and face-to-face confrontations occurred as tensions rose.
In an emailed report around noon Saturday, Erin Spilker, public information officer for the Lincoln Police Department said Reuben Nyakundi, 27, was stopped for a red light violation and refused to provide identification or paperwork for the vehicle. After several requests to provide identification or paperwork, the officer asked Nyakundi to exit the vehicle so he could be identified, but Spilker said he refused. 
The officer attempted to take him into custody and requested backup, Spilker said.
Spilker said Nyakundi kicked the officer in the thighs and stomach and punched him in the eye. The officer then employed a taser "due to the aggressiveness and danger presented during the struggle," Spilker said. As a precaution and per LPD policy, Nyakundi was treated at a local area hospital and released, Spilker said.
Nyakundi was arrested for 3rd Degree Assault on a Police Officer, Obstructing a Police Officer, Resisting Arrest and Disobeying a Traffic Stop, according to Spilker. The officer sustained bruising and swelling but did not require medical treatment.
LPD Capt. Ben Miller told The Daily Nebraskan around 2 a.m. Saturday that there were children in the car who were turned over to family.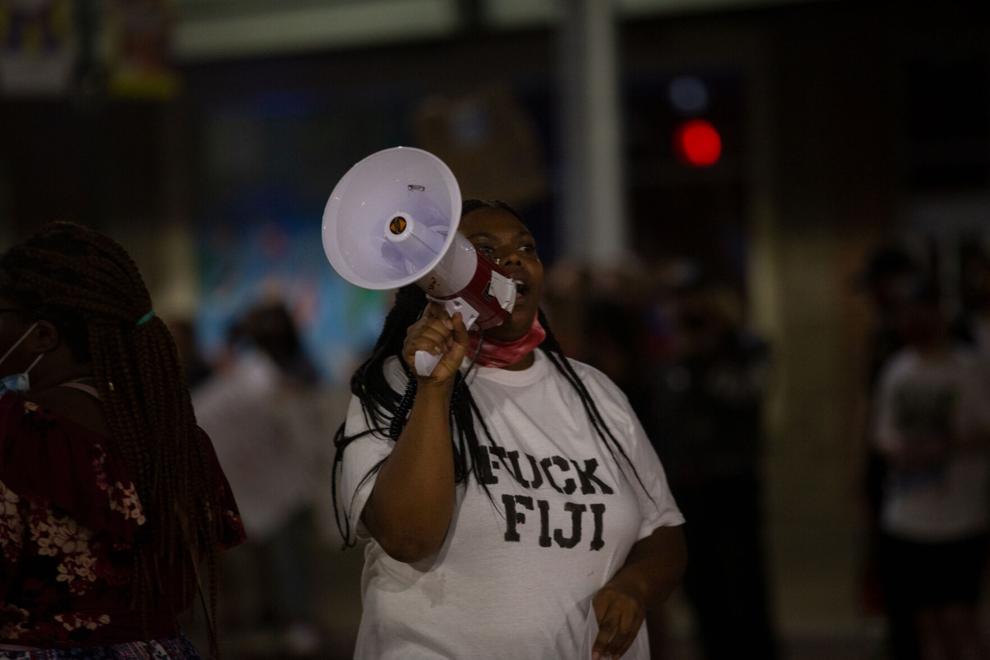 Protesters have demanded change all week, starting Tuesday outside of FIJI and expanding to all of Greek row on Wednesday. Protests continued Thursday night on the union steps, ending when protesters placed sticky notes on the steps of the union and surrounding area with messages calling for an end to rape culture and FIJI's removal.
Leslie Reed, UNL's public affairs director, confirmed Friday to The Daily Nebraskan the suspect in the sexual assault case — a 19-year-old male student who is also part of FIJI — is no longer enrolled, left UNL and has hired legal representation. The survivor is still enrolled.
Thursday and Friday's protest both featured speakers from the student body and members of the community sharing personal stories of sexual assault and giving support to survivors. 
Nebraska State Sen. Megan Hunt attended the event Thursday, as did Association of Students of the University of Nebraska internal Vice President Taylor Jarvis, Speaker of the Senate Christine Trinh and Chief of Staff Cameron Collier. 
Hunt said she is a survivor of rape, and cosigned a letter Thursday with five other state senators calling on the university to take responsibility and protect students from sexual assault. 
"I'm on your side, and I wanna be on your side going forward," she said, holding a sign that read, "I believe you." 
Trinh released a statement on her Instagram Friday calling on the Greek community, which she is a member of, to cease hosting and planning parties and social functions while the investigation of FIJI continues. 
"It is hypocritical to post and repost statements claiming support when a chapter's members do not share the same sentiment," the statement reads. "Read. The. Room. This is not the time to focus your efforts on hosting or attending functions." 
On Friday, speakers also called out UNL and Nebraska Wesleyan University Title IX offices for what they say is demonstrated failure to adequately support survivors of sexual assault who report to them.
Liu-Sang told those gathered Friday into Saturday there would be no organized protests this weekend, and the group will pick up Monday with a candlelight vigil on the north side of the union at 8 p.m.
Protesters also plan to protest on Sept. 4 at the first home game for Husker football.
"The freshman this year should not have to face this," Liu-Sang said. "And if the freshmen next year have to deal with it, we will shut UNL down and we will take very, very, very serious revolutionary action."
Zach Wendling contributed to the reporting of this article.
This article was updated at 2:45 p.m. on Saturday, Aug. 28, to include additional information on the arrest downtown.