After 53 years of operation, East Campus's C.Y. Thompson Library is getting a facelift.
The $22.5 million project will reconfigure the entire building by moving the print collection to the lower level, introducing a learning commons on the main floor and housing the Engler Agribusiness Entrepreneurship Program on the second floor, according to Joan Barnes, communication and outreach librarian for University Libraries.
Joe Goodwater, project manager for the University of Nebraska-Lincoln's Facilities Planning and Construction, said initial budgeting for the project began in 2014. The library was built in the 1960s and is inefficient energy-wise, with poor access for those with disabilities, Goodwater said.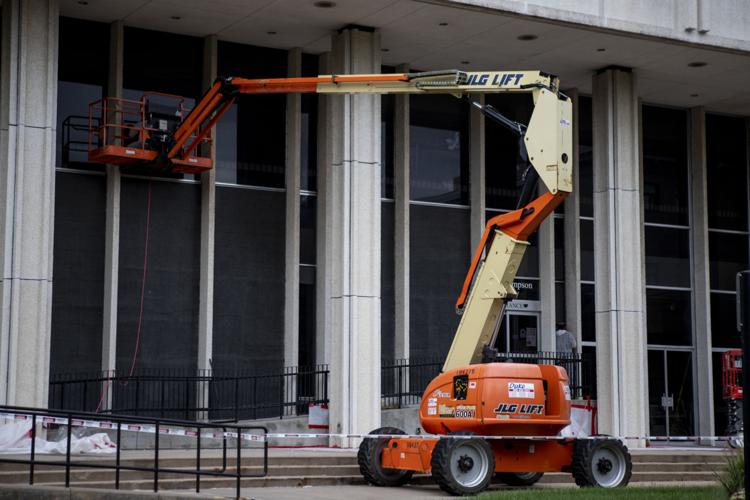 Students' library needs have evolved to be more technology-focused, and Goodwater said the renovation will reflect that. The changes to C.Y. Thompson will resemble those made to Love Library North in 2016 with the addition of the Adele Coryell Hall Learning Commons.
"The use of the library has changed with more content online and the need for hard copy books is less," Goodwater said in an email. "Libraries used to be built as fortresses to protect the books. Now the focus is on people — it's a place to gather, to learn and to discover."
With the design complete, Goodwater said construction will begin in the next month and finish in about 17 months.
According to Barnes the lower level of C.Y. Thompson will house the most recent, noteworthy and active parts of the library's current print collection — between 20,000 and 30,000 volumes. The plans for this level also include a small testing center, she said.
The second floor of the building will have additional collaborative study space and a modern, technology-laden classroom.
The learning commons will be on the main floor and will have a fireplace and a coffee shop. The space will be named the Dinsdale Family Learning Commons, according to the Board of Regents' minutes. The Dinsdale family provided a large donation for the project in honor of brothers Roy and John Dinsdale, who attended UNL in the 1940s.
UNL alumni and philanthropists Ruth and Bill Scott inspired the Dinsdale's donation. The couple provided a contribution as a challenge gift, which encourages others to contribute as well, according to Nebraska Today.
"We are extremely grateful to the Scotts and Dinsdale families for their generous support of the C.Y. Thompson renovation project," Barnes said in an email.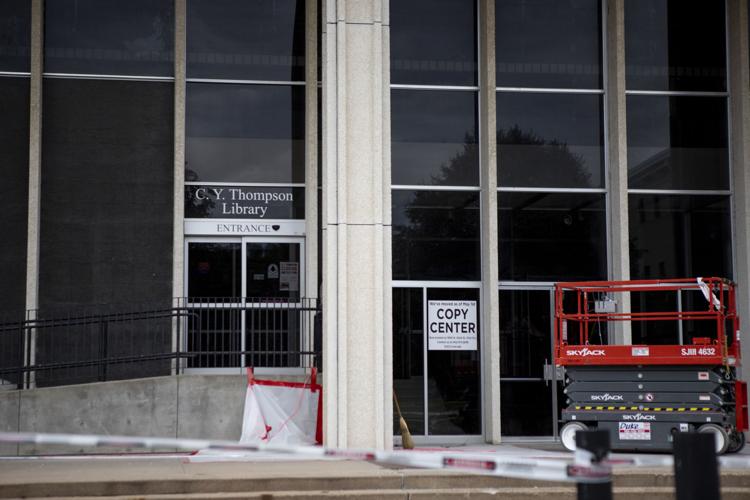 The renovation is part of an ongoing update to East Campus's green space called Legacy Plaza. Other pieces include the Massengale Residential Center, opened in 2017, and renovations to the Nebraska East Union and UNL Dairy Store. 
The Clark Enersen Partners, a Lincoln-based architecture firm, developed the concept plan for the Legacy Plaza. The Board of Regents hired the firm's founders, Clark and Enersen, in 1961 to design the original C.Y. Thompson library, according to UNL's historic buildings website.
"C.Y. Thompson will be the east anchor of the Legacy Plaza space," Goodwater said. "The plaza will have seating areas, outdoor wifi, a stage area and outdoor study/relaxation spaces for students to congregate. It is one of several spaces that will activate the meadow at Legacy Plaza."