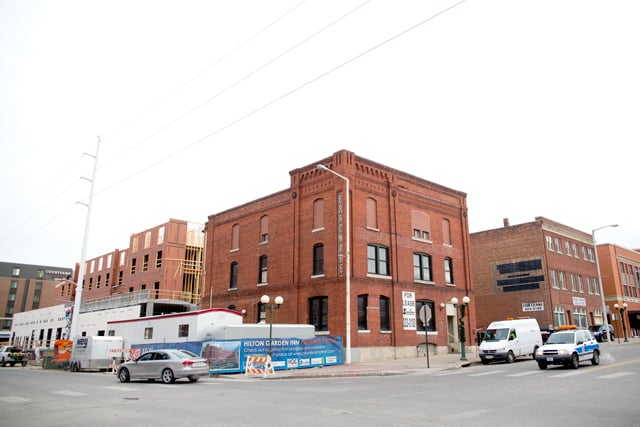 The Historic Haymarket could soon feature a restaurant known more for its waitresses than its food.
But members of Lincoln's Historic Preservation Commission have expressed concerns about the Twin Peaks restaurant, which would be located in the Tool House building on the corner of 8th and Q streets.
Falling under the new category of "breastaurants," Twin Peaks franchises are best recognized for their waitresses, whom the company calls "lumber Jills," and their skimpy uniforms. The uniforms normally include a red plaid top that shows waitresses' midriffs and cleavage, paired with revealing khaki shorts. The company also hosts special events, such as "Lingerie Week," during which waitresses dress in accordance to a theme.
Some Lincoln consumers are concerned the Haymarket's historic appeal may suffer with the addition of the Twin Peaks restaurant.
"I find those kinds of things disrespectful to women," Historic Preservation Commission member Tim Francis said. "It's one more thing I don't want my child to see."
Other Historic Preservation Commission members have also expressed displeasure for the new restaurant's theme, but because the restaurant is a legitimate business, they do not feel it is their place to interfere.
Twin Peaks senior director of marketing Kristen Colby said the uniforms are part of the chain's marketing strategy.
"We have a theme and style for our restaurant," Colby said. "What we're wearing is really not that different from what girls that are cheerleaders are wearing. We're a sports restaurant, and we know our guests love that environment and watching a game and seeing cute cheerleaders."
The consumer base for this type of restaurant in Lincoln is uncertain. The Hooters location in East Lincoln went out of business in 2005. Despite the high population density of Twin Peaks' target demographic – men ages 21 to 54 – in Lincoln, business may be affected by competition from the Tilted Kilt restaurant that made its home in Gateway Mall last year. The Haymarket, located close to the University of Nebraska-Lincoln and packed with bars, could be an asset for the restaurant.
Colby sees the close proximity to UNL as a plus and said the location could be helpful for marketing, especially because of Husker football.
"We love to try to partner up as much as we can to help benefit the school," Colby said. "We know a lot our consumers who are 21 and up will enjoy coming over to our restaurant for gameday."
She said the restaurant will benefit Lincoln economically and provide prospects for job-seeking students.
"Every time we open a restaurant we're looking to hire 150 to 175 people," Colby said. "So the job opportunities there are just outstanding."
Some university students still are not convinced that Twin Peaks should be welcomed.
"I think it's degrading for women," said Holly Stejskal, a sophomore secondary special education major. "I wouldn't work in that environment."
news@dailynebraskan.com