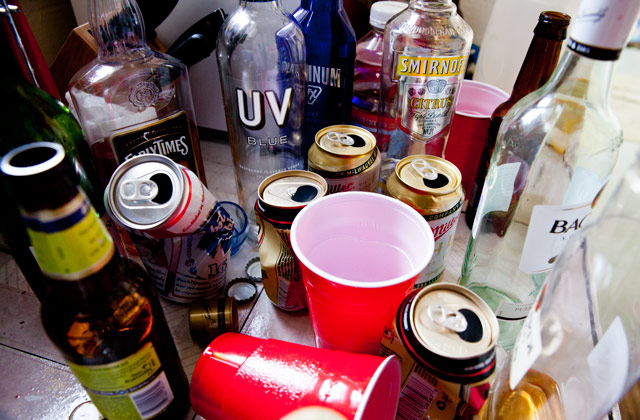 Katie Anderson remembers sticky floors and empty vodka bottles, rows of red cups and a crowd of students slogging home after a long night of drinking. The junior elementary education major said she learned early on - at one of the first college parties she ever attended - that many in Lincoln drank dangerously, and fast.
"People at college parties drink a lot more than just a few drinks," Anderson said. "I see keg stands, people taking beer bongs and not just shots but pulls from the bottle."
For University of Nebraska-Lincoln students, Lincoln residents and Nebraskans alike, the party often starts early. A recent Department of Health and Human Services report said the prevalence of underage drinking among high school seniors in 2011 was up 6 percent from 2007, despite evidence the practice was decreasing nationwide. Studies have highlighted both binge and underage drinking as major problems for Nebraskans in recent years. The Centers for Disease Control and Prevention reported last year that in the city of Lincoln, 22.7 percent of people admitted to binge drinking in 2010, making it the third most binge-drinking city in the country. Nebraska ranked No. 2 out of 50 in a similar CDC study of binge drinking across states.
According to the National Institute of Alcohol Abuse and Alcoholism, binge drinking is a pattern of drinking consistent with five or more drinks for a man and four or more drinks for a woman in a single sitting. On the UNL campus, liquor-related violations are the most frequent offense. In 2011, there were 636 alcohol-related incidences ending in arrest, according to university police.
Koan Nissen, education and personnel officer for university police, said the responsibility falls on the university to promote responsible drinking, starting with wellness and alcohol education. People should be aware of the risks and the laws surrounding alcohol consumption, he said.
Anderson was surprised that binge drinking constituted four or five drinks because in her party experience, she said, people drank a lot more.
The UNMC study, co-authored by Jim Stimpson, director of the Center for Health Policy, said there is a lot of evidence suggesting a connection with alcohol advertising and consumption. While there are no known actions in Nebraska or any planned actions to limit alcohol-related advertising, Stimpson said Nebraska has done a lot to improve access to alcohol, which experts say makes it more difficult to limit underage drinking.
"There are so many policies that could be proposed to combat this excessive alcohol consumption ranging from increased alcohol taxes, stricter (bars and liquor stores) liability and some kind of alcohol advertising regulation," Stimpson said.
Stimpson, who moved from Pennsylvania to enroll at UNL, said he was shocked by the access to alcohol in the state. He found the number of bars on the campus' perimeter surprising.
Pennsylvania is an alcoholic beverage control state, in which times and locations where alcohol can be purchased and sold are very restricted, according to Pennsylvania state law. Alcohol can either be purchased from beer wholesalers located in a few areas throughout the city or from a state store that only sells specialty alcohol: wine, spirits and liquor.
"In Nebraska, alcohol is everywhere." Stimpson said. "It was unbelievable to see hard liquor sold in grocery stores, pharmacies and certainly the same place where you buy gas."
Project Extra Mile director Nicole Carritt, whose non-profit aims to prevent underage alcohol abuse and access to alcohol across the state, said the laws aren't enough to combat dangerous drinking habits. Rather, she said, an erosion of policies has encouraged people to drink more. The Nebraska legislature in 2010 granted cities and towns the option to extend bar closing times and liquor sales to 2 a.m. Currently, there are more than a 100 communities that have passed and extended the hours of sale.
"What we can certainly say is that we're seeing binge drinking increase across the state," Carritt said. "We know that 90 percent of the alcohol consumed by us is done in a binge-drinking fashion."
Carritt worries Nebraska law is only enabling irresponsible drinking, rather than curbing the habit.
"Alcohol sales and bars will say that their target audience is people who are of age, but we need to remember that this alcohol behavior is setting an example for our youth," Carritt said. "The bottom line is we need to change the alcohol culture of this city if we expect the rate of excessive alcohol behavior to change."
From a policymaking perspective, state Sen. Russ Karpisek said Lincoln is very much aware of the excessive alcohol consumption that can be found in Nebraska. He said bills have been implemented to counteract this trend.
"As it is now, the Nebraska Liquor Control Commission has it where the bars can lose their liquor license if they are found serving to minors or over-serving drinkers," Karpisek said. "I think alcohol education is the way to go, but I don't know how we can legislate morals or personal responsibility of the drinker."
The senator introduced a bill in the last legislative session implementing tighter regulation of alcohol shipments in Nebraska, in the hopes of preventing minors from purchasing liquor from private vendors.
But the problems don't lie solely with those consuming alcohol illegally. Mike Dick, who manages the bar at Fuzzy's Taco Shop on the weekends, said he has seen firsthand the drinking habits of the crowd that hits downtown Lincoln every weekend.
"We see binge drinking more commonly with men and the incidences occur more frequently on game days," Dick said, adding that Lincoln bartenders are trained in responsible beverage serving.
Dick said people are not necessarily consuming higher quantities of alcohol in the new 1 to 2 a.m. time frame, but the span of time in which they are drinking is extended.
"Any responsible bartender knows the signs of too much alcohol consumption and when to cut someone off," Dick said."From the establishment's point of view, we follow the rules set by the city of Lincoln."
Melissa Mitchell, who works at least three nights a week as a bartender at Fuzzy's, said it's not often that she's forced to cut people off. But sometimes when inxoticated bar-hoppers enter from the street, she said, the bar must decide whether to intervene.
Policy makers create laws and standards that Nebraskan liquor vendors and establishments follow and UNL educates college students on the effects of excessive drinking. However, new data and evidence continues to report dangerous drinking habits of both underage and of age drinkers is on the rise. Law officials and medical experts alike worry whether alochol is too deeply embedded in the culture of the city, and even the state. Business Insider last year named Omaha the most hungover city in the United States.
"Ultimately as a society, we need to understand that these dangerous alcohol behaviors are not rights of passage," Nissen said. "We have to get out of the mindset that to be a young adult, we do not have to consume alcohol or prove we've come of age."
Many like Carritt say underage drinking, excessive alcohol consumption and the harms that come from that cost society as a whole. Carritt said Lincoln pays for residents' drinking habits with lives lost and a slew of alcohol-related violence.
"While the city of Lincoln may look at the revenue coming from alcohol sales and marketing it heavily as a great thing for the city, we need to look at the other side and see the toll it is taking on individual lives."
news@dailynebraskan.com
Editor's note: This story was corrected on Sept. 3 to reflect an incorrectly attributed study. The Department of Health and Human Services released the report on underage drinking. A UNLPD officer's name was corrected to "Koan."