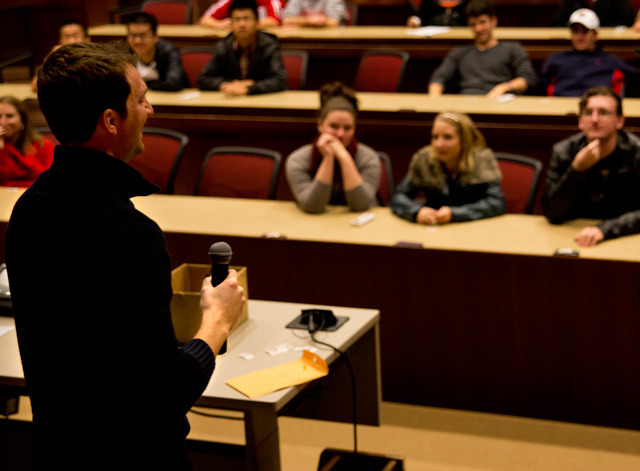 The reigning champion of the University of Nebraska-Lincoln's Geography Bowl, Greg Vinton, upheld his title Tuesday evening.
Vinton's teammate Clay Koziol, a sophomore biology and pre-med major, won second place at last year's event. This year, the team won by two points. They each won a Garmin Geocaching GPS.
"It's kind of a fun event," said Vinton, a junior economics major. "The thrill of victory is better than any GPS."
About 90 students gathered Tuesday evening in the Hardin Hall auditorium for UNL's annual Geography Bowl. The event was part of Geography Awareness Week and coordinated by the Geography Student Organization.
Participants were divided into pairs. They answered multiple-choice questions using i>clickers. The competition was seven rounds with 10 questions each. After the seventh round, the competition was narrowed to 15 teams for a semifinal round. The final round featured six teams.
Brian Baskerville, president of the Geography Student Organization, said the event's goal is to promote and enhance geographic knowledge.
"It's a globalized world now," said Baskerville, a geography graduate student. "We need to know about the world we live in. The U.S. has been sort of lackluster in its geographic literacy. This happens to be a fun event because it's a competition."
The Geography Bowl started in the 1980s, according to Baskerville.
Brian Wardlow, adviser for the Geography Student Organization, said geographic knowledge is critical in today's world.
"Students need to have basic geographic knowledge to understand the social cultural complexities of the world that are really key to many of the issues that we face throughout the world, whether it's conflicts between countries, managing of our natural resources, better understanding of issues like climate change," he said.
Wardlow said geographic awareness can help in understanding links between different cultures and the relationship between humans and the natural environment.
The Geography Bowl draws students from both City and East campuses, according to Wardlow.
"I think (the Geography Bowl) has an appeal among students across many of the disciplines at UNL," Wardlow said. "Not just geography."
In fact, none of the competitors in the final round were geography majors.
Other events of Geography Awareness Week include a photography competition display in the Hardin Hall lobby and a Geography Wheel Game in front of the Nebraska Union. Wednesday at 3:30 p.m., University of Montana professor Lloyd Queen will deliver a seminar about fire-on-fire interactions in large wilderness areas.
NEWS@DAILYNEBRASKAN.COM