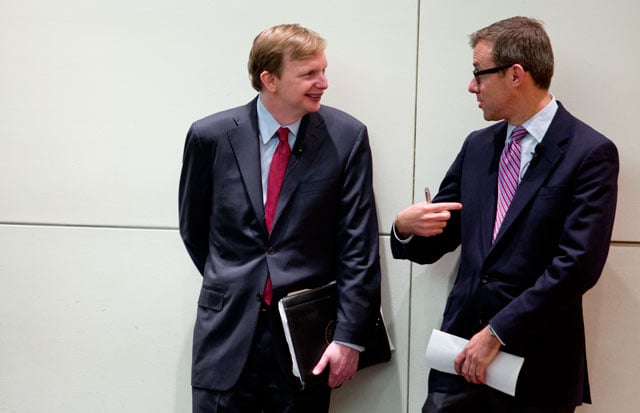 The first time President Barack Obama called Jim Messina, Messina hung up on him. Then the phone rang again.
This time, Messina took the call. Obama had called to ask him to run his 2012 re-election campaign.
On Friday, Messina visited the University of Nebraska-Lincoln to speak to a crowd of about 100 students, faculty and community members in the Nebraska Union auditorium as part of the Peter J. Hoagland Integrity in Public Service Lecture Series.
Jeff Zeleny — a University of Nebraska-Lincoln alumnus, The New York Times' lead writer for the 2012 campaign and now senior political correspondent for ABC News — joined him.
Before becoming Obama's campaign manager, Messina was deputy chief of staff for the president from 2009 to 2011. Messina didn't win the first presidential campaign he ran – but that was back in fourth grade, the same year he was asked what he wanted to be when he grew up. He said he wanted to be starting quarterback for the Broncos or the president's campaign manager.
"I've wanted this job since the fourth grade," Messina told Obama, but he wasn't sure if he could take the job, so, like anybody else, he called his mother for advice.
"If you turn down that job, you'll be cut out of the will," his mother said.
"So I took the job," Messina said.
Messina said their campaign focus was changing the game in technology. So campaign staff reached out to minorities and the younger generation through social media and new technology.
"If you win the fight of the future, you win the campaign," Messina said
The campaign spent $5 million on an app called Dashboard, which allowed users to watch a 30-second video of Michelle Obama and then connected them to Facebook friends who were undecided voters.
"We used social media to organize friends and family," Messina said.
Zeleny said this was the first campaign running outside of Washington, and every time he visited the headquarters, "it got younger and younger."
No one who worked on the Dashboard app was older than 25, Messina said. Five million people used it in the last hour of voting, and 78 percent of those people supported Obama.
Zeleny said although there were people who did not want Obama in office, presidential hopeful Mitt Romney didn't succeed in reaching out to those people.
"Romney's campaign did a bad job in bringing those people to the polls," Zeleny said.
Zeleny said Obama found the people who wanted to vote for him.
Obama had to control the debate and not listen to polls, Messina said, because they undermine the opinions of youth and minorities, who are less likely to own the landline phones on which polling companies tend to conduct polls.
"Polling is broken," Messina said.
Nine days before the end of elections, Obama called Messina to go to Milwaukee to discuss the election.
"If I lose in nine days, the world will blame two people. You and me," Obama said to him.
Obama had read a Gallup Poll that said he was down in polls, but Messina told him he would win. Messina predicted Obama would win within 332 electoral votes. He won with that exact number.
"In the end, we won because Barack Obama had a vision," Messina said.
Jim Crounse, creator of the Hoagland lecture, said Messina and Zeleny both come from small towns and have had success, which is why they were chosen to speak at UNL.
Messina grew up in Boise, Idaho. He said his biggest obstacle was growing up poor and still believing he was as good as anyone else.
"Nobody asked me where I've come from, but if I can win the campaign," he said. "(That's) why I love political science."
Their speech was followed by a question-and-answer session where members of the audience asked for advice.
Messina said the advice he gave himself was to do what you love.
"Obama didn't have to give me a cent," he said. "I would have done it for free."
Zeleny said he never asked for advice while making difficult decisions, but he asked for people's thoughts and then decided for himself.
Josuf Robinson, a sophomore journalism major, said both Zeleny and Messina inspired him.
"Following your dreams is a big takeaway message." Robinson said.
news@dailynebraskan.com