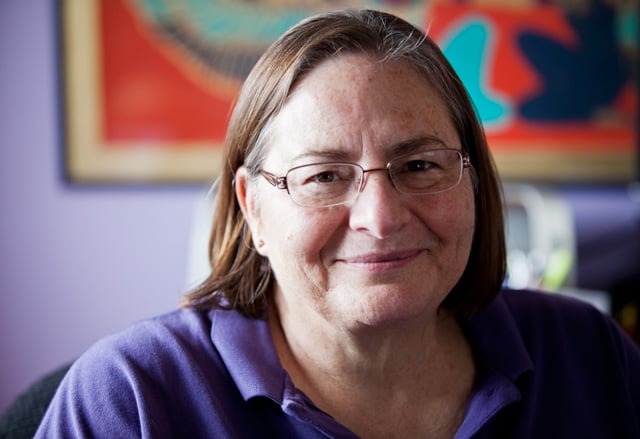 From vandalism of LGBTQA bulletin boards to campus-sponsored drag shows, the acceptance of the LGBTQA community at the University of Nebraska-Lincoln has grown since the 1970s.
And Pat Tetreault, director of the Lesbian, Gay, Bisexual, Transgender, Queer and Ally Resource Center, has archived it all.
"The fact that I can do work consistent with my values is very meaningful," she said.
Official recognition of LGBTQA issues at UNL began in 1970 when Louis Crompton introduced UNL's first class on LGBTQA issues: "Pro-Seminar in Homophile Studies." Crompton was the second faculty member in the nation to teach a class on LGBTQA issues.
Before October 1992, no faculty member worked specifically with gay and lesbian students. Tetreault was hired as UNL's first sexuality education coordinator at the University Health Center.
For 15 years, Tetreault incorporated gender identity and sexual orientation into the sex education program, trained peer-sex educators and earned a grant in 2000 to operate UNL's first HIV-testing site for students on campus.
As sex education coordinator, Tetreault needed to prove why sex health education was beneficial to students.
"Sex education and sexual health are somewhat taboo topics," she said. "You have to be able to do that education in a sensitive way."
Tetreault has acted as a resource for students for the past 20 years, according to UHC psychologist Scott Winrow. She was a member of the search committee that hired Winrow to the UHC in 2001.
"She's always advocating for students, even if it's not related to what she does," he said.
LGBTQA issues at UNL have changed significantly over time, especially within the last five years, Tetreault said.
On June 8, the NU Board of Regents approved employee plus-one benefits, which have been pushed by UNL's Committee for Gay, Lesbian, Bisexual, and Transgender Concerns since 1996.
In the fall of 2007, the university created the LGBTQA Resource Center with Tetreault as its full-time director.
"It was a visible sign of commitment (to LGBTQA students) from the university," she said.
Although there was no opposition to the creation of the LGBTQA Resource Center, it took awhile for it to become a reality, according to Tetreault.
"Sometimes the wheels of institutions can move rather slowly," she said.
The center has established relationships with several organizations on campus such as the University Program Council and the Mary Riempa Ross Media Arts Center. But not everyone sees the LGBTQA center as an area of interest or a collaboration necessity, Tetreault said
And before the creation of the LGBTQA Resource Center, there were some rough patches, she said.
In 2003, the LGBTQA bulletin board on the third floor of the Nebraska Union containing posters and flyers advocating for LGBTQA events and groups around campus were torn down and vandalized numerous times, according to the LGBTQA Resource Center's timeline. The board was replaced and moved to the building's main floor. Vandalism hasn't been a problem since, Tetreault said.
Another change Tetreault has seen over the years is more students enrolling at UNL who are open about their sexuality, Tetreault said. And students are more willing to participate in LGBTQA events, she said.
Tetreault was born in El Paso, Texas, in 1956. Because her father served in the military, Tetreault lived in Germany from 1956 to 1958, moved back to Texas, then moved to Germany again from 1964 to 1966.
Tetreault studied psychology and earned bachelor's and master's degrees from the University of Texas at El Paso. She completed her doctoral work at Kansas State University in social psychology with a focus on the psyche of women, before moving to Lincoln to complete a post-doctorate in legal studies in 1987.
Tetreault said she believes her father's military work impacted her advocacy for social justice and her interest in how people think and behave.
Before becoming an employee at UNL, Tetreault worked as an education coordinator for Voices of Hope, a nonprofit support group for victims of sexual assault.
Tetreault says she identifies as a "lesbian-identified bi/pansexual queer," which essentially means her attraction to an individual isn't restricted to gender.
"If someone identifies me as a lesbian, I don't correct them," she said. "I don't think it's important how accurate they need to be."
Tetreault came out to her family when she was in graduate school. She said her family was "mostly accepting," but her family didn't fully recognize the reality of her sexuality until Tetreault began bringing her female partner home.
Tetreault has been with her partner for 15 years. Although the two haven't given much thought to marriage, Tetreault said it wouldn't be beneficial because Nebraska doesn't recognize same-sex marriages.
And because she loves her job, Tetreault said she can't imagine moving anytime soon.
She's rooted in the students here.
"I know it sounds kind of cliché, but I think students keep me young," Tetreault said. "They really add to my life."
news@dailynebraskan.com