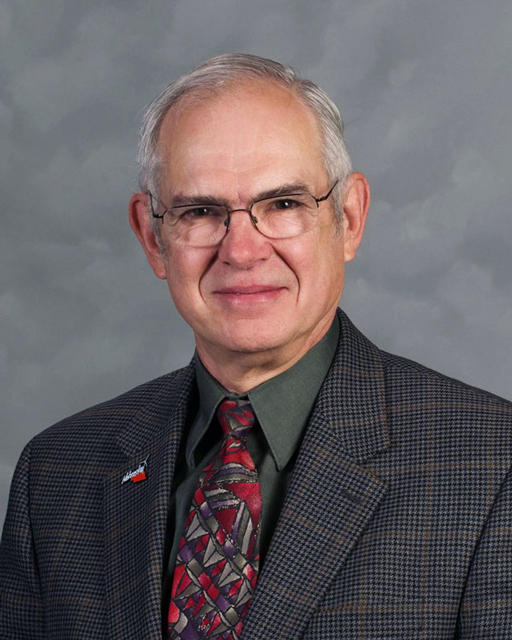 As a historic drought drives attention to climate change, Ron Binz, a consultant and 30-year veteran of public power, came to the University of Nebraska-Lincoln's Hardin Hall Monday afternoon with a daunting and urgent message on energy.
The nation's aging electric grid is poised to receive $2 trillion in investments over the next two decades, Binz told an audience of utility directors, regulators and interest groups. But business as usual won't work amid changing technology, changing energy costs and a changing climate.
Instead, that money needs to go in new directions, he said, and diversity needs to become the name of a game that today is defined by more and more risk.
"You wouldn't put all your money in one basket," Binz said in a presentation titled "Risk-Aware Regulation and the Modern Utility." "So that's the question: How do we spend it wisely?"
In short, electric companies need to diversify their power to reward efficiency and include renewable sources like wind and solar, he said. Tightening restrictions on pollution, lowering technology costs and an image as a bad investment are just some of the factors permanently shifting the nation's energy picture.
"(Utilities') business model has to change," Binz said, "because the world under their feet is changing."
Binz's talk was based on a report published earlier this year by Ceres, a group that works for sustainable energy practices. He was hosted by Nebraska State Sen. Ken Haar, north Lincoln's representative in the state legislature. Haar, one of the body's more progressive members, has often pushed for more renewable energy options.
One major alternative for Nebraska: wind power. The state ranks fourth in the country in wind potential but doesn't break the top 20 in tapping that potential, according to the Natural Resources Defense Council, a New York-based environmental advocacy group.
Instead, about two-thirds of Nebraska's power comes from coal, with nuclear energy making up most of the balance. Both are among the riskiest energy sources in terms of availability and safety, based on Binz's Ceres report. Nebraska plans to generate only 10 percent of its energy from renewable sources by 2020, according to NewsNetNebraska.
Nebraska's share of that $2 trillion electric grid investment, Haar said, could change that balance.
"Because public power in Nebraska is looking at updating generation facilities, I thought it was a perfect fit to bring Binz to give a talk here," he said.
And Binz knows integrating wind into the grid can work. He served as chairman of Colorado's public power companies from 2007 to 2011, during which Colorado's wind energy production nearly doubled, according to the U.S. Department of Energy. The state now plans to get almost a third of its energy from wind by 2020.
"We decided, as a state, what we were going to do," Binz said.
All Nebraska's citizens get their power from a public utility, according to the Nebraska Power Association, meaning those citizens can exercise particular control over their utility's course. But that control has to be mobilized to make these changes a reality, Binz said.
"It requires some activism," he said. "You are all, in a sense, voters."
Lincoln Electric System, the utility company that powers the city, is already moving toward diversity and sustainability, said Shelley Sahling-Zart, the company's vice president and general counsel who was among those in attendance.
But its progress has been limited, in part because of Nebraska's exceptionally low energy costs, Sahling-Zart said in an interview afterward. Integrating wind power, which is typically more expensive, has a bigger splash as a result, potentially inspiring a stronger backlash.
That means if Lincoln residents want wind power, they'd better say so.
"We need input on where our customers would like to go," Sahling-Zart said. "We're publicly owned. We want our customers to engage."
Nothing about energy, public or private, is simple, Binz said, but he said he was convinced a shift in energy mix is possible.
"What would engineers be without challenges?" he said jokingly. "I can just tell you that the arguments this can't be done are wrong."
news@dailynebraskan.com