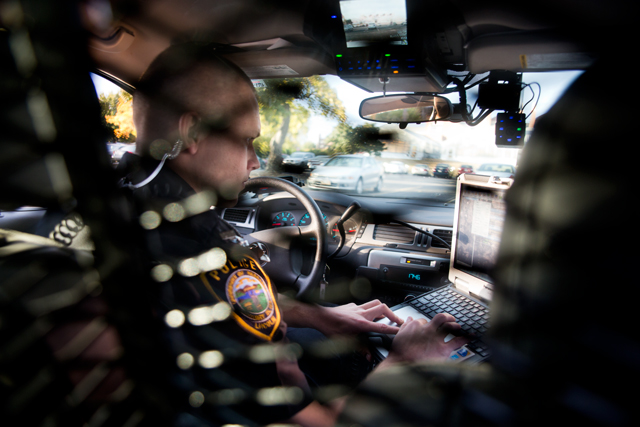 University of Nebraska-Lincoln police officers now have access to crimes and statistics in real-time — all from the comfort of their cruisers.
The department recently installed an informational and officer-to-officer contact software program, InterAct Mobile, on all six of its computer-capable cruisers.
Officer Koan Nissen said the system is helping UNLPD officers keep up with and collaborate with other police forces in the area. The system connects UNLPD with Lincoln Police, Lancaster County Sheriff's Office and 16 surrounding law enforcement agencies.
"We are now capable of seeing — in real time — what everyone else is seeing," Nissen said.
The trial process for the software began in July and ran through the first week of October, with only three UNLPD officers being trained to use the system during that time. Nissen said after some of the bugs were worked out of the program, command staff approved it. Nissen said about 50 percent of the officers who use the cars are trained to use the program, and more will be trained in the near future.
Nissen said UNLPD has been using in-car technology for more than 10 years, but this software helps to compile the necessary information into one program.
"It's one-stop shopping," Nissen said.
The software program offers three main components. The first is a communication portion, which officers can use to be in contact with each other in real time. The program also has a crime statistics database capability, which officers can use to check anything from a license plate to seeing if an individual has an arrest warrant. And the system is also connected with UNL's dispatch center for emergency calls, as well as to the Lincoln Police Department's dispatch center.
The software's advantages are numerous, said Nissen, who added it's a beneficial resource aside from dispatchers to share information when time is a factor.
"When seconds count, we'll take as much help as we can get," Nissen said.
There hasn't been a problem connecting with other officers in the past, Nissen said, as all officers in UNLPD and LPD use the same radio program. However, officers now have the information displayed on a screen in front of them.
Nissen gave the example if there was a traffic stop a block away from an LPD officer and a UNLPD officer needed assistance, the LPD officer might not have known that before. Now, officers can see information about the traffic block on their screen in real time.
Nissen said the use of this program has helped strengthen UNLPD's bond with the LPD. He brought the program to UNLPD after collaborating with LPD Sgt. Todd Beam, who manages the system for Lincoln. Beam said the system has been beneficial to the LPD for more than 10 years.
LPD began using InterAct in 1999, but Beam said the system has been upgraded since then.
"Our officers can see warrants, drivers licenses or see if a vehicle has been reported stolen," Beam said, "And it's nice to be able to have that information in front of you."
UNLPD did not have to budget for the new software because the City of Lincoln allowed them to use their previously purchased licenses. UNLPD is now only responsible for paying annual maintenance and update costs. Beam said the software will cost UNLPD approximately $800 a year.
Nissen said he hopes this system will help get all law enforcement on the same page.
"It's all in the name of public safety," Nissen said. "And that's really what we're all about."
news@dailynebraskan.com