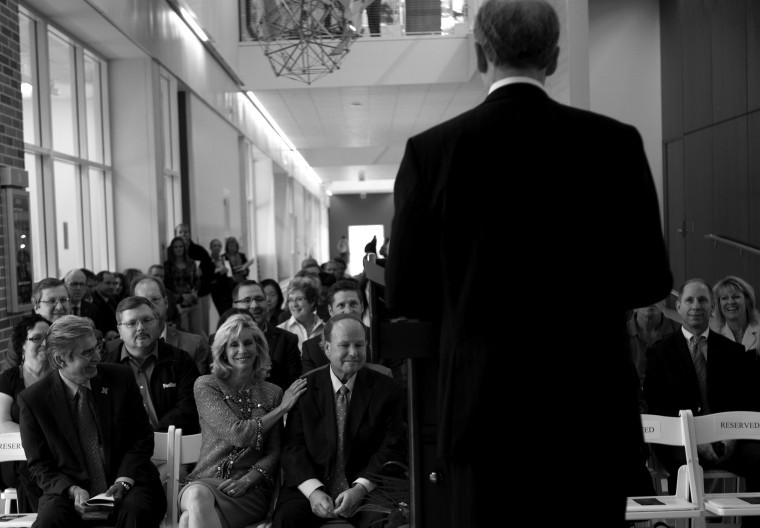 Late Thursday morning, about 50 people gathered inside the recently completed Voelte-Keegan Nanoscience Research Center for its dedication.
The 32,000-square-foot center will accommodate scientists and researchers with projects using nanotechnology. The manipulation of nanotechnology is used for many modern technologies including computers, cell phones and the advancement of solar power.
"The center's main purpose is to provide equipment for faculty to make and characterize nanostructures," said David Sellmyer, director of the Nebraska Center for Materials and Nanoscience. "Ten to 20 research groups will be sharing the facility, instead of only one group having a set area."
Some projects already in progress include a graphene study, which has been called "the material of the future," atomic-scale materials being developed with stronger magnetic properties, a new form of matter that is capable of denting diamonds, manipulating the way an electron spins and improving biomedical apparatuses such as cancer detectors.
"It represents an achievement of a long-standing goal," said Prem Paul, vice chancellor for research and economic development. "This is an excellent example of the public-private relationship."
The center is located at 16th and W streets and attached to Jorgensen Hall. Its namesakes, Don Voelte and his wife Nancy Keegan, provided a large portion of its funding. Voelte received his engineering degree at the University of Nebraska-Lincoln in 1975. Keegan was the former chair of the University of Nebraska Foundation's board of directors.
The couple donated $5 million. A $7 million National Institute of Standards and Technology grant, along with a university commitment, paid for the $14 million building, according to a Sept. 26 university press release.
"Nanoscience is more modern than my education, but I can appreciate the future of nanotechnology," Keegan said.
It brings together a passion for Nebraska and education, and it brings together departments, she said.
"Nanoscience is an interesting area," Voelte said. "I'm an optimist, so I believe if you provide people the right tools, they can create new ideas and make people's lives better."
news@dailynebraskan.com