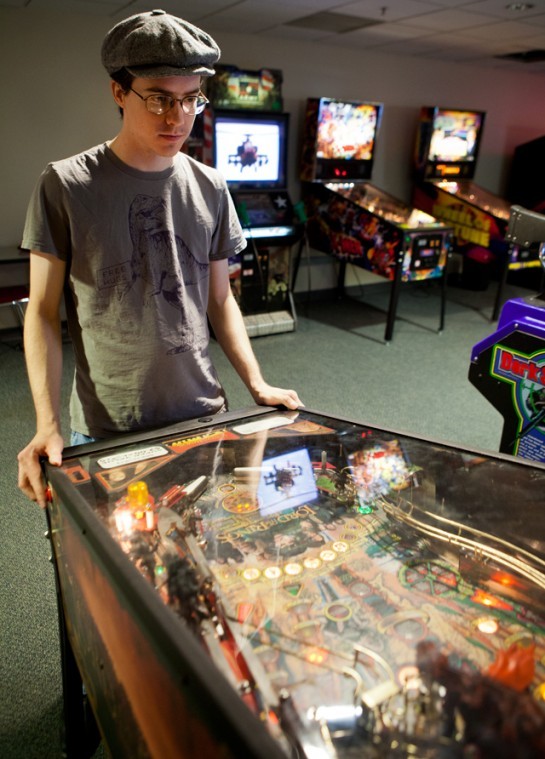 For Theodore Victor Redmond, it's all about the high score.
Redmond, a junior history major at the University of Nebraska-Lincoln, is the grand champion of the Lord of the Rings pinball machine at the Nebraska Union arcade, the Rec Room. His score, attributed to "TVR," sits at 154,046,250 points. But he thinks he or one of his friends can top that.
"We're going for the high score," he said. "If one of us happens to hold it at the time, it's maybe more incentive."
Redmond plays around five times a week for 45 minutes to three hours each time, always with $2. He started playing on the machine while taking a year off from school in 2008. It sits in a hall lit with spotlights and the glowing lights of several other arcade games. The game is six events long and takes players through the Lord of the Rings storyline in no particular order.
He'll be the champion until a mystery player initialed "DLD" reclaims the title. DLD trails Redmond with a score of around 144 million points.
DLD held the high score when Redmond started playing. At first, Redmond said he thought DLD's high score was on a global score board. He was wrong. Redmond played regularly and eventually beat the high score.
"The score was on there so long, I assumed the guy was gone," Redmond said.
But DLD struck again, trumping Redmond's score.
Paul Eric Hilger, a senior electrical engineering major and former grand champion, has competed against DLD's pinball scores since 2008, too.
"I think he crawls out of the mist to play pinball," Hilger said.
Redmond said he wants to meet DLD but doesn't know what he would say.
"This dude is a grand champion," Redmond said. "I must learn his style and adapt it to my own."
About a year ago, Neil Andrew Kahle, a junior computer engineering major, started playing pinball with Redmond. Kahle has played regularly since then and holds the fastest time playing the last event of the Lord of the Rings machine: 45 seconds to "destroy the ring."
Kahle left Wednesday to attend Senshu University in Japan for a semester.
"It's going to suck not having my pinball buddy around," Redmond said. "But on the other hand, it increases the chances that I'll beat his ring time score at some point."
Redmond said he was teaching Lynnie Krause, a senior sociology major, and a couple others to take Kahle's place.
"(Redmond) knows all the inner workings of the machines," Krause said.
In fact, Redmond has seen the inside of his favorite machine more than once when it required repairs.
"I've seen the guts of this pinball machine many times, and it's really great," Redmond said. "It's like, this is the circuitry that takes all of my money."
Redmond replays the Lord of the Rings storyline nearly every day on the pinball machine and can recount how to get through each level, but he's only read the first of the three books by J.R.R. Tolkien.
"Tolkien's got a style and that style is not for me," he said. "That's probably going to come off as blasphemy for fans, 'And the grand master of the Lord of the Rings pinball machine doesn't even finish the books? What madness is this?'"
To that, Redmond said, "You want me to read the books? Beat my score."
news@dailynebraskan.com