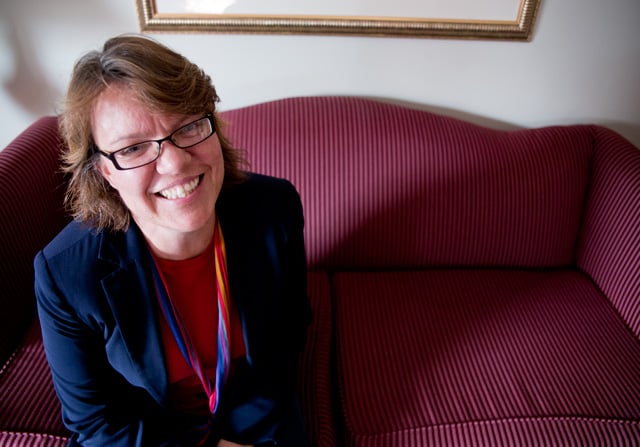 Anne Hobbs jokes that she could've been a felon.
Hobbs, the University of Nebraska-Lincoln's director of juvenile justice, said all kids make mistakes – including her. By today's standards, she said, her own childhood could have featured a few run-ins with the law.
"They used to let kids be kids," Hobbs said. "There are a variety of things we've criminalized (now)."
Now, the lawyer-turned-professor is teaching a class centered on helping area children, usually 14 to 15 years old, who live in youth rehabilitation centers. The course is currently in its first semester and pairs a college student with a child in need of mentoring.
In Hobbs's new class, students are first given a crash course on the juvenile justice system. They then have the opportunity to visit the Lancaster County Detention Center to meet with a group of possible mentoring candidates.
"They have to start by meeting in the facility," Hobbs said. "Part of that is so we can make sure it's a good match."
Once a relationship is established, Hobbs works to officially pair a troubled youth with a mentor. This process can take a number of weeks and also involves members of the detention center staff.
"It's not a marriage," said Annette Thompson, the deputy director of the Lancaster County Detention Center. "If it doesn't work out it doesn't."
Thompson went on to say the response to the pairings has been excellent so far.
"The students are all very determined to help," she said.
When the pairing is complete, the students meets with their partners at the detention center to help build upon their relationship. Yet, much of the real work begins when the juveniles are released from the center and go back to their regular lives.
The student and juvenile will then maintain contact, with mentor doing anything from helping with homework to taking his or her new friend bowling. Thompson believes interaction with a college student can help no matter what they are doing.
"They really need someone to talk to about their frustrations that isn't going to hand them a joint," she said.
The program is still in its early stages, and only one of the five students taking the course is mentoring someone outside of the detention center.
Amara Meyer, a junior political science and sociology major, is working with a 15-year-old girl who was recently released.
"She is just like any normal kid," Meyer said. "She likes all of the same things kids like."
Meyer said her partner was a bit "standoffish" at first but eventually warmed up to the idea of a mentor.
"She thought I was only doing this for a class," Meyer said. "But now she is showing interest and that excites me."
The young girl hopes to become a pediatrician someday, according to Meyer. Meyer said part of her job is helping this girl reach that goal.
"I want to show her that she can do that," Meyer said. "But she has to start now."
Each student who takes on this class is committed to a one-year relationship with his or her mentee, but Meyer said she hopes to continue the friendship after that time is up.
"I would like to, if she is willing," Meyer said.
She said the purpose of the program all boils down to simply having someone to talk to.
"I can't take the place of family," she said. "I'm just there to give them a chance in the future."
If a student continues with the program after the commitment is up he or she is eligible for AmeriCorps credit, according to Hobbs.
Hobbs said AmeriCorps is the "domestic equivalent of the Peace Corps" and depending on the number of hours put into the project, students can be awarded money to put toward their education. These awards can be used to pay back federal loans or help pay for graduate school.
"It's a pretty good deal I think," Hobbs said. "It looks great on a resume."
Much of the program focuses on this ability to help both the mentors and the young people in need of support. Hobbs said by helping these kids now, Lincoln can build a better criminal justice system in the future.
"These are kids I'd like to see go on to be lawyers and judges," she said of those currently being mentored. "If you only have people who have never had a brush with the law, they really don't have a perspective."
news@dailynebraskan.com