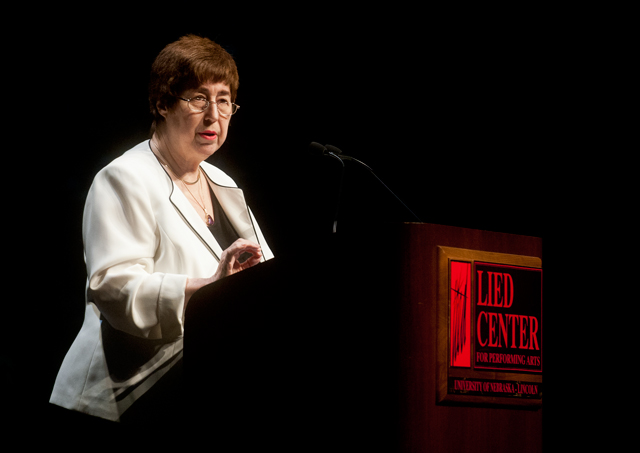 Felice Gaer, the director of the American Jewish Committee's Jacob Blaustein Institute for Advancement of Human Rights, discussed the importance of the human rights of religious minorities at the E.N. Thompson Forum on World Issues Monday night.
The lights were on Gaer as she walked on stage with a white blazer and black pants in front of a crowd of more than 100 University of Nebraska-Lincoln students, faculty and Lincoln residents at the Lied Center for Performing Arts.
"It's my focus when discussing human rights to discuss individuality," Gaer said. She serves as the chair of the Leo Nevas Task Force on Human Rights of the United Nations Association of the USA, vice chair of the U.N. Committee Against Torture and a member of the Council on Foreign Relations.
Religious minorities around the globe that are subjected to persecution and oppression deserve to be treated as humans, Gaer said. This year's theme for the E.N. Thompson Forum focuses on examining connections between religious faiths, politics and human rights globally.
Gaer gave numerous examples of discrimination within religious minorities such as Islamic extremists in Mali and the Shiite Muslim attacks in Pakistan and Indonesia.
Gaer also shared a story about when she visited a Saudi Arabian school where an imam — a Muslim religious leader — lied to her about teaching Zionist textbooks, thus furthering the prejudice against the Jewish community.
"My father had one and it has a rich history here," she said the imam told her about the Zionist book.
The takeaway for Gaer: Be educated so you can't be fooled.
The Holocaust showed the world how religious minorities are persecuted, through mass deportation, mass killings and mass coercion, she said. That's why world leaders and everyone needs to learn from the past, Gaer said.
World leaders are responsible for their actions, regardless of their religions, she said.
"It's the deed, not the creed," Gaer said.
To Gaer, this means leaders should not receive impunity when crimes against religious minorities have been committed.
"As Americans and world citizens, we need to take accountability," she said.
Gaer told the audience members they needs to be human rights advocates because people look to the U.S. as a leader.
"Remember your voice matters, and you can be recognized," Gaer said. "That means you and me, and there is no better time to act then now."
Katie Cervantes, who has been working as the coordinator of the E.N. Thompson Forum on World Issues for three years, said Felice Gaer was picked because she would speak about human rights and religious minorities.
Cervantes said the E.N. Thompson Forum likes partnerships, which is why the lecture is sponsored by the Dorothy and Myer Kripke Fund of the Norman and Bernice Harris Center for Judaic Studies.
Elizabeth Weber Edwards, assistant director of graduate student development for the Office of Graduate Studies, had her psychology 121 students come to the event to learn about global education.
"I think she was thought-provoking on her emphasis on individual rights and her call to action," Weber said. "Even if (the students) didn't get anything else, her grounded approach is something they can take away."
The next E.N. Thompson Forum will be held on Feb. 26 at 7 p.m. when Shirin Ebadi, a Nobel Laureate, delivers her speech, "True Islam: Human Rights, Faith, and Women."
For more information on the E.N. Thompson Forum series, visit enthompson.unl.edu.
news@dailynebraskan.com