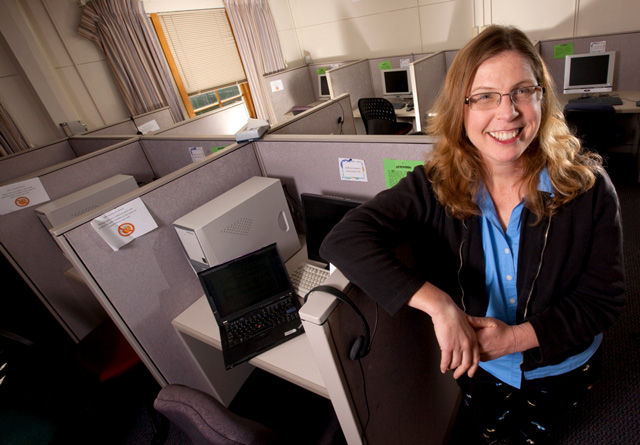 As far back as memory goes, women have been valued for their child-bearing. Today, however, women are childless for more reasons than just infertility.
A recent national survey conducted by a University of Nebraska-Lincoln professor examines the different reasons behind childlessness and their ties with the emotional well-being of women.
Women who choose to remain childless reported experiencing more pressure from society but less personal distress, according to sociology professor Julia McQuillan's survey. Women who were involuntarily childless felt less societal pressure and more personal distress, the survey said. This is especially true if those involuntarily childless thought child-bearing was important.
In "Does the Reason Matter? Variations in Childlessness Concerns Among U.S. Women," McQuillan, the study's lead author, and other researchers surveyed almost 5,000 women and their sexual partners between 2004 and 2006.
"There are a lot of data sets out there (about childless women), but there aren't any about subjective well-being," McQuillan said.
Of the childless women surveyed, 12.5 percent were voluntarily childless, 38.3 percent reported being infertile, 33.2 percent had situational barriers such as income or no partner and 15.9 percent weren't pregnant but wanted children. Overall, 24.6 percent of the 4,792 interviewed women were childless.
The survey's results were mixed.
White women reported being voluntarily childless more than Hispanic and African American women. The opposite was true for involuntarily childlessness, with Hispanic and African American women reporting higher numbers than white women.
Women surveyed who were voluntarily childless tended to have a higher family income, as opposed to the lower family incomes of the involuntarily child-free, the study found.
"A lot of women feel like if they go into fields like business, medical or science, they can't have kids," McQuillan said. "There are some jobs that are really hard if you want kids."
Religious influence also seemed to play a role. Those who were more religious received fewer social pressures to reproduce than those who were less religious.
The study was funded by the National Institute of Child Health and Human Development.
"The ongoing research was a focus on infertility," McQuillan said. "We needed to understand fertility over the last 10 years."
Women interviewed were between the ages of 25 and 45 and with a variety of ethnic backgrounds.
The survey questions were multiple choice, said Patricia Wonch Hill, a 2010 UNL graduate and post-doctoral research assistant.
"Many of (the questions) asked them if they have a hard time during holidays and family events," she said.
The second wave of interviewing in 2006 had around 2,000 women and 700 of their partners questioned again and included 45 lesbian couples.
news@dailynebraskan.com