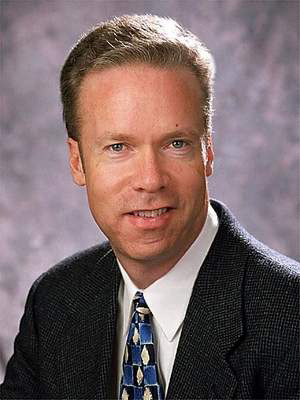 One year ago, the Penn State University child sex abuse scandal stunned the nation. Malcolm Moran, sports journalist, Penn State journalism professor and ethicist, says the story is far from over.
"You're here for answers, when in fact what I'm here to deliver is more questions," Moran said Friday to an audience of about 200 students and faculty gathered in Andersen Hall at the University of Nebraska-Lincoln.
In June, Jerry Sandusky, a former Penn State assistant football coach, was convicted of 45 counts of sexual abuse. Sandusky, 68, was sentenced in October to serve a minimum sentence of 30 years in prison. Sandusky was charged about a year ago, and head coach Joe Paterno was fired soon after.
Moran helped put the scandal in perspective for those at UNL.
"If you were to combine the Bob Devaney and Tom Osborne eras I think that's the equivalent of the Joe Paterno era, more or less, if you talk about the affection for Joe and what he meant in terms of the development of the university, not just in terms of athletics but the university overall," Moran said.
Paterno's status at Penn State is not the only parallel that can be drawn to UNL. Former Penn State president Graham Spanier served as NU's chancellor from 1991 to 1995. Questions remain about whether Spanier, Athletic Director Tim Curley and Vice President Gary Schultz knew about the abuse.
"What we don't know is what happened around it," Moran said. "Was it gross negligence, a mistake, a conspiracy of silence?
"If it turns out it was a conspiracy at the highest level of the university, think about what that would mean."
But Moran warned about the danger of jumping to conclusions and presuming someone's guilt.
"From a journalism and historical standpoint, any informed, complete assessment of what happened, what didn't happen and what should have happened cannot take place until the trials of Graham Spanier, Tim Curley and Gary Schultz are complete," he said.
"It's too soon; it's too raw to reach a definitive conclusion."
Senior broadcasting major Jacob Imig said he will apply what he learned from Moran to his own work.
"Don't rush to conclusions, make sure you get all your facts right," Imig said. "I know there's a big rush to put (news) out there, but it's also important to have accurate facts."
news@dailynebraskan.com