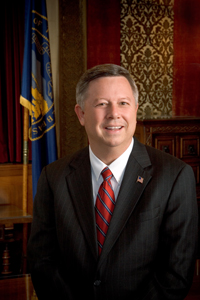 Gov. Dave Heineman is putting every tax exemption on the table as part of his new tax proposal — including nonprofits' kitchen sinks.
Heineman announced his new tax plan during his State of the State address on Jan. 15, and details were announced at a press conference Friday. Heineman aims to end as many tax exemptions as possible so he can eliminate the state income tax. Heineman says this shift in tax burden will make Nebraska more appealing to businesses.
"Taxes are too high in Nebraska," Heineman said. "High taxes impede economic growth, and high taxes aren't attractive for entrepreneurial growth and high paying jobs."
State Sens. Brad Ashford and Beau McCoy said they will introduce bills Tuesday that bring Heineman's tax plan to the floor of the legislature. The first bill eliminates approximately $2.4 billion in sales tax exemptions, Ashford said. The second bill eliminates $395 million in exemptions. Both bills exempt food from taxation. Sales tax exemptions on the chopping block include newspapers, school lunches, nonprofit health clinics, the lottery and laundromats.
The second bill also eliminates the corporate sales tax and exempts the first $12,000 of retirement income for married couples. Heineman said this would make Nebraska more attractive for retirees.
According to the State Business Tax Climate Index, Nebraska ranks 31st. Nebraska's ranking is lower than all its neighbors except for Iowa, ranked 42nd.
"Being in the bottom half of all states is mediocre, at best," Heineman said.
McCoy said the exemptions would incentivize job creation in Nebraska. Citing his own past as a small business owner in western Nebraska, he said this would attract more young talent to the state.
Seth Giertz, an assistant professor of economics, said the tax plan would create a better business climate in Nebraska.
"As with everything, there will be winners and losers," Giertz said. "But this is no free lunch."
Giertz said all of the business benefits would not occur suddenly. Once the market readjusts to the new taxes, Giertz said new industries might flock to Nebraska. He said removing tax exemptions allows the market to trade more freely. Tax incentives alter the price of goods and services. Heineman said the exemptions make the government favor certain industries.
Heineman said he understands that the legislature will want to keep some of the extensions — ones that assist the poor and invest in education. He said he wanted to put everything on the table to allow for a discussion.
"I want to hear from all Nebraskans," Heineman said. "If you feel you should keep your extension, please tell me what you would cut."
Heineman's plan would shift the tax burden from people with higher incomes to people who consume more. The tax system would shift from progressive to regressive. When asked about how the system would impact college students, Heineman did not offer specifics, saying only that his tax reform plans may cause some changes in economic behavior.
Ashford said this bill fulfills his dream of modernizing the tax code.
"This is the big enchilada," Ashford said.
news@dailynebraskan.com