Alexander Kearns led a life spreading positivity to his friends, classmates and almost everyone he came into contact with. Those who knew him described him as positive, friendly and always prepared to cheer someone up.
Kearns, a 20-year-old University of Nebraska-Lincoln student and junior management major, died by suicide on June 12 after a misunderstanding with the Robinhood app showed he was $730,000 in debt, according to CNN. 
Samuel Alvarez, a junior history major, said he met Kearns when they were both incoming freshmen and said they remained close.
"He cared a lot about his friends and anyone he would meet," Alvarez said. "If you're walking down the street and he sees you he's going to say 'Hi.' He's going to stop and talk to you."
Alvarez said he and Kearns lived on the same floor in Abel Hall during their freshman year with other ROTC students in a learning community called Branch Out: Joint ROTC. Alvarez said he and Kearns made several of their close friends through the learning community.
"We had a small group of friends, and one of our favorite things to do is we would always have movie nights," he said. "We continued to have movie nights through sophomore year."
Alvarez said he and Kearns had planned on being housemates for the upcoming fall semester and that he had many fond memories of Kearns. 
Alvarez said that while Kearns loved to celebrate his friends' birthdays, Kearns never wanted anything for his own. So, Alvarez and his friends threw Kearns a surprise party one year.
"Seeing the surprise on his face, he cared so much about us and [for him] to see that we loved him just as much was special," Alvarez said.
Alvarez said that Kearns' absence will leave a noticeable hole in their friend group and lives, and Kearns will always be on their minds when the group gets together.
"We're gonna miss him," Alvarez said. "He really brought a brightness and cheeriness to our group."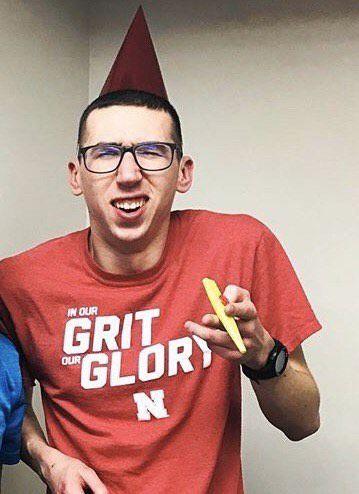 Kearns had been chosen to be a teaching assistant for a BSAD 111 Investing In Strengths course this fall, which is an introductory course for incoming College of Business students, according to Timothy Hodges, executive director for the Clifton Strengths Institute at UNL and assistant professor of practice. Kearns would have served as a Certified Student Strengths Coach for 10 students and would have had two one-on-one meetings with each student. 
Hodges said Kearns had a real interest in the strengths content and in human development, which made Kearns stand out when he was one of Hodges' students.
"He was one of 379 students in the lecture hall, and he would come up, I bet four or five times after class, to say thank you or ask a question," Hodges said. "In a room full of freshmen who've been on campus for a couple of weeks, it's pretty rare that a student would come up and talk to the professor at all."
While he did not know Kearns well, Hodges said Kearns had a fantastic attitude. Hodges said he wished he could get to see the impact Kearns would have had on the students in his course.
Kearns' death will make the strengths coaches more aware of the mental health struggles of their students, Hodges said, and in addition to the required REACH suicide prevention for the strengths coaches, they will continue the conversation about mental health.
Hodges said that even students who he did not think knew Kearns well reached out to him to talk, and he said that a group of coaches organized a donation to the American Foundation for Suicide Prevention. At least one of the coaches attended Kearns' memorial service in Illinois, according to Hodges.
"We care so much, and the students who are part of [coaching] really care a lot, so it's been a hard week," Hodges said. "We've got great students who are better for knowing Alex."
Lt. Col. C. J. Zaworski, commander of the Air Force ROTC at UNL, said Kearns was well-liked by his fellow cadets.
"His presence at AFROTC helped create a positive learning environment for all of his fellow cadets, and he will be missed greatly," Zaworski said in an email. "Our condolences go out to his family and to the cadet wing of Detachment 465."
Despite leaving the Air Force ROTC program last winter, Alvarez said in a text that Kearns would still have tried to serve his country if he could.
"He was ready to serve his country, wholeheartedly," Alvarez said. "He was that person who you would want to go to war with, you want him on your team."