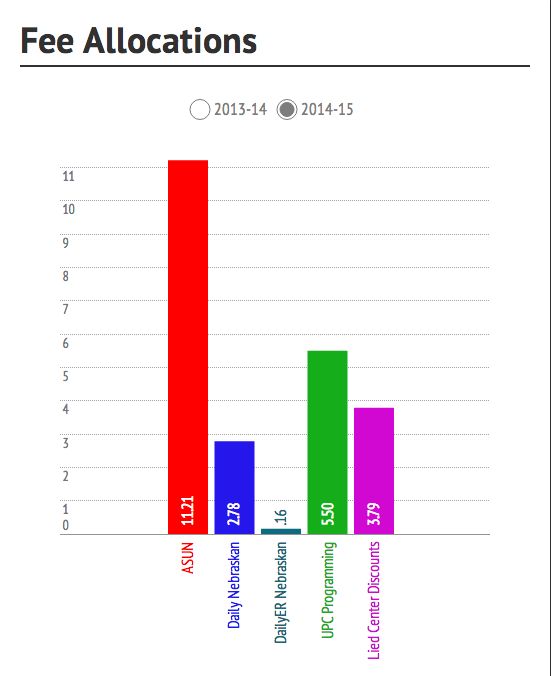 University of Nebraska-Lincoln students who are taking at least 12 credit hours paid $577 in University Program and Facilities Fees this fall.
Some are wondering where that money went.
There are two main categories of student fees: Fund A, consisting of student organizations, which students can choose not to be billed for, and Fund B, institutional obligations and student service agencies, which are required payments for all students.
Staff members within the Association of Students of the University of Nebraska, UNL's student government, said they're used to telling concerned clients that there are some fees they can opt out of per request, such as the $2.94 that helps publish the Daily Nebraskan and the DailyER Nebraskan, and the $9.29 that benefits the University Program Council.
Some of the required student fees are programs such as the Nebraska Union ($93.11), the University Health Center ($143.64) and debt services on facilities ($111.50).
Students also pay $170.30 for health and training fees.
Of all groups that receive student fees, Parking and Transit Services has asked for the most. In the 2009-10 academic year, students paid $9.16; now students pay $25.09.
The UNL website details which fees are levied on each student, most notably a $9.25 per credit hour fee with a $138.75 cap is levied for the use of technology.
No new categories were added to the fees this academic year. The Committee for Fees Allocation approved some slight increases in February.
This year's student fees for full-time students decreased by just $1, to $557.
"The committee spent the entire year learning about the fees and talking about the fees," ASUN Director of Administration Marlene Beyke said. "There was support from both the committee and the senate on all the fees."
To help clear up any worries or misconceptions, each June ASUN releases a breakdown of where every cent of each student's fees is going, but student awareness is low.
"I had no idea that there were (fees) that you could actually choose not to have," said Azlin Armstrong, a freshman advertising and public relations major. "If I had known, I probably would have looked it over and decided what was necessary to me or not."
Even though Armstrong would've preferred to know where her money was going, she said most of the programs are things that she will likely use.
NEWS@DAILYNEBRASKAN.COM