The energetic sea of red begins to clear Memorial Stadium as the final seconds of a Nebraska football game elapse. As the last fans leave the stadium, ROTC members make their way around the stadium seats to collect material left from the game. They then collect all recycling containers in and around the stadium and take them to a recycling truck, which gets hauled to the recycling provider.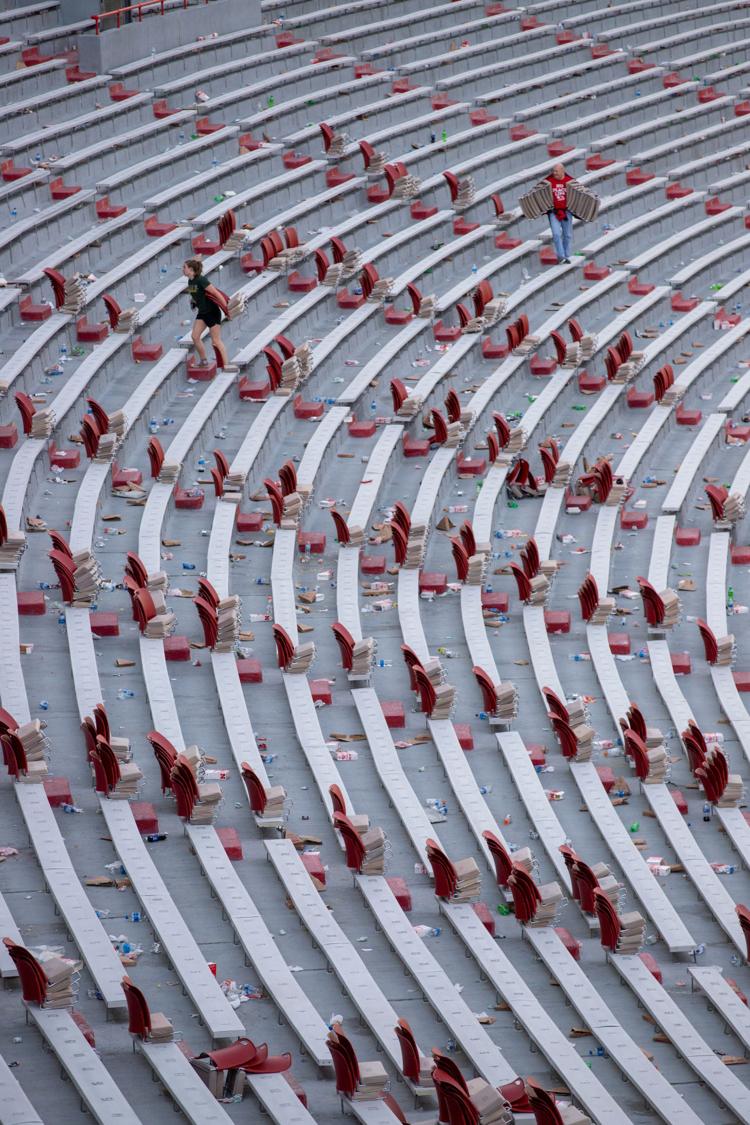 All of the trash cans that aren't labeled as recycling, such as contaminated food waste and waste from restroom trash cans, are taken to a different truck that's hauled to the landfill, according to associate athletic director of communications Keith Mann.
When looking at the amount of waste throughout campus, it's easy to target game days as a contributing factor. Husker athletic events bring in some of the largest crowds to campus, which also means large amounts of waste.
On every Husker football game day, there are approximately 10,000 pounds of trash and recyclable material collected, according to Mann.
For comparison, Mann said volleyball brings in approximately 3,000 pounds of trash, soccer averages about 500 pounds of trash and cross country averages about 180 pounds of trash per event.
Football contributes to over half of the waste produced at athletic events; however, about half of it is recycled. A big contributor of this was the launch of the "Go Green for Big Red" project before the 2011 football season.
One of the main focuses of this project was to make sure there were accessible recycling bins in high-traffic areas. The project also provided for volunteers to walk around tailgating spots in parking lots carrying green recycling bags.
The press release announcing the launch of "Go Green for Big Red" explained that tailgaters are encouraged to take a green bag and fill it with their aluminum and plastic instead of using a trash can. Fans can leave the bags at their site and the volunteers come back around to pick up the bags full of recyclable material.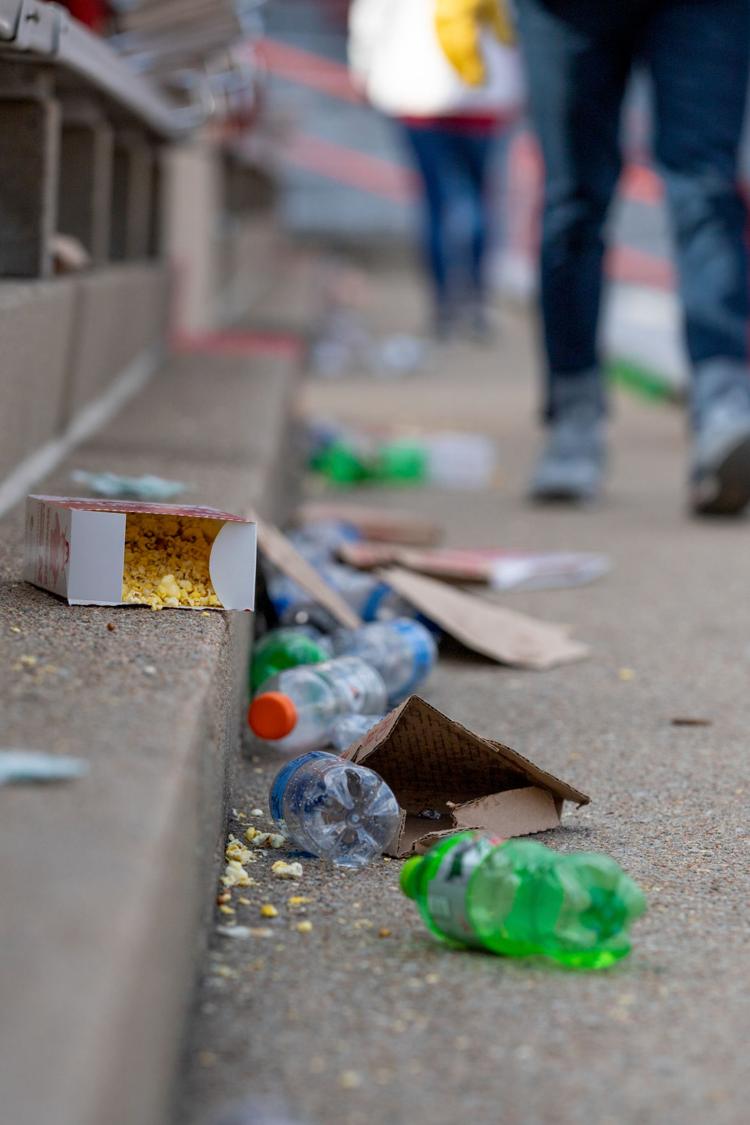 Recycling Enterprises collects all the material and donates money back to the organizers in exchange. According to the press release, the donated money goes straight to funding game day recycling and educational outreach on recycling.
"This is a positive way Big Red fans can contribute to recycling and support a sustainable campus environment at UNL," construction manager for UNL Landscape Services Rich Wahl said in the 2011 press release.
As people become more concerned with environmental problems, one tradition that has caught their attention is the balloon release following Nebraska football's first touchdown every game. It has received criticism because the balloon material can land somewhere on the ground as litter. 
In 2014, a petition was created that called for the balloon release to end, according to an ESPN report. However, it only received 587 signatures, which isn't enough to create a movement. The Chicago Tribune reported that Randall Krause from Omaha filed a lawsuit against the University of Nebraska in 2016 concerning the balloon release's harm on children and wildlife.
According to an Omaha World-Herald article, the university responded by pointing out that the board is a state agency, so it is not susceptible to federal lawsuits. The judge dismissed the lawsuit.
Since then, awareness has spread about the harm of balloon releases through billboards and social media posts.
Balloons Blow is one organization that has been present throughout this fight. It's sole purpose is to educate people about the dangers of balloon releases.
Some universities used to have similar traditions but ended them because of the environmental effect. Besides Nebraska, Clemson University was the last remaining school to participate in the balloon release, according to the Omaha World-Herald. However, in July of 2018, Clemson announced it would be discontinuing its balloon release tradition. 
Although Nebraska's balloon release is the last to still stand, it has taken steps to make the tradition more environmentally-friendly. 
Every time someone contacts the athletic department about their concern with the balloon release, the athletic department has a standard response they give everyone, according to Mann. The response states, "every balloon released in Memorial Stadium is 100% natural latex biodegradable, as purchased from Midwest Balloon in Omaha. In addition, we do not use plastic tabs to tie off the balloons and use 100% cotton strings." 
Balloons Blow's website states the balloon industry markets latex balloons as biodegradable to make it acceptable to release them. But according to the website, latex balloons are still found in the stomachs of dead animals.
According to 1 Million Women, an organization of women fighting climate change, the term biodegradable is misleading. Even when balloons are labeled "biodegradable," it still takes years for them to degrade. 
It can be an assumption that biodegradable balloons are made with natural products. However, they can be treated with harmful chemicals, plasticizers and artificial dye, according to the Balloons Blow website.
Even the U.S. Department of Fish and Wildlife's website has requested that people don't release balloons, whether they're biodegradable or not.
Aside from balloons, concessions are another large producer of waste. However, UNL has made ecologically conscious steps in that area.
"The majority of our items sold at concessions are recyclable," Mann said. "This includes cardboard carry trays, plastic bottles, plastic cups, and popcorn, candy and pizza boxes." 
The athletic department is also continuing to provide more accessible recycling bins for fans to properly dispose of their waste.
Mann said the most challenging part of making an eco-friendly game day experience is educating Husker fans and ensuring they dispose of all of their recyclable materials in the right spot. 
"Unfortunately, a lot of recyclable items still end up on the ground in and around the stadium," Mann said. 
Although there have been many calls to action relating to the balloon release, the athletic department is continuing to implement new ideas for game days that lessen the negative effect on the environment.
This article was originally published in the January 2020 special edition of The DN.