After dropping her kids off at school and attending her textile design classes, University of Nebraska-Lincoln graduate student Jaclyn Tejeda rolls up her sleeves and continues rifling through the more than 20,000 pounds of secondhand fabric she has purchased over the years.
Collecting old fabrics and using her sewing skills to give them new life isn't just Tejeda's hobby — it's her livelihood. 
Tejeda is the founder and co-owner of Glam House, a brick-and-mortar storefront in south Lincoln run by a team who is dedicated to buying unwanted clothes to repurpose, restore and resell them. The store aims to be an innovative solution to unnecessary textile waste by giving new life to clothing items that might have been otherwise thrown away.
Though Tejeda has only owned the 56th and Old Cheney location since May 2019, she has worked with sustainability projects for over 15 years. Her previous store, The Black Market Clothing Exchange, was located at 1601 Q Street until spring when her company experienced leasing issues with the building. Thankfully, Tejeda said, she was able to find a storefront on the south side of town. When Tejeda and her team took over the space after the previous owner retired, Glam House was born.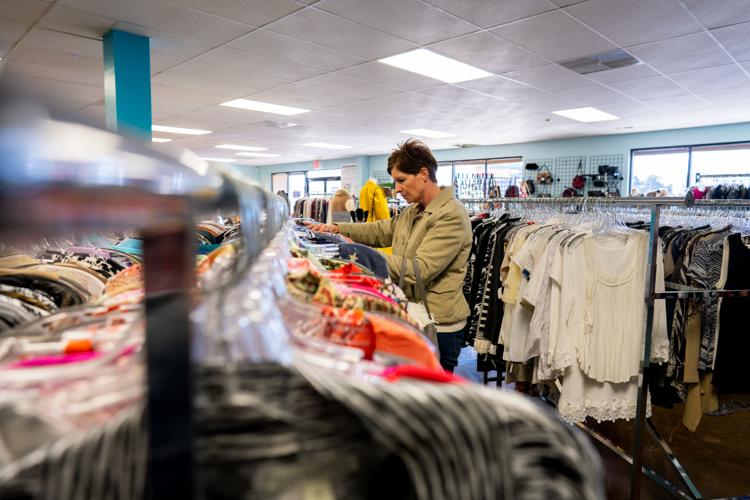 Tejeda said she believes projects like hers are crucial in an age when fast fashion is thriving. Companies like Forever 21, Charlotte Russe and H&M might be popular, but according to Tejeda, clothes from these brands contain plastic-based, poly-cotton blends that break down after just a few washes. Tejeda has seen firsthand how quickly articles of clothing from fast fashion retailers can be easily turned into ripped, holey waste.
"Over the years, we have seen an increasing amount of waste," Tejeda said. "We don't want [fast fashion brands] on our floor because we don't believe in the sustainability of the companies and the quality of the clothes."
Due to their belief in eco-friendly clothing, Tejeda and her Glam House team resell quality secondhand clothing, repurpose fast fashion fabric into new clothing items, bags and stuffed animals and repair minor damages in articles of a wide variety in order to avoid wasteful disposal.
However, the fabric reconstruction is not done inside the store. Two months ago, Tejeda and her business partner Jennifer Murrell began reconstructing and repurposing old fabric inside the warehouse, which now contains all of their unused fabric near the Glam House building. The name Glam House reflects both parts of the operation as a glamorous consignment store and a fabric warehouse, which is used as their workspace to turn old denim jeans into dog beds and scraps of ripped clothing into plush toys. 
"I've learned that I can make enough profit from doing the opposite of what [fast fashion companies] are doing and not putting that footprint out there," Tejeda said.
Tejeda and Murrell said they have exciting future plans that involve community participation. They hope to soon use their warehouse as a public space to educate others on eco-friendly fashion choices. The warehouse will host sewing classes and other educational sessions with family consumer science teachers of all levels and initiate projects that help reduce humanity's ecological footprint by reusing clothing materials.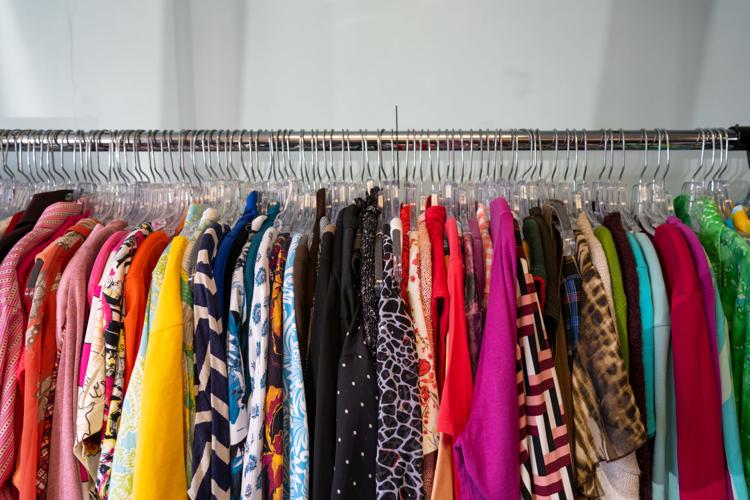 A sustainable fashion project of this magnitude is new to the Midwest, Tejeda said, and the novelty of the warehouse is what Murrell said fuels her motivation. Most people will gladly recycle their glass, plastic and drive fuel-efficient cars, Murrell said, but if they want to get serious about their ecological footprint, she thinks they must take bigger strides to make innovative changes to every aspect of their lives.
"We're getting a little bored of the norm of what we should do and I think we need something that excites people," Murrell said. "Nobody really thinks of how somebody can save the Earth by recycling clothes."
Once the warehouse is open to the public, Murrell and Tejeda plan to encourage all community members to observe the reconstruction process and learn how they can make a positive impact on their environment by reducing textile waste.
The Glam House team has already made educational visits to elementary and middle schools. One project in particular demonstrated to students at Lincoln's Scott Middle School how to convert 250 unwearable T-shirts into functional totes. Tejeda said she has also started an after-school sewing class at her son's elementary school.
To Tejeda, having her children see her concern over environmentally-friendly fashion is an important part of her mission. It's a field she has been involved in since she was a child.
As the daughter of an interior designer and the granddaughter of an active thrifter who helped manage her church's consignment shop called Fabulous Finds, Tejeda grew up around the craft and recognized the importance of eliminating textile waste. From an early age, her mother was quick to instill in her a love of fashion. Tejeda can remember being a young girl and witnessing her mom obsess over using the newest fabrics for their curtains and coordinating their trendy wallpaper to match their swanky couches and carpet.
Tejeda's devotion to both ecological sustainability and her wardrobe followed her to college as she went on to earn an undergraduate degree in textiles, merchandising and fashion design. Now, she's on her third year of graduate school studying textile science due to a childhood love of clothes and a reverence for her planet.
Both Tejeda and Murrell believe the key to creating a society more aware of textile sustainability is educating people as early on in life as possible.
"[We want to] start them young … like in elementary school so that when they're UNL fashion students, they've already had the idea in their brains for a while," Murrell said.
Although the Glam House team wants to focus on educating children, the warehouse will be open to all ages. Tejeda applauds the current generation of college students and young adults for their desire to know where their clothes are coming from.
"Millennials and the younger generation … they want more transparency in everything," Tejeda said. "They want to know more about the process that goes along with the manufacturing of products."
Tejeda said she believes this interest is important to the eradication of the fast fashion industry, and she encourages students to read reports about their favorite companies to ensure they are maintaining ethical business practices. Tejeda also hopes students will stop in the warehouse to learn how to sew shirts with lost buttons or jeans with tears, or at the very least, sell their unwanted clothing to the store so that others can enjoy them.
Above all else, Tejeda said she hopes students will purchase previously owned clothing before they settle on plastic and poly-cotton pieces, and she dreams that one day everyone will have the skillset to sew and repurpose their own wardrobe. 
"Just keep thrifting," she said. "Every time you're going through a rack, you're going to find something that's that a-ha moment."
For Tejeda, her faith is the encouragement she needs to continue repurposing textile waste despite any adversity her business may face. She said her moral beliefs give her a responsibility to make the Earth a more comfortable and sustainable place for future generations.
"God works so well. It's by design that we've been able to continue something that we thought was going to be shut down," she said. "We're able to have our purpose in life."
This article was originally published in the January 2020 special edition of The DN