Out of 13 of the 14 Big Ten schools, a nationwide sustainability measurement program rated the University of Nebraska-Lincoln second to last in sustainability.  
The rating comes from the Sustainability Tracking, Assessment & Rating System, which is a program of the Association for the Advancement of Sustainability in Higher Education. STARS is a self-reporting tool colleges can use to measure their sustainability performance in academics, engagement, operations and planning and administration, according to its website.
Colleges can submit reports at any point, but each report expires three years after the submission date. Each college that submits a report is given an objective sustainability score between zero and 100 based on the percentage of points it earns. 
The points are then totaled to give schools a rating of reporter designation (0-24 points), bronze (25-44 points), silver (45-64 points), gold (65-84 points) or platinum (85-100 points). Ratings and methodology are explained in the STARS technical manual. 
Currently, UNL has a score of 53.27, earning a silver rating. Prabhakar Shrestha, director of the Office of Sustainability at UNL, said his team intends to raise the score to at least 65, a gold rating, by the time they submit their next report in February. 
Of the 14 Big Ten schools, 11 have up-to-date reports at the time of publication. Of those 11, UNL is one of four universities with a silver rating.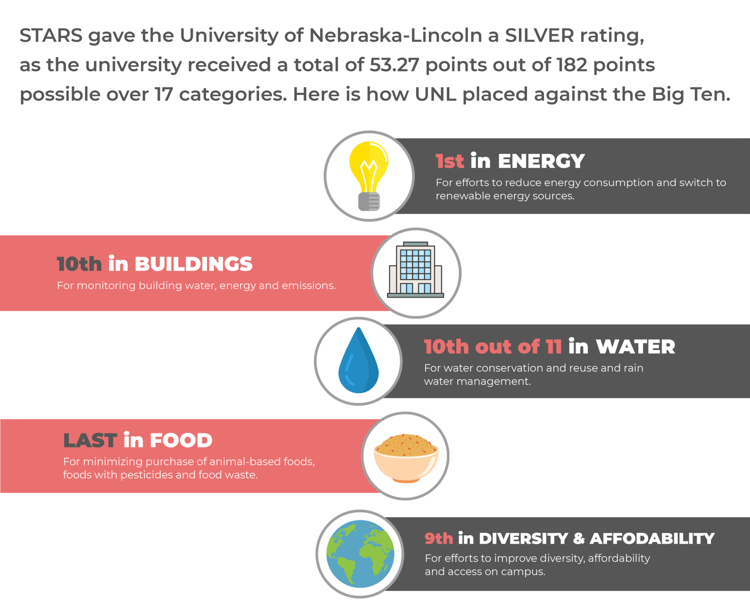 Shrestha said the team is motivated by the STARS rating when making decisions for campus affairs. 
"STARS rating is one of the only objective ratings currently available," Shrestha said. "It lays out steps for UNL on how to improve our sustainability pathways."
The office is currently working with Procurement Services, which is responsible for overseeing and managing the purchasing of goods for UNL that are more environmentally friendly, according to Kat Woerner, a sophomore economics, environmental studies and natural resource economics triple major and sustainability specialist for the Office of Sustainability.
"A lot of our points come from what entities on campus purchase, which is what Procurement handles," she said. "We have been working with them to create more specific guidelines on what departments can purchase to get us more points."
While UNL has been working to improve its STARS score, there are still factors preventing UNL from having a gold rating. In last year's report, UNL marked "not reporting" for investment and finance and food and beverage purchasing.
This is because the Office of Sustainability did not actively work with University Dining Services to collect data in the relevant areas, according to Woerner. To rectify this, she said her office will need to work with Dining Services to gather the data or create initiatives to fill the gaps in investment and earn the necessary points. 
Students can take action to increase UNL's sustainability rating by participating in groups and programs dedicated to sustainability or doing things on a smaller, day-to-day scale, such as carpooling, according to Woerner. 
"There are a lot of projects students could start that could help us get points," she said. "For example, if students wanted to start with themselves and do something that takes a little less time, then they could carpool to school with their friends or roommates to decrease our greenhouse gas emissions."
Shrestha said his team does not know for sure how UNL will score once they submit their report in February. However, he said he hopes UNL's recent efforts in sustainability will give the university a better rating. 
"We are working really hard to get a gold rating by the end of the year," he said. "We are still in the data collection phase, so we do not know the final points yet."
This article was originally published in the January 2020 special edition of The DN.