Aaron Reinsch sat in the back corner of his actuarial science classroom in Ferguson Hall on Oct. 12, 1992.
The professor was late, but that was nothing new, Reinsch said. The senior actuarial science major and other students waited — until Arthur McElroy walked into the room with a gun.
Behind McElroy's glasses, his eyes were wide open. The 43-year-old graduate student looked like a zombie as he stared blankly at his fellow classmates, Reinsch said.
He leveled his gun, an Inland .30-caliber M1 carbine, at his hips and began jerking the gun, waiting for bullets to fire.
But they didn't.
Chairs screeched as students quickly rose from their desks and ran out of the classroom. One student pushed a desk into McElroy, but McElroy stayed focused on his rifle. He pounded the weapon on the ground and forced another round of bullets in its chamber.
Unable to escape from the back corner of the classroom, Reinsch crouched behind his desk and wrapped his fingers tightly around its edges. He glanced at the window.
"Immediately I thought, 'Can I throw a desk out the window and just jump out?'" he said.
The gun still didn't fire, so McElroy left the classroom and ran outside to his car, which he parked directly in front of the entrance. He drove to his home in Bennet, around 30 minutes away from Lincoln, where he was later arrested and charged with attempted second degree murder and three other felonies, according to a Daily Nebraskan article published at the time.
After a few minutes, Reinsch walked out of the classroom and biked to his apartment. He sat on his couch in silence and thought to himself, "I could've died today."
Several members of the UNL community could've died that day. UNL administration took action after the incident and encouraged students to seek help at Counseling and Psychological Services. They also informed students about crime prevention via various letters and updated the campus safety policies.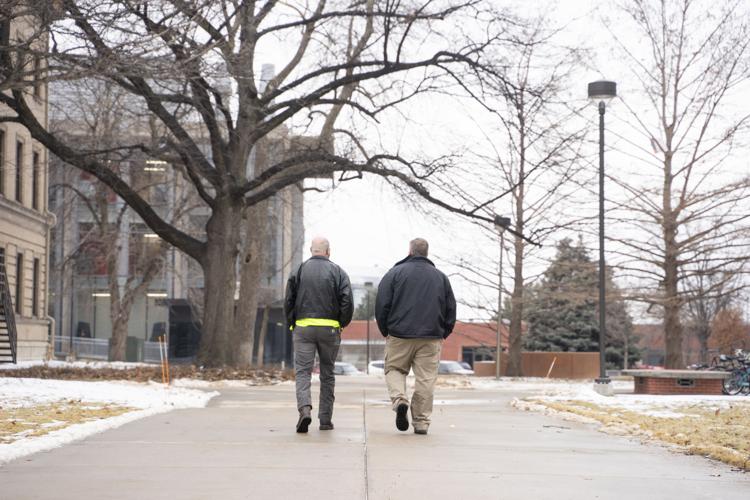 Outside Ferguson Hall, people attempted to understand what just happened. Nobody panicked or ran from the scene. They stood and did not consider the potentially dangerous situation they were in, according to former Daily Nebraskan staff writer Chuck Green, who covered the almost-shooting.
Someone called The Daily Nebraskan and told them a man walked into Ferguson Hall with a gun and tried to shoot his classmates. Green ran to the scene.
"I just don't think it had set in," he said. "They saw him with the gun, and they saw him messing with it and trying to get it unjammed … I guess the absence of shots fired, it just didn't register with people what almost happened."
According to a study conducted after the incident by retired Peru State College professor of criminal justice Kelly Asmussen and current senior research scientist at University of Michigan Medical School John Creswell, the majority of students seemed to disregard the potentially dangerous situation. Most classmates stood outside the building and joked about the incident, but others cried.
"It didn't have that feel of a big catastrophe that was just averted," Green said. "It was more calm, like people just didn't know what to think at that point."
James Griesen, the vice chancellor for student affairs at the time, said he marched down to the registrar's office upon hearing about the incident and found a different classroom for the students so they would not have to re-enter the crime scene.
The next day, Michael Hill, a former sociology professor at the university, attempted to explain the incident. He said he used sociological concepts to try to understand it, but the attempted shooting was not a big deal on campus. He didn't even learn about the event until he watched the news that evening.
According to the study conducted by Asmussen and Creswell, who are mental health counselors, the campus police chief and two county attorneys talked to the actuarial science students who were in the classroom that day and held debriefing sessions.
In the first session, students shared their fears of McElroy attempting to attack the class again, and during the second session, students stated they were concerned another person would attempt to attack the class.
Counseling and Psychological Services visited the class and offered assistance to students, but the study said only one student utilized CAPS. Reinsch didn't go.
"I suppose it was a lot scarier for some people who were scared of guns or something," he said. "I was [scared] at the time, but because the gun never went off at all, it probably wasn't as traumatic as it would've been had that occurred."
Green said students on campus did not seem concerned about the event.
"Everyone kind of realized, as time went on, what a big tragedy was averted," he said. "I think they just kind of chalked it up as this guy being very troubled, mentally ill. It was just an isolated thing, and thank God it didn't happen. I just don't remember it being that big of a thing."
The Daily Nebraskan published an article in February 1993 about the safety concerns of students. In the article, then-police chief Ken Cauble said the increase of crime in Lincoln reflected a national increase. UNLPD focused on patrolling campus by foot and not by car.
Within 10 days of the attempted shooting, UNL installed 36 10-foot emergency telephones, according to the study by Asmussen and Creswell. Students also volunteered to walk each other around campus.
Griesen said the university also sent letters to students about crime prevention. Despite the precautionary details, UNL eventually provided gun lockers for students so they could store their guns on campus without keeping them in their dorms.
Griesen said the changes were made because he was concerned about students' mental health and safety.
"There were two immediate reactions: one was shock, the second was relief," he said. "The third thing that comes to my mind is, 'What do I need to do to help the students affected by all of this?'"
For months after the incident, UNLPD investigated the attempted shooting. Former officer Bill Manning did not understand the motive behind McElroy's actions then and still doesn't today. He said it will forever be a mystery.
UNLPD searched McElroy's home after the incident and found 81 rounds of ammunition in his car and blood-stained clothing, according to the Daily Nebraskan article from the time.
On Nov. 24, 1992, The Daily Nebraskan reported McElroy was in the Lancaster County Jail on a $500,000 bail. On Dec. 1, McElroy sued the university and UNLPD for searching his home in Bennet, claiming it violated his civil rights.
In January 1993, McElroy's trial was postponed so he could be evaluated at the Lincoln Regional Center. In April, a doctor at the Lincoln Regional Center said McElroy suffered from paranoid delusional disorder, which makes him have an unrealistic view of the world.
Manning said officers knocked on McElroy's neighbors' doors and talked to classmates and professors. They all came to one conclusion: McElroy struggled with mental health issues.
The police department did not receive any complaints about McElroy prior to the incident, but Manning said people thought he was odd. Classmates said McElroy could be argumentative in class and neighbors said he kept to himself.
"A lot of times, [people in similar situations say,] 'Oh, he was the nicest guy,' [but] that wasn't the case with this guy," Manning said. "He was a little weird or he was a little strange — that's more of the description that came off."
Manning and Reinsch visited the site of Ferguson Hall together years after the shooting on a windy February day in 2019 — 26 years after the attempted shooting.
Reinsch had not visited campus in years — besides attending the occasional Husker football game. He still resides in Lincoln, and he works for Capitol Heating & Air Conditioning as a sales manager. Manning is still familiar with the campus. He left UNLPD in 2003 and now serves as an operations manager for UNL Parking and Transit Services.
While walking around campus, memories of being a college student came back to Reinsch. He remembered the L-shaped Ferguson Hall that once stood on campus and the bike rides home to his apartment.
The two recalled McElroy's gun and his car parked outside the building that day. The campus layout changed since Reinsch was a student, and Manning informed him that Ferguson Hall was demolished to open the land for a green space.
He told Reinsch that Ferguson Hall's faculty moved to the new Jorgensen Hall on 16th Street, home of the university's Department of Physics and Astronomy.
At the end of the day, Reinsch came home to his wife and kids. It was Valentine's Day, and they celebrated with desserts.
But if the gun had fired 26 years ago, there could have been a different story to tell.
This article was originally published in the April/May 2019 special edition of The DN.