Crisscrossed by major streets such as Vine, 16th and R, UNL's City Campus has to accommodate students and other individuals who are walking, biking and driving.
Though there is a plethora of pedestrian crossings and stop signs to guide the thousands of students rushing to get to class, there are bound to be accidents and injured students.
Nadine Moore was one such student who found herself staring down the oncoming headlights of a vehicle.
Moore, who studied journalism at UNL last year, was going about her usual routine during dead week in spring 2018 when she was struck while crossing the street. Even though she walked away, she was shaken by the experience.
"Up until second semester of last year, I hadn't really had a lot of problems with [traffic on campus]," Moore said. "Yeah, there were a lot of drivers that weren't very considerate of pedestrians that were walking, but for the most part, it's never been bad. I had never heard of anyone getting hit by a car on campus or anything."
Moore said she was unaware of previous pedestrian-vehicle accidents prior to her incident. She was confident in her ability to cross a street without getting hit by a vehicle, so she crossed somewhere with no crosswalk.
As she entered the street near the U-Stop at 17th and Q streets, a pickup truck pulled out of a nearby alley. She saw the driver looking the other direction, as if to check for pedestrians, so she assumed he had looked her way and seen her. He hadn't and then hit her.
"The guy stopped for a second and was like, 'Oh, sorry,'" Moore said. "Then he gave me his phone number and his first name and left. This was during lunch time in Lincoln, too, so there were a lot of people around and a lot of people saw it and were like, 'You're just going to let him drive away?'"
In shock, Moore replied with, "I guess so," and went to return a camera she rented from Andersen Hall while her arm was still bleeding.
At the University Health Center, she was informed that her left ulna had been bruised during the accident, and the nurses called the police to report the incident.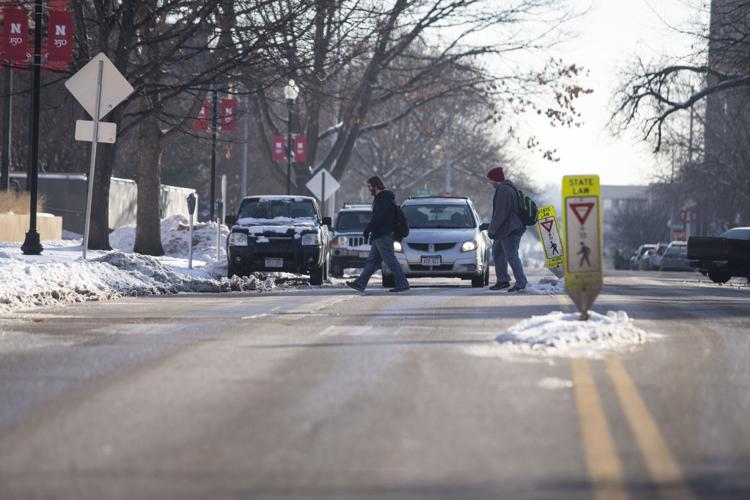 In Moore's case, not much else resulted from the accident. The university never said anything to her, and she never inquired further about it. She said she felt like it wasn't her place since it technically wasn't on campus, though it was right across the street.
Moore said she wants students to learn from her experience and know what to do after if they are ever hit by a vehicle. She said it's hard to focus when in shock but to make sure the victims get the driver's first and last name and make sure they don't leave the scene until police arrive.
Sydney Wurdeman, a sophomore political science and sociology double major, said she also had a traumatic experience with traffic near campus.
Wurdeman was on her daily bike ride to campus in October when she was hit by a driver who failed to obey a stop sign at the intersection of 22nd and Q streets. She, unlike Moore, did not walk away from her incident with just cuts and bruises. She broke her leg, ankle and foot.
"The traffic at UNL can be crazy," Wurdeman said. "I've seen a lot of kids biking have similar issues with cars not stopping at stop signs. There's definitely an issue with it."
Although UNL and Lincoln are typically bike-friendly, Wurdeman said there are a lot of people trying to get to their destinations as fast as they can, which can result in dangerous situations.
Sgt. Jonathan Sears of the University of Nebraska-Lincoln Police Department said the streets and traffic in and around UNL's campus are safe as long as everyone is paying attention to their surroundings.
"Speed limits, stop signs and traffic lights on campus provide for a safe commute if everyone, including vehicles, bicycles and pedestrians, follow the rules of traffic control devices and crosswalks," Sears said. "To stay safe, especially in today's society, everyone needs to put down their devices and concentrate."
Sears recommends wearing highly visible clothing as a pedestrian to stand out more to motorists.
Mark Lutjeharms, traffic engineering manager for the City of Lincoln Transportation and Utilities, said safety for motorists, pedestrians and bicycle riders is always at the top of his mind when it comes to street planning, design and construction, especially in a campus environment.
He said his department is constantly looking for ways to improve the pedestrian and commuter experience on campus and downtown.
"Recently, physical changes to 16th and 17th streets and improved traffic signal timings along Antelope Valley Parkway have been implemented to promote pedestrian and bicycle safety on campus," Lutjeharms said.
According to Lutjeharms, these changes have resulted in less traffic on the streets running through campus. He said the crash data for 16th Street, between Q and Vine streets, shows fewer vehicle-pedestrian crashes have been reported since the implementation of these changes.
During summer 2017, many of the streets throughout UNL's campus transitioned from traffic signals to stop signs. Lutjeharms said this decision was made in order to divert non-campus traffic to streets that move vehicles around campus, rather than through it. This transition has achieved its goal, he said, as greater traffic efficiency and safety has been observed since.
According to Sears, the commute works best if everyone is alert, focused and paying attention. The City of Lincoln and UNL frequently work together to make the streets in and around campus safer.
Wurdeman said nobody should have to worry about breaking their leg while going to class.
"I know that there is a plethora of kids that are walking and biking [on campus] as opposed to anywhere else in the city," she said. "It's really easy to just take that turn and not look a second time, but just be extra aware of your surroundings. It's important to take those extra precautions."
This article was originally published in the April/May 2019 special edition of The DN.