The importance of telling Lincoln's Black stories
People across Nebraska celebrated on Sept. 16. 
Just more than a month after the Big Ten announced it would postpone the 2020 fall football season due to COVID-19, the conference reversed that decision. Big Ten football teams, coaches, parents, fans and even former President Donald Trump got involved in pushing for this result. Nebraska was among the most vocal, with eight players suing the conference. 
And, on Sept. 16, those players and many more got their wish. The decision was big news nationwide, and the debate over whether it was the right choice still rages on.
For a couple of reasons, I felt discomfort in that moment. One reason was my feelings about playing football in the midst of a global pandemic — but that's not the point.
The other reason, which is relevant to this article, had little to do with football at all. 
Less than 24 hours earlier, my heart was racing. I was about to cover an event, one I was very excited for. But I'd soon discover much of the passion from other news outlets was focused somewhere else. 
In the weeks prior, Nebraska's newly formed Minority Student-Athlete Collective had announced it would be holding a rally to, "bring awareness to police brutality and racial injustice," in front of Memorial Stadium. 
The evening's speakers were rehearsing when I arrived. I got there perhaps way earlier than I needed to. Over the next hour or two, the crowd grew, full of both athletes and other spectators. However, throughout the rally, I noticed there weren't many other reporters in attendance. 
I saw some photographers and a few people who I assumed were from TV stations, but probably less than 10 media members total. I decided to hold my tongue for the time being because perhaps I was mistaken. After all, I don't know what every single journalist in Nebraska looks like, and it was a somewhat large crowd. 
That night and the next morning, I was in disbelief all over again. There was essentially no coverage online of the event, outside of what I had written. Pretty much all of the major publications in the state had nothing on it.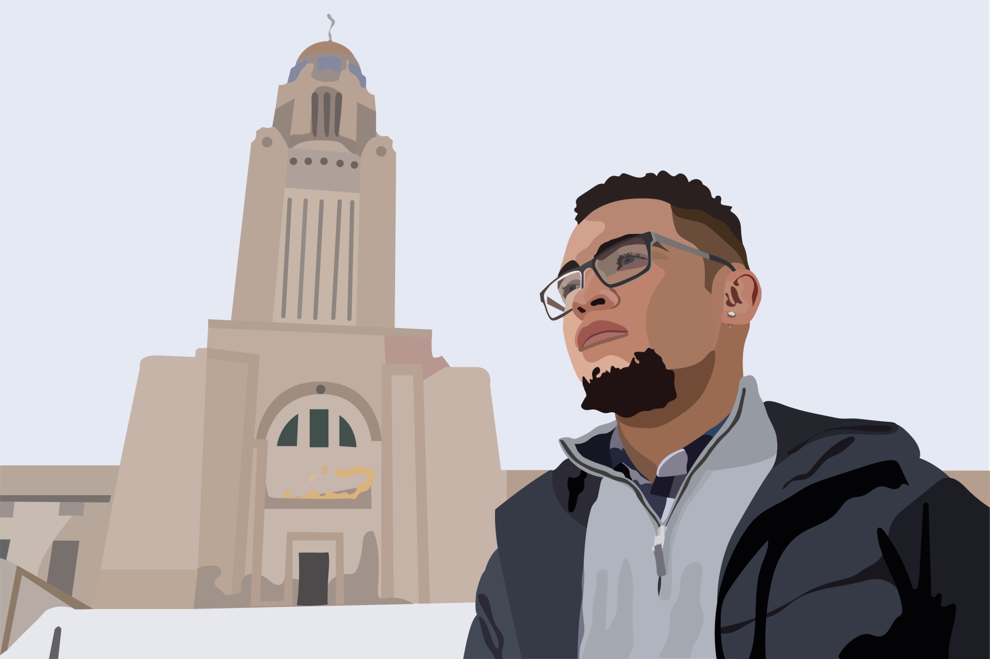 I wanted to say something, but due to the lack of coverage, I second-guessed myself. Was this actually important? Am I just missing something? 
Eventually, I got the confidence to speak up. I posted a thread on Twitter about the lack of coverage and why it's important that we don't let athlete activism get lost in the midst of other sports news. It received a generally positive response, and more coverage related to the rally did indeed come in future weeks. 
On one hand, I'm grateful. The event was covered by myself and others, and nobody can take that away now. But what was most shocking was that it was even possible to get that close in 2020 to completely neglecting what, to me, may be an incredibly important piece of Nebraska Athletics history. 
I bring this up because it directly correlates to this project you're about to read. Over the past few months, we've put together five other stories on the history of Black people at the University of Nebraska-Lincoln and around the city. The history behind these stories is deep and complex, yet some of this history is difficult to uncover because generations before didn't view it as a story worth telling. 
Of course, it's impossible to separate that fact from racism, or how white newsrooms are and have been historically. Black people not being allowed to participate in sports at Nebraska for over 30 years was somehow rarely touched on. Much of Nebraska's Black history is incomplete because Black people lacked the opportunity to tell it, and white people didn't care. 
This isn't to say nobody in Nebraska cares now. From what I heard, many weren't aware the rally was happening. I'm not here to call anyone out specifically because the lack of coverage is not the fault of any one individual. Rather, sports media has created a system where we view anything athletes do off the field as secondary and, therefore, less important.
This also isn't to deny that many historians have done extensive work on these topics, and put a lot of effort into doing so.
That being said, the fact that The Daily Nebraskan had the chance to work on these stories is very important to me. Being able to tell stories that have been waiting years to be told is an honor, and we have dedicated ourselves to creating the best product we can.
It should be stressed that this type of coverage is not going to be limited to whenever we decide to do a fancy project. Telling stories of Black history matters every single day, and The Daily Nebraskan will continue to find these stories and bring them to light. 
The reason I'm so passionate about the stories within this project is the same reason I felt so much excitement about covering the MSAC rally: I get to tell the stories of people who look like me — stories that have been hidden and left untold for far too long. 
As we look back on history, there is a lot we can learn from it. However, that goes past the information in the articles. On top of that, we must learn that it's crucial to be attentive to the stories of all people now, or else they could become incomplete, if not completely missing. Accomplishing this requires a focus on diversity in newsrooms, in both the staff and the coverage. 
As the saying goes, journalism is the first rough draft of history. So, let's work together to make our journalism more representative and make sure Black people are included in that rough draft. 
Enjoy,
Drake Keeler
Co-chair of The Daily Nebraskan Diversity & Inclusion Board