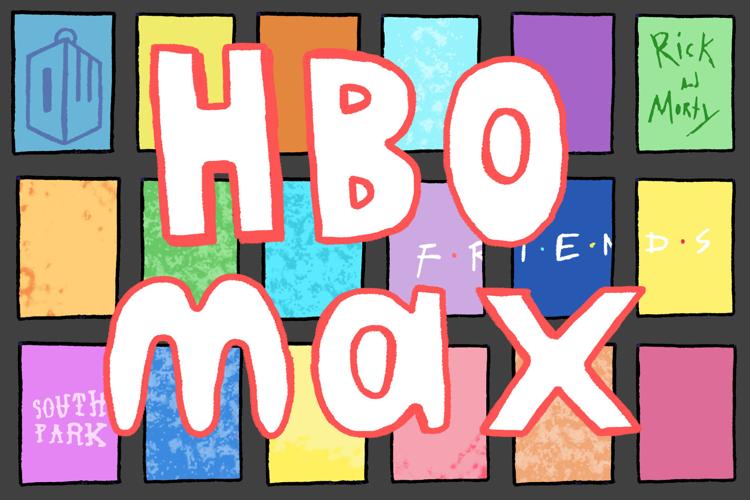 The streaming service wars are in full swing. Almost every major entertainment studio has either launched its own service, paired with an existing one or will be launching its own very soon. Warner Bros. Entertainment executives decided their best strategy in this war is to release their own service that curates all their content onto one platform where audiences can relentlessly binge-watch from their couches.
This new service, known as HBO Max, launches May 27. Its name might be somewhat confusing, as two other HBO streaming services, HBO Go and HBO Now, already exist, but HBO Max is aiming to replace and surpass Go and Now in terms of the variety and amount of content available. 
Before I get into what to expect on HBO Max, I'd like to go over what makes it different from HBO Go and Now. HBO Go was the first of these services to launch, and it serves as an online streaming service that is only available to people who have already purchased HBO with their existing cable or TV package. HBO Now, on the other hand, does not require a TV package. It's essentially the same service as HBO Go, with the same content — it just acts as a normal streaming service that bills the user directly instead of relying on a third-party TV provider. 
Enter HBO Max. This service is an extended and more detailed version of these previous services. It will provide all of the same content HBO subscribers love while adding significantly more options to make the service better-suited for any member of the family. It will feature an entirely new layout that allows the creation of different profiles, much like Netflix and Disney+, and provide a curated list of recommendations. Additionally, the service will feature a "recommended by humans" section, which will provide personal recommendations made by various celebrities such as Zac Efron, Regina King, Barbie Ferreira, Bill Hader, Adam Devine and more. 
Anyone who already pays for HBO Now or HBO Go will also be given a subscription to HBO Max free of charge. 
Now, all of this sounds nice, but if the content the service provides isn't up to snuff, then nobody is going to stick around to explore this upgraded interface. Thankfully, HBO Max already has plenty of content lined up to keep viewers coming back month after month.
At launch, HBO Max will carry the entirety of HBO's massive backlog of series and movies that have aired before. Popular shows such as "Game of Thrones," "Westworld," "The Sopranos," "True Detective," "Big Little Lies," "The Wire," "Watchmen" and many more will all be available for viewing. Additionally, the service has picked up an immense amount of pre-existing non-HBO content that will be available for audiences to binge-watch to their heart's desire. Incredibly popular shows such as "Friends," "South Park," "The Big Bang Theory," "Rick and Morty" and "The Fresh Prince of Bel-Air" will all be available in their entirety on HBO Max. Beyond that, the service will be the exclusive streaming home to "Doctor Who," the "Lord of the Rings" and "Hobbit" films, as well as the "Matrix" series and almost every feature film to come from DC Comics. 
Looking to garner attention from children, HBO Max will also become the new home of the longstanding children's TV icon "Sesame Street." Not only will every season in the show's over 50-year history be available to stream, but there will also be new shows based on these popular characters premiering with the service. "The Not-Too-Late Show with Elmo" sees Elmo take the role of a late-night talk show host to interview various celebrity guests such as Jimmy Fallon, Lil Nas X and John Mulaney. 
Additionally, HBO Max is looking to gain viewership from anime fans. The service will have every film from Studio Ghibli available to stream; Warner Bros. has also partnered with Crunchyroll, a popular online anime streaming site, to bring a myriad of popular anime shows such as "Full Metal Alchemist," "In/Spectre" and "Death Note" to the platform. 
The service will be providing new, original content for viewers to eat up and rave about as well. 
Now, this is by no means an exhaustive list — if you're looking for that, you can find it here — but here are some of the major projects that will hit the service throughout the year and into the future. The long-rumored "Friends" reunion is going to debut on the service later this year. A new "Game of Thrones" spin-off titled "House of the Dragon" is in the works, as well as a live-action "Green Lantern" show and a new take on "Justice League Dark" from J.J. Abrams. The service will also host a spin-off of the new "Dune" film opening later this year, called "Dune: The Sisterhood," an animated "Gremlins" reboot, continuations of popular animated shows "The Boondocks" and "Adventure Time," as well as new shows based around "Grease" and "The Shining," titled "Grease - Rydell High" and "Overlook" respectively. Not to mention the recently announced new cut of 2017's "Justice League" from director Zack Snyder will launch next year. 
With this almost never-ending stream of content, HBO Max is certainly entering the already crowded battle of streaming services with guns blazing. However, at a cost of $14.99 each month, it's a bit more expensive than its competitors, but HBO is offering a discounted price of $11.99 a month for the first year to those who sign up early. Will it become the next big competitor in the streaming surface landscape, much like Disney+ last year? Or will it crash and burn like Quibi? We'll have to wait and see.