Editor's note: The Daily Nebraskan's senior culture editor Mark Champion and assistant culture editor Hunter Arias had no part in the reporting, writing or editing of this story.
Blue and green strobe lights paint the exposed brick of Duffy's Tavern a cool turquoise, while the smell of stale beer and smoke clings to the air in a way that could be considered nostalgic — or gross depending on the person. A small group of college kids gather in front of the stage on a cool evening, waiting for a newly formed local band to perform its first set.
On Nov. 13, a new pop rock band called PEACHIE performed at Duffy's Tavern for the first time in front of an audience.  
PEACHIE's story began this past July, when Colten Welch, a senior mathematics major at the University of Nebraska-Lincoln, partnered with his bassist brother, Braydn Welch, a junior business administration major at UNL. According to Colten, the original musical project began with a desire to branch away from the typical garage punk scene, and create a group with a female lead — causing Colten to invite rookie vocalist Sophia Spire, a sophomore elementary education major at UNL, to join the band. After the addition of guitarist Kalia Halpine and drummer Ben Layton, PEACHIE was completed.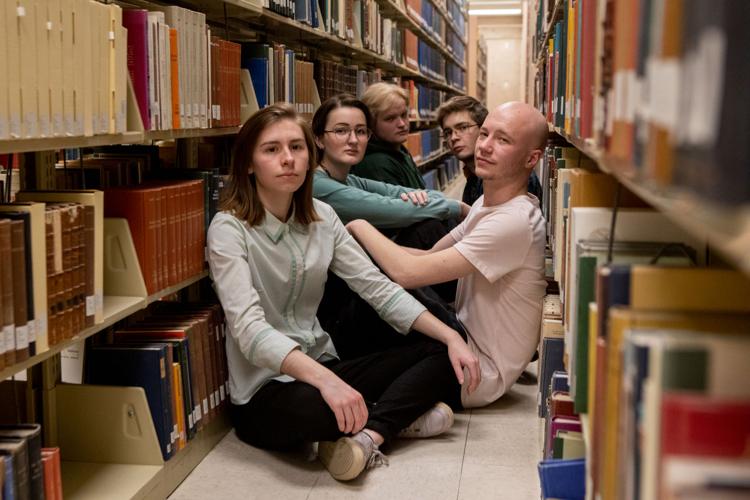 "It's definitely important, not only to collaborate with people that you mesh well with musically, but also you want to work with people that appreciate your input from a personality standpoint and a musical standpoint," Spire said. "You want to be able to have fun with the people that you're with and hopefully be their friends along with their band mate."
From a listener's perspective, PEACHIE's tone can most easily be described as soft indie with subtle pop rock influences. However, both Colten and Spire don't consider themselves fully integrated to a specific sound category. 
"A lot of people ask 'What's our sound? What's our genre?' And, to be honest, I don't think we really have one," Spire said. "We have just been making what we like, and doing it because we like it, and honestly I'm not sure if that falls into a specific sound yet." 
Though PEACHIE is a young band, both Spire and Colten said they are hopeful and excited to continue with the new project, as they both have high hopes for the growth and change of PEACHIE. 
"This is the first time I've been a creative force in a group, and I'm hoping to stick this one out in the long run," Colten said. "At some point, I want to focus on putting music out on streaming services and just constantly pumping out original content."
The hopeful band of musicians is set to perform next on Nov. 24, at The Mez, followed by a festival show called Christmas Vacation Fest, at the Bourbon Theatre on Dec. 14. Both performances are welcome to all ages.
"I like to write songs about love and self reflection and I think that's where we are headed," Colten said. "I just want to experiment around, and further polish what we have now and see where that goes."