Most girls begin planning their dream wedding at a young age. They imagine their first dance, their dream wedding dress and their friends and family nearby to help them celebrate. At some point after getting engaged, they have to be more realistic as they figure in costs and logistics. They must plan for mistakes and formulate quick solutions to ensure a stress-free day. However, changing the wedding date two months beforehand isn't something that is usually factored into the planning process.
University of Nebraska-Lincoln seniors Cassie Kiihne, an animal science and psychology major, and Spencer Collins, a software engineering major, were ready to tie the knot on May 16. A little over a month ago, the couple decided to postpone their wedding because of the pandemic. Kiihne said it was a hard decision, but the two decided it was the best option to help protect their family and friends and still have the wedding they dreamed of.
The Omaha couple met in their early years of high school. They were both involved in different school bands at Millard West High School and eventually became friends of friends.
Kiihne made the first move on the path to happily ever after. After one of Collins' solo performances, Kiihne texted him to congratulate him and kept the conversation going.
The two began hanging out the summer after their sophomore year in 2014. Kiihne said their first date occurred then, but she didn't think Collins felt the same way. They officially started dating later that fall. They said at the time, neither of them could see themselves spending their lives with the other.
"I definitely thought he was a great person and it could stay going for a while," Kiihne said. "But I don't think I was thinking that far ahead at that point."
Kiihne and Collins' relationship grew as they both graduated high school and continued their education at UNL. They both joined the Cornhusker Marching Band: Kiihne spinned for the flagline, and Collins played the trumpet.
In 2019, Kiihne and Collins were exploring the West Coast with Collins' family when he popped the question.
"Everyone else knew on the trip except for me," Kiihne said. "For the couple days leading up to it, his brother was carrying the ring around in a backpack for all of the hikes we were doing because no one knew, including [Spencer], when he was going to do it."
The group decided to hike the trail to Heceta Head Lighthouse on the coast of Oregon on March 19, 2019. 
"At the bottom of the hike, there was this bed and breakfast, and there was this little sign that we read about the area," Kiihne said. "I was standing at the front of the group reading this sign, and I guess right behind me, Spencer nudged his brother, Austin, to give him the ring."
Collins carried the ring box in his pocket during the hike until they reached the grassy area in front of the lighthouse where he proposed.
"It was funny because as we got up there, I saw the little grassy area, and there was this really beautiful lighthouse and this great view of the ocean," Kiihne said. "And for like three seconds, it crossed my mind, 'Wow, I bet there was a lot of proposals that happen up here.'"
"I just really liked the area," Collins said. "It felt right, and the day was four years and four months after we officially started dating."
After his proposal, the two began planning their special day together.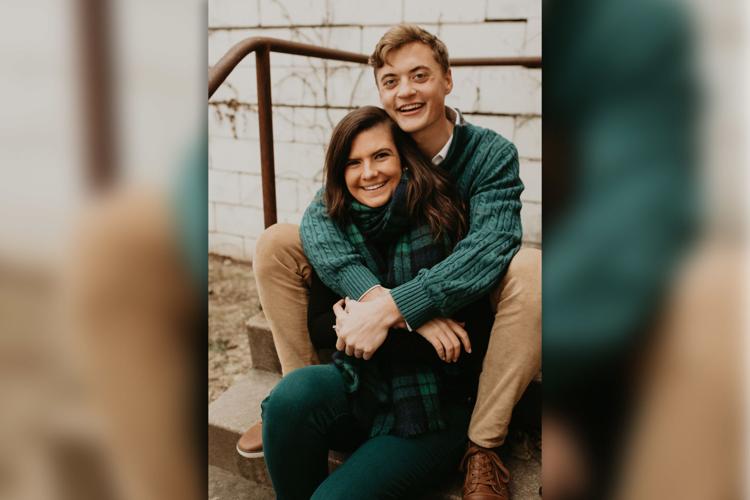 The two planned to get married on May 16, 2020, and started shopping for apartments during the spring semester. They planned to move their belongings into the apartment at the beginning of May and begin living there after the wedding. However, with the coronavirus quickly spreading, the two decided to move in together earlier than expected.
"With all of the pandemic stuff and the refunds offered by housing," Kiihne said, "it made the most sense to move out of the dorms."
Kiihne said the hardest part of the transition was making the actual decision to postpone the wedding. After watching other friends reschedule their April weddings, the couple decided they need to figure out their own plan.
"We definitely debated it back and forth for a while," Kiihne said. "Did we want to get married just the two of us and have our immediate family that day and then have a big reception later? And then did we want to do the reception a year out in the fall, or do want to livestream it or what?"
For about two weeks, Kiihne and Collins debated whether or not to move their wedding. They both have immunocompromised family members and friends who they would want at their wedding, but those family members and friends would be unable to attend during the pandemic due to the potential health risks.
"In early March, it was really hard to tell whether or not things would be back to normal by May," Collins said. 
Kiihne said she was finally swayed by how long they had been together and their young age.
"To me, just waiting the extra three months was worth it to have a regular wedding and not have everything overshadowed by the pandemic," Kiihne said.
Looking back, Kiihne said she was glad they moved it when they did, as they were able to keep their same venue, photographer and officiant. Their guests could also attend. The two chose August 14 as their new wedding date and were able to adjust their original plans.
"Everyone was super flexible about it too," Collins said. "They were so understanding."
A friend of Kiihne was planning on getting married April 25 but decided to move her wedding as well. This friend invited Kiihne to join Facebook groups with brides in the same situation. Kiihne only knew a couple of people from the pages and continued to find more pages she could relate to.
"I even found ones like 'Brides from Nebraska' or more specific dates," Kiihne said. "That was really nice to have to kind of compare ourselves and see what other people are doing and get other ideas."
Kiihne recalls seeing some couples utilizing their original wedding date by eloping or scheduling a nice at-home vacation. Kiihne and Collins haven't determined what they will do on May 16 but said they will find something to make their day special.
As teenagers, Kiihne and Collins said they never imagined planning a wedding together. Now, as an engaged couple, they never imagined having to postpone their wedding due to a pandemic. They said they are using the extra time to focus on their remaining schoolwork and to ensure that their special day is perfect.
"A silver lining is that now we have more time to put in the little details of the wedding and make sure everything is really set to go," Kiihne said.