The smell of sweet dough and sugary glaze fills the atmosphere of LaMar's Donuts on 16th and Q streets as a case of fresh donuts greets the eager customers filing in. As patrons get their donut fix, a glimpse of colorful artwork can be found on a wall next to the condiment table of straws, creamer and sugar. The artwork hanging on the wall is created by one of LaMar's very own baristas, Kat Rippe.
Rippe, a senior fine arts major at the University of Nebraska-Lincoln, has worked at LaMar's Donuts for just over a year. A few of their pieces of artwork bring a splash of color to the environment, hanging for sale on the wall next to the exit of LaMar's Donuts.
About a year ago, Rippe said they were looking for a part-time job and stumbled upon LaMar's when initially craving pancakes. They purchased a donut and asked if the shop wanted art for the walls. A few weeks later, they submitted a playful application and was later hired as a barista. After being hired, they still wanted their art to be displayed in the shop and the request was permitted.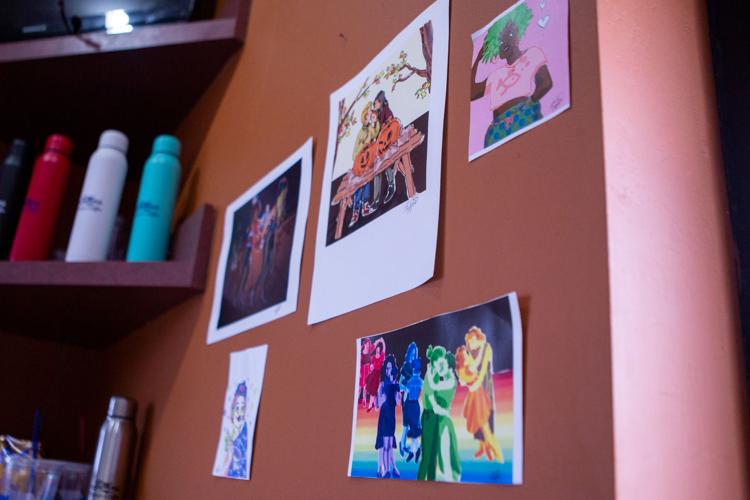 At the beginning of Rippe's art career, they focused on drawing, but developed their painting skills after learning watercolors in high school. Rippe credits their mom, Theresa Rippe, as the first person to inspire them to make art when they were seven years old. Kat said during their childhood, their mom would hang up art on their bedroom walls and sometimes even paint directly on the walls.
"My childhood bedroom was covered in little things like a castle, a desert-scape, Dumbo, Thumbelina, The Poky [Little] Puppy and two little frogs," Kat said. "Apparently, little four-year-old me wouldn't take my shoes off until she made up a story about the two little frogs."
 Kat recalled one particular day that sticks out in their memory — they had just finished drawing their mom a picture and their mom went to find some tape to display the artwork on the wall. That's when Kat noticed their mother's artwork on the wall.
 "When I noticed her work up there and how good it was, I made a little-kid vow to one day be as good as her. So, I drew on everything from that day forward — got in trouble for it, kept going, got better at drawing most things than Mom and kept going," Kat said.
Theresa said she is proud of Kat's accomplishment in art and said their artwork often shows the hidden side of their personality.
"I wish I had [their] drive in this," Theresa said. "I like the pieces where [they] express [their] feelings and thoughts."
Aside from Theresa, Kat also finds inspiration through Rebecca Sugar, the creator of Steven Universe, an animated television show on Cartoon Network. 
"[Sugar] gives off dorky vibes but that's cool, because she makes art about things she loves or cares about, and spreads good messages to a wide audience while still staying so authentic," Kat said. "Kids' animation is overlooked all the time, but the work and the simple beauty put into some of these things always puts a frantic mind at ease." 
Kat has experience creating art in many forms including oil painting, watercolor, ink, and photography. Through their work, Kat has found one medium that they favor over others.
"My favorite [medium] is still the pencil or pen," Kat said. "The pencil is what's most familiar to me and you can take that sucker anywhere."
Matthew Sontheimer, associate professor of art at UNL, has worked with Kat for three years as their advisor and Advanced Drawing professor. 
"Kat has a wonderful drafting facility, both with traditional materials — pen and ink, ink wash, graphite, etc. — and is equally adept drawing with a digital tablet," Sontheimer said. 
According to Sontheimer, Kat has an extraordinary ability to create images strictly from memory and they know how to create textures or detail with a limited number of marks on the page.
"One quality I have always appreciated in all of [their] works is [their] quirky sense of humor and unique take on subject matter — be that a work about the interior of an RV or depictions of women's relationships throughout history," Sontheimer said.
Kat said they love when art tells a story and hopes for their art to be in hundreds of books one day.
"Storytelling through art is a big part of why I [make art]. Visual information has always just made more sense to me," Kat said. "Everyone, deep down, has something in common with everybody else. Even though all of our experiences are different and we perceive things differently, we can all look at these little pigments and lines scattered all over in patterns and specific ways and it brings something new to each of us."