Letting out a wide variety of urgent, ominous noises and hurling themselves in flamboyant lunges, students in the Temple Building at the University of Nebraska-Lincoln practice the art of stage combat, a technique developed to create the appearance of fighting without causing actual harm to the opponent.
With The Society of American Fight Directors first starting in 1979 and eventually spreading throughout the country, the organization brought a new life to stage combat, particularly at universities. The SAFD first debuted at the University of Nebraska-Lincoln in the 1990s with a class for students in theatre performance. And where there's interest, there are teachers, and stage combat professors have helped UNL become known for some of the best theatre and film programs in Nebraska, thanks in part to theatrical weapons, scholarly theatre bibliographies and a professional atmosphere that continues to grow.
UNL's stage combat class is now taught to juniors and seniors in the Temple Building by Ian Borden, who holds the rank of certified teacher. Being able to claim this role involves acceptance and successful completion of the Teacher Certification Workshop through the Society of American Fight Directors. Students can take advantage of Borden's certified teacher success by testing their proficiency with the SAFD at the free event known as Friday Night, held Dec. 6th. If students pass, they too become certified teachers.
Elaine Stueve, a junior theatre performance major in Borden's stage combat class, describes how the students in the class are working toward their final performance of the semester.
"Currently, we are working on an unarmed combat scene, a broadsword scene and a single-sword scene," said Stueve. "The goal is that we will perform these scenes at the end of this week for our Skills Proficiency Test. If we pass, it means we get certified to teach whatever area in stage combat we passed in."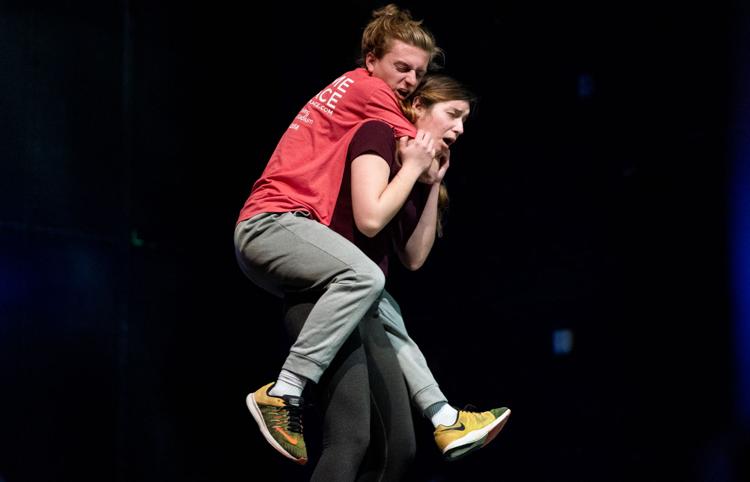 Borden is one of almost 160 Certified Teachers with the SAFD, teaching with his credentials at UNL for the past 11 years. His work conducting various UNL courses such as Intro to Theatre, Scripts in Production, Acting, Directing and Stage Combat has allowed him to move up to the position of fight director, of which there are only 72 nationwide. Like a director, this position authorizes Borden to oversee and choreograph stage combat in plays and other performances.
"I really like … stage combat. Violence occurs at the most emotional points in a story, so it's always exciting to bring those moments to life," Borden said.
All violent movements on stage or in film are a part of stage combat, whether that be hair pulls, slaps, kicks or sword battles. This year, the production of "Julius Caesar" is helping the students rehearse harsh scenes like the assassination of Caesar and The Battle of Pharsalus for their final performance.
"We are taught how to use acting blocks as props in stage combat, and when we do scenes we use what we learned … and apply them to props," Stueve said. "For Friday night, I'm using high heels in my scene. There is a group using a suitcase and another group using a chair."
Stage combat requires a hefty amount of stamina, strength and patience, Stueve said. Borden constantly reassures his students that growth takes time.
"My favorite thing about Ian is that he pushes us to do our best work," Stueve said. "Stage combat is extremely precise and can be hard to learn, but Ian is patient with us and coaches us through our mistakes."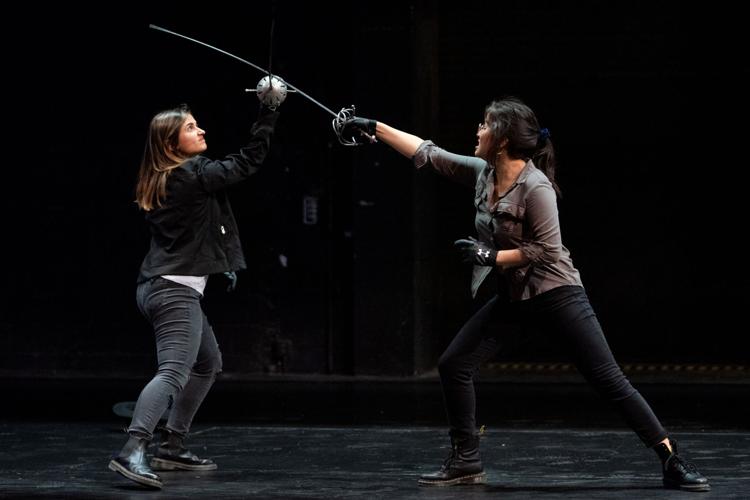 Borden's own interest in studying and training in stage combat came from one unpleasant circumstance that made him realize a trained theatrical fighter can save people from potentially being injured.
"I was put in a fight where I wasn't trained and there were no choreographers," Borden said. "I ended up cracking my partner's sternum. Of course, I felt horrible for a long time, but we should never have been put in that situation."
After performing stage combat most of his life and for 11 years as a professional, Borden's experiences continue to help guide students in a safe way. As a child, Borden found joy in pretending to brawl, and at the age of six, he would pretend to be a stuntman. All that pretending eventually morphed into a passion-fueled career filled with teaching students stunts every day.
"I want to make actors better at telling stories while performing violence and to keep them safe while they do it," Borden said.