Feral cat enthusiasts can rest easy knowing the University of Nebraska-Lincoln's feral cat colony remains cared for in the midst of the COVID-19 pandemic. Husker Cats — a group of eight faculty and staff volunteers who have taken it upon themselves to feed the colony — continues to tend to the cats while maintaining social distancing and safety measures with a new feeding schedule.
For years, each feeding volunteer would fill one feeder each day. However, as more volunteers began to stay at home due to the pandemic, fewer were willing to make the commute to campus to fill a feeder. Husker Cats volunteer Marilyn Fenton said changes to the feeding schedule were made in March when remote learning began.
"We have people who do all the feeders on a given day," Fenton said. "So they only have to go to campus once, but they're filling all eight feeders."
While being beneficial to the feeders' schedules, the modified feeding routine also helps keep volunteers safe. With only one person feeding per day, there's less chance for contact with other Husker Cats members or spreading the virus via shared surfaces, such as the food storage shed.
The schedule also means there's a low chance of contact with students, according to volunteer Jill Flagel.
"We've always tried to feed early in the morning, before classes start and there are a lot of people on campus," Flagel said.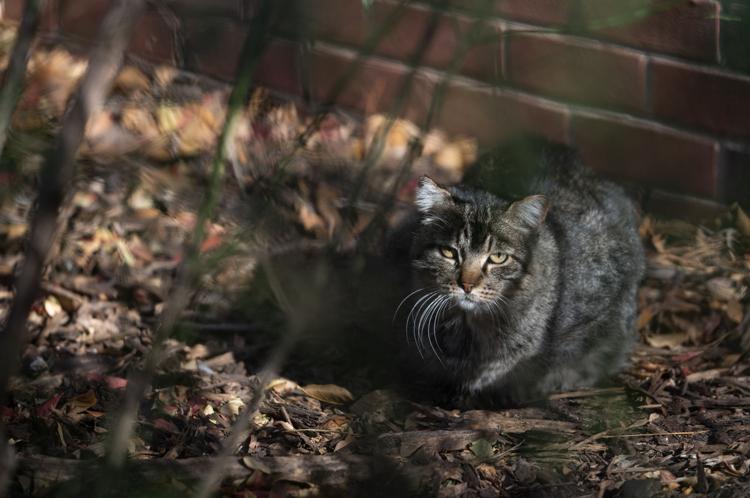 These added measures doesn't mean COVID-19 hasn't had any negative effects on Husker Cats. According to Fenton, one volunteer got laid off from her job with the university when the pandemic hit. Another's job was moved to East Campus, so she can no longer fill feeders — which are only on City Campus — in the morning before work. 
Though this winter break will be longer than in years past, Fenton doubts any major changes will be needed to care for the cats while school is out. Usually during break, the feeding schedule is changed to accommodate the lack of volunteers coming to campus. 
"We usually have a modified schedule during break, but we're already on a modified schedule, so hopefully we'll be sticking with how it's been working now," Fenton said.
Fenton also doesn't feel the cats are at risk this winter due to the cold.
"The cats are smart, and they've been around a while," Fenton said. "They know where to go to get warm … We monitor them to see if any get sick, and we do periodically have to take one to a vet, but they stay relatively healthy."
Flagel agrees the cats are savvy and can easily make it through the winter. She's found that the cats hide from the elements in storm drains and warm themselves by hanging around heaters and steam vents.
"We have never to my knowledge — and I've been with Husker Cats for many, many years now — lost a cat due to weather," Flagel said.
If one feels compelled to help the feral cat colony on campus during these trying times, Flagel recommends donating to the Husker Cats Paypal, which the organization uses to help purchase the cat food that goes in the feeders.
Fenton wants to stress that, though this winter is different from ones in the past, Husker Cats volunteers know how to work around COVID-19 to continue to provide care to the university's iconic wild cats.
"We've dealt with COVID and how it impacted the cats back in March," Fenton said. "Other than the fact that we had a feeder lose her job and another feeder hopefully getting over COVID, COVID hasn't been too bad. Hopefully, the cats will be fat and happy all winter."