During dead week and finals week, a friendly golden retriever named Priscilla enters the Nebraska Union ready to work, just like the crowd of scholars who soak up study time outside Starbucks. In contrast to students' chemistry exams and English papers, however, Priscilla's tasks involve receiving back scratches, wagging her tail at passers-by and cozying up to studiers, many of whom are miles away from their own furry friends at home.
As Trinity Lutheran Church's comfort dog, Priscilla has been specially trained by Lutheran Church Charities, an organization based in Northbrook, Illinois, that utilizes the compassion and amiability of golden retrievers to comfort those in need. For Priscilla, this includes everyone from the elderly in nursing homes to the students about to take a final — Jane Bedient, handler and "Top Dog" of K-9 Comfort Dogs ministry at Trinity Lutheran knows just how at ease Priscilla can make these students feel.
"Once we finally get one of the students to look up and see that she's there, we hear the phrase 'best day ever' in the middle of finals week," Bedient said. "I think it works because dogs are nonjudgmental, and you see that all they want to do is make you smile."
In addition to visiting elated students at the University of Nebraska-Lincoln and local nursing homes, Bedient said Priscilla frequents various Lincoln facilities such as the 911 Emergency Communications Center, Child Advocacy Center, Mourning Hope, Hillcrest Rehab and First Evangelical Free Church's Respite Night, to name a few. It might sound like an overwhelming schedule for a dog, but Bedient said Priscilla's tail wags with enthusiasm when she knows it's time for her to don her blue vest and meet new friends.
"She gets excited to work ... when you get the vest out and ask if she's ready ... she is," Bedient said. "She wants to go to work and do her job."
Visits from Priscilla often include photographs and tight hugs she never rebuffs, and her handlers give the recipients a card with Priscilla's picture, social media handles, LCC's website and her full name: Priscilla Jeremiah 31:3. When Priscilla is wearing her camouflage vest and visiting veterans, her handler comes prepared with a similar card that features a picture of her wearing her military-themed uniform instead.
Priscilla has also made appearances in communities struck by tragedy. Her team of handlers took her to visit Highlands Ranch, Colorado, after a shooting at STEM School Highlands Ranch. Along with other LCC comfort dogs, Priscilla traveled to wildfire-devastated California in 2018 to visit grieving families and responders. LCC comfort dogs like Priscilla have also assisted communities like Sandy Hook and Las Vegas after tragic shootings, Bedient said.
Though Priscilla comes into contact with mourning on a regular basis, handler Adrienne Schmidt said her lengthy training as a working dog prepares her to handle erratic situations with complete grace and poise. 
At just 10 weeks old, Priscilla was put right into LCC's care to begin training at puppy school inside LCC's K-9 Comfort Dogs facilities in Northbrook, Illinois. By 14 months, she was ready to graduate and was handed over to Trinity Lutheran to begin working. She now lives with Carolyn Jones, a member of the church and certified handler, who, like Schmidt and Bedient, had to complete her own training with LCC so both Priscilla and her team of handlers could live up to the strict expectations the ministry has set in place.
"[LCC has] very high standards," Schmidt said. "You do not feed her with the vest on or play with her with the vest on, otherwise it confuses her … only the handlers can have her leash."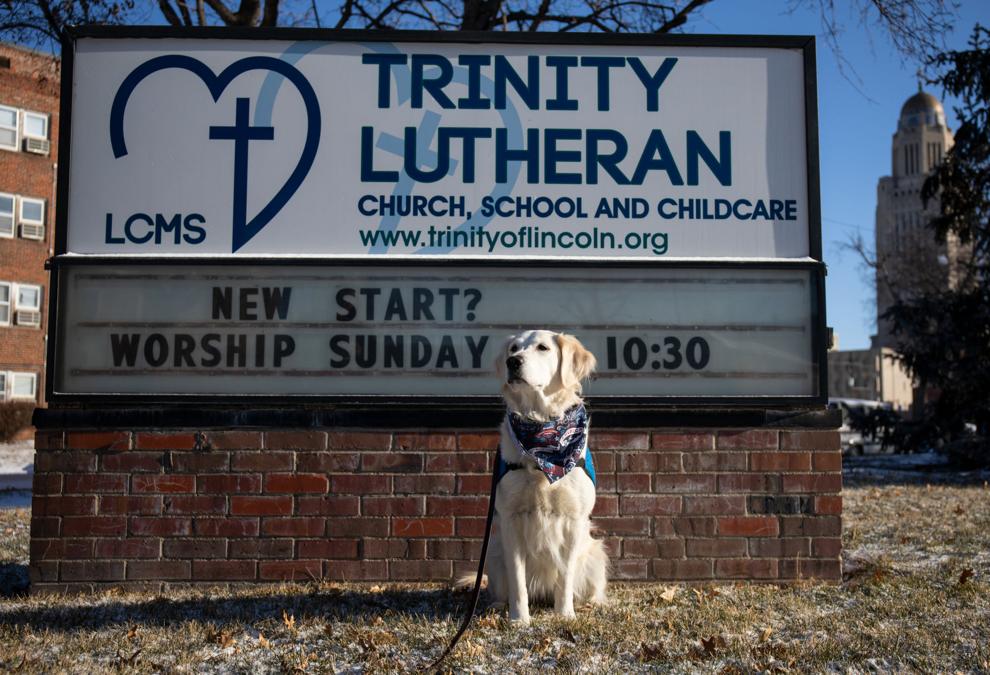 Priscilla might work hard while wearing her blue vest, but Bedient assured she still gets time to roll around in the yard, play tug-of-war, chase squirrels and be a typical dog.
"She gets a 'paycheck,'" Bedient said. "She gets to play ball or get a massage or gets to play tug toy … it's a good way to bond with her."
Because of the strict rules her handlers follow about when she can play and when she must perform her duties, Schmidt said Priscilla has been able to retain an impeccable sense of calm during calamity and can hone in on which individuals need the most affection.
"Very often, she will get a sense of who needs her to go over there and see her," Schmidt said. "She leads you to go over there … because she knows and we don't."
For Schmidt, toting Priscilla around the community does not come without its fair share of touching stories. She recalls visiting a coroner's office in California after a woman performed an autopsy on her friend who had died in the wildfires. Through this woman's reaction, Schmidt said she was able to see how dogs can open the valve to one's most vulnerable emotions.
"[The woman] was fine, she said, until she saw the dogs," Schmidt said. "It was a way for her to let it go … I think we had four or five dogs, and we were all on the floor … just petting."
Bedient believes LCC's ministry and instruction provides a profound way for her to connect with people, from college students to hospital patients, while bringing them the most confidential and understanding friend one could imagine — a dog.
"Through our training, we focused on places where she can use that intuition that dogs have where people are hurting," Bedient said. "We've all seen that in action. She opens up that door for people to share when they're hurting or they're in pain when we meet."