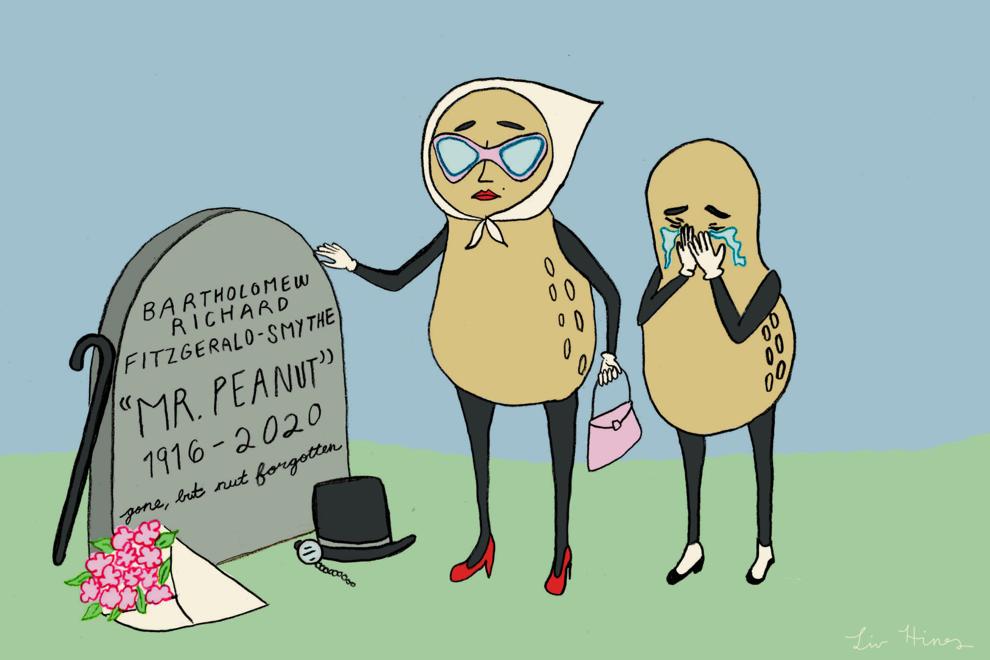 Planters announced Wednesday that its 104-year-old monocle-clad nut mascot, Mr. Peanut, died in a heroic deed of self-sacrifice. While the peanut's passing may be touted as a morbid marketing scheme, the loss proved all too real for The Daily Nebraskan Culture staff.
Mark Champion, senior culture editor
It's times like these where the resolve of man is truly tested. 
Mr. Peanut was not only my uncle, but also my greatest friend. All my life, he was there for me. He helped me grow out of my shell, all while staying in his. No matter what we were going through, he was always there to pull me up. He sure was a tough nut to crack.
Sure, we would have our disputes. There's no denying Mr. Peanut was pretty salty at times, but that suave little smile always crept it's way back onto his face. Whenever things got too heated between us, he would just pick up his cane, adjust his monocle and give me a hug. He had a rough exterior, but on the inside, he tasted good. I just couldn't help but have a reaction to Mr. Peanut.
I don't think I could've known Mr. Peanut better, and that's what makes it so hard to let go of this legume. 
Libby Schilz, culture reporter
My childhood was filled with fond memories of Mr. P. I always had a smile on my face whenever I saw that adorable tophat with his monocle on my TV screen. While I might not like most peanuts, Mr. P always made them tolerable whenever I was forced to eat them during times of hunger and no other option of a delicious snack was available.  
My final words are, thank you, Mr. P. Thank you for the amazing 104 years of your contagious smile and enthusiastic energy. Whenever I eat peanuts again, there will forever be a hole on the tag and a feeling of loss without your face plastered on it, I will forever cherish the few moments we had together. Stay gold Mr. P, stay gold. 
Lisa van Donk, culture reporter
I don't have many thoughts about this recent tragic event, the death of Mr. Peanuts. However, I do think that this is a pretty brilliant marketing strategy. The topic of peanuts doesn't come up in everyday conversation, and by staging the death of this iconic character, it has created some buzz and anticipation for whatever the snack-food company Planters will introduce at the Super Bowl.
Luckily, my parents only ever got the generic brand of peanuts so I don't have any strong emotional tie to this Mr. Peanut.
Haley Elder, assistant culture editor
With a heavy heart, I mourn the memories Bartholomew "Mr. Peanut" Richard 
Fitzgerald-Smythe. While he spent the last 104 years of his life promoting heart health, the word of his death is sure to break hearts around the world.
While Barth and I were not as close as he and Mark Champion were, I still got to know the nut beneath the shell.
In his golden years, Barth was wild. And when I say wild, I mean full on nuts. I remember a few years back when he was busted, but that's a story for a different time.
Aside from his nutty-interior, Barth was wise beyond his years, and was sure to show it with his always-classy attire. News reports have mentioned Barth was still stunting his top hat, tuxedo and monocle until his final roasting.
#RIPeanut, Barth, #RIPeanut
Maddie Hahn, culture reporter
Always classy, jolly and salty Mr. Peanut lived a long life. Leaving us at the age of 104, Mr. P wouldn't have gone out any other way than doing a selfless deed. He has graced our screens decade after decade, and will always be a childhood favorite of mine for his resiliency. I can only hope that his buried body will grow more peanuts to continue his celebrity status legacy.
I intend on watching the funeral of Mr. P during the Super Bowl, so I can officially pay my respects.  
Jack Price, culture reporter
I only met Mr. Peanut once. I was on a cross country road trip and ran out of gas somewhere in rural Idaho. After a few days, I was out of water and low on bread, and just when I thought all hope was lost, Mr. Peanut was there in his 1955 Thunderbird. 
He tipped his top hat and gave me a lift to the nearest gas station, and even gave me a few cents to use a payphone to call AAA. Before he left he turned to me and tossed me the keys to his Thunderbird and said, "just keep it above half."
Then he climbed onto a horse and rode away into the Idaho wilderness and I never saw him again.