He lies on the dingy ground of the church's darkened basement room, black baseball cap pulled over his tightly shut eyes, fingers tapping against his stomach to the music. 
The song ends and he pulls the hat higher, looking up at the producer sitting at the computer. 
"Pretty sick," he exclaims as he launches into what he thinks can be improved in his new song. 
Noah Floersch's method of listening with his eyes closed — sans visual distractions — is how he makes sure the song in his head matches the sounds coming from the computer. 
"It's the best feeling in the world when you lay down and the song finishes and it was exactly how it needed to be," he said. 
Floersch, a junior business marketing major at the University of Nebraska-Lincoln, said he has always been involved in music but a collaborative performance with the Omaha Symphony as a senior at Creighton Preparatory School made him want to have a career in it. 
He would only hear the male parts of the piece, Mozart's "Requiem," during practice at school, so when he heard the sopranos' voices from another high school come "floating in the stratosphere" during the actual performance, Floersch said he was absolutely floored. 
It was that awe-inspiring experience with Mozart's "Requiem" that was the impetus behind his musical career; he just wants to make people feel the same goosebumps when they hear his music. 
In August 2017, Floersch began posting pieces of himself singing on Twitter. Toward the end of his first semester at UNL, Ross Grieb, now a senior marketing major, messaged him on Twitter to see if he wanted to collaborate musically. 
Over winter break, Floersch went to Grieb's house, and the two began bouncing music ideas off each other. Alongside a professional collaboration and a future brotherhood in the Pi Kappa Alpha fraternity, a friendship flourished. 
"In that time, we had just crazy deep talks about what we want to do with our lives, and we became super, super close," Floersch said. "He's incredible. He's a different being completely from anybody I've ever met." 
The two spend hours together every week in a recording studio in the basement of Grieb's church, Citylight Lincoln Church, where they record and mix Floersch's music. Even after UNL classes moved online in March due to the COVID-19 pandemic, the two still meet every Tuesday and Thursday at 8 a.m. to create musical magic. 
Both play off each others' talents, Floersch and Grieb agreed. The latter said Floersch is a talented writer who knows what he wants from a production standpoint. In a year and a half of working together, Grieb said he's become a stronger producer and Floersch has grown as a writer. 
"The relationship between an artist and a producer is very much like a relationship, and there's a certain amount of trust and, I guess, kind of emotional intelligence that goes into that," Grieb said. "There's a lot more synergy with what we're doing now than there was when we started." 
Making music can be a chore, according to Grieb, but he and Floersch never get bogged down in the weeds of things because they genuinely enjoy spending time together. It's evident the two respect each other and value each others' input. Grieb calls Floersch "phenomenally talented" and said he feels privileged to work with him. 
"I truly think he is one of the most gifted musical individuals that Nebraska has to offer the world," Grieb said. "I think he's got what it takes to be a world-class artist."  
While he's not quite at the world-class level, Floersch releases a new song about every month to his roughly 58,000 monthly listeners on Spotify. Last summer, he dropped "Four Songs to Cry To," a quartet of slow, sad jams. He has plans to release a group of five songs this summer. 
"10 Years," the second song from the group of four, is a good example of Floersch's wide range. The melancholic tone builds to a crescendo where his lilting voice floats. As a tenor, Floersch draws inspiration from Jon Bellion and Gregory Alan Isakov, but he said his writing style is reminiscent of Disney princess movies, especially 2010's "Tangled." 
Many of Floersch's songs tell a distinct story inspired by everyday life. Finding inspiration in often mundane interactions is a mindset he has trained his brain to react to. Floersch said walking past someone on campus can spark a song in his mind.  
He said his creativity is hampered now that he isn't interacting with classmates in person, but that just means he's trying new methods of inspiration — like getting out of his house to sit on the roof of the building across the street.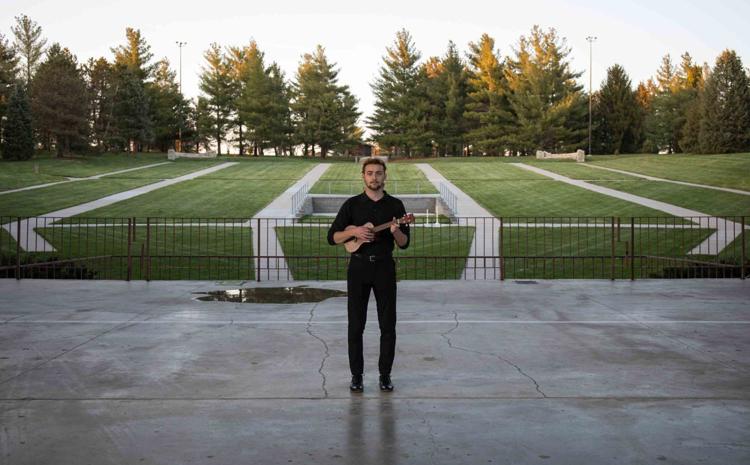 "I have to go out of my way now to go out of my way," he said. "I have to forcibly break schedule and routine for the sake of doing so because that's the only glimpse of inspiration I can get." 
Floersch said the best songs write themselves, but he has agonized over getting the perfect lyrics written out in a difficult rhyming scheme, like in 2019's "Cyanide." However, he said it's rewarding when strangers come up to him and say they're fans of his music. 
He remembered a time doing homework at The Foundry and the barista started playing a song of his. 
"I was like, 'I love this song — Oh my god, this is my song!' I recognized it, and I was like, 'Wait a second, this is crazy,'" he said. "I started crying. That was huge for me." 
He recalled playing "Four Songs to Cry To" to his vocal jazz group one night. He said he and five others laid on the ground, listening to the EP. 
"I remember sitting up and … one person was crying, two were like, 'That's dope' and three were asleep," he said. "I was like, 'Mixed reviews, but I'll take it.'"   
Floersch doesn't know what his future in music will hold, whether that's moving to New York with Grieb to get signed by a record label or moving to Los Angeles to start a songwriting career. In all the complexity the future holds, Floersch's desire to create music stays simple.  
"I want to do it forever until I die," he said.