The sounds of rush-hour traffic score a scene set by golden-hour sunlight shining onto an alleyway between a Walgreens and a psychiatric clinic near 17th and South streets in Lincoln. The cracks that flow through the pavement are driven over by Aidan Chrisman's gray Honda Accord.
He sits behind the wheel, happily smiling and waving as he pulls in. He's wearing a light blue, button-up shirt paired with khakis that don't go far enough down his legs to hide the fact that he's sporting a socks and sandals combo. He brushes his hands through his shaggy brown hair — a style he says he's had since he was 12 — and after a few lukewarm comments about his shift at Jimmy John's earlier that day, he unlocks a white door on the side of the clinic.
"This is my mom's business," he said as he strolled down the stairs behind the white door. But the area he showed now, an old office-looking space with scattered mic stands, Peavy and Marshall amps, a Fender Stratocaster, an out-of-tune upright piano and a floor coated with amp cables, is the spot his band, Seymour, calls home.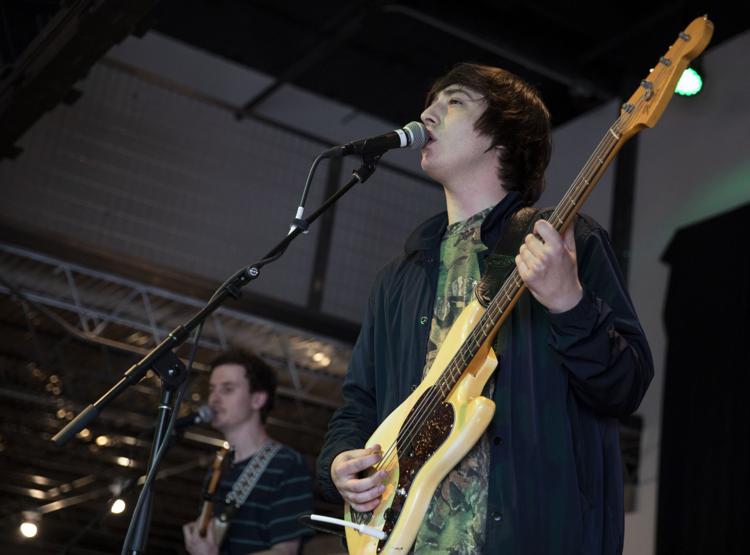 While waiting for Ryan Seib — Seymour's other founding member whom Chrisman has been friends with since the days of pretending to be superheroes during recess in elementary school — to show up, Chrisman strides into what he calls his "green room" off of the main rehearsal space.
He sits in one of the two cream-colored armchairs opposite a brown leather couch. As he takes occasional swigs from the Diet Coke in his hand, he rambles about various topics like watching "The Exorcist" as a child, his strange love for the word "juxtaposition" and his admiration for Mac DeMarco, which eventually leads him to talking about his own music.
Seymour has put out three EP's, "They Live" in June 2017, "X1" in December 2017 and "Sideways" in January 2019. All of Seymour's music is self-produced on GarageBand — an approach Chrisman admires for the grit it can add to the band's music. Through this process, Chrisman can layer his vocals, giving them a signature dream-pop sound that compliments the tracks' melodies.
The majority of Seymour's songs are melodically driven through watery and chiming guitar tones — equal parts Tame Impala psych-pop and Beatles chemistry — with Chrisman and Seib being the two masterminds behind the sound.
By now, Chrisman is playing a couple of songs he wrote earlier that day from his phone as his hands fidget with the partition next to him. His monologue strays from talking about how he used only his computer keys to write those tracks, slowly transitioning to deeper thoughts about how his emotions translate into his music.
"I know so many musicians who are so deliberate. I am trying to be deliberate, but I almost can't be because I have to feel it," he said. "Everything has to be emotion, but I feel like that adds to the Seymour sound."
Not knowing the next thing to say, he pulls out his phone from his pocket and shows me a draft of a tweet he was going to send with the release of "Sideways," but never did.
"'Sideways' is kind of a tell-all," he said.
Chrisman goes back and forth on whether to read the Tweet aloud. He eventually begins to do so. After he says some of the first lines, he pauses and looks up with wide eyes.
"I just get really f****** deep and get almost, like, uncomfortable, but at the same time, this is something I want to say."
He decides he wants the tweet to be heard:  
"It's about how an artist can feel so alone. And creating something for yourself first, even if it gets you nowhere, even if, at first, you thought you were going places and that excited you, it's also about the realization that that may never happen."
He says his apprehensions toward sending the tweet revolved around the fear that readers would interpret it as him complaining about people not listening to Seymour's music. Chrisman said that's not the message behind the tweet.
The draft was a glimpse into the vulnerability that comes with artistry, self-acceptance and awareness.  
"I'm almost talking about sad acceptance. It's just being okay in the end with whatever. If I'm doing what I'm doing, that's okay. I don't need anyone else to tell me I'm doing something right," he said. "Even though I may want that or seek that out, I feel like, I don't know, I'm just trying to analyze those feelings."  
Seib then strolled down the stairs in blue jeans, Adidas sneakers and a gray T-shirt with "Chicago" across the front. The two moved back to the DIY green room and sat side-by-side.
"We've known each other since like kindergarten," Seib said as he looked to Chrisman.
They sparked conversations about their high-school uniform shirts turning into unwanted crop-tops and their love of angsty music as young teens — which included Chrisman attending a My Chemical Romance concert. With both Chrisman and Seib now at 24, that time together formed the foundation of Seymour.
"I feel like when we got together we had some mind-meld go on," Chrisman said.
Chrisman said they ride the same wavelength and could finish each other's sentences. But now they finish each other's songs. Sometimes they'll write a few tracks on their own, but even if it's the other person writing the tracks, the two still share a connection to each one.
Even though Seymour is one band, Chrisman and Seib emphasized that it's more than just one voice. Seib said the members like the idea of having a faceless band, where the concentration is on Seymour and not a specific person.
Chrisman and Seib may want Seymour to have a singular, unified identity, but there are still several minds that drive the success of it. And although the two said they don't think about what they're writing when they write it, it says something once they're done.
"Just putting something you have created and seeing what other people say about it, it's hard to put yourself out there," Seib said.
Chrisman laughed and nodded. "It takes two to tango," he said.  
When Seymour tangos on stage, though, the dance isn't always reciprocated with the audience.
"You'll get the crowd sometimes that's not interested in what you're doing, and that can make it harder to fully perform," Seib said.
The two said Seymour accepts as many show offers as it can and always tries to put on a good show. Chrisman said that's the easiest way for the band to get its name out there. The two have showcased their musical skill since middle school, when the duo performed Heart's "Crazy on You" at a talent show.
"We took that time we could have just been doing nothing, and we made something productive out of that," Seib said.
Chrisman and Seib said in the future, they will look back on their friendship with Seymour's music being the documentation of its history and share what they created with their families.
"We want to show [our] little kids, you know," Chrisman joked. "Have like a family Thanksgiving and all gather around the fireplace."
"And put on a Seymour record," Seib said.  
Chrisman mimics the drop of a needle on a record. "They used to call this straight flame back in my day," he said laughing. "That's why it feels good making music together. It's not a burden. If anything, it would be a burden if we didn't make music."
They may be joking, talking about a future in which they're celebrating Thanksgiving together, but it's emblematic of the relationship the two have developed since kindergarten. They've been together this long, and they can't imagine a world without the other. Making music for themselves as Seymour is a vehicle for that friendship.
"It's just making music we want to hear. I want to be able to make some music that I can just legitimately go like, 'Oh, wow, I can't believe I made that,'" Chrisman said.
After our talk in the rehearsal space, the two friends walk up the stairs of their rehearsal studio laughing. They amble out the white door on the side of the clinic.
Underneath the dark sky, the two stand by Chrisman's gray Accord together — lit up only by street lamps and their contentment with being together for another night.