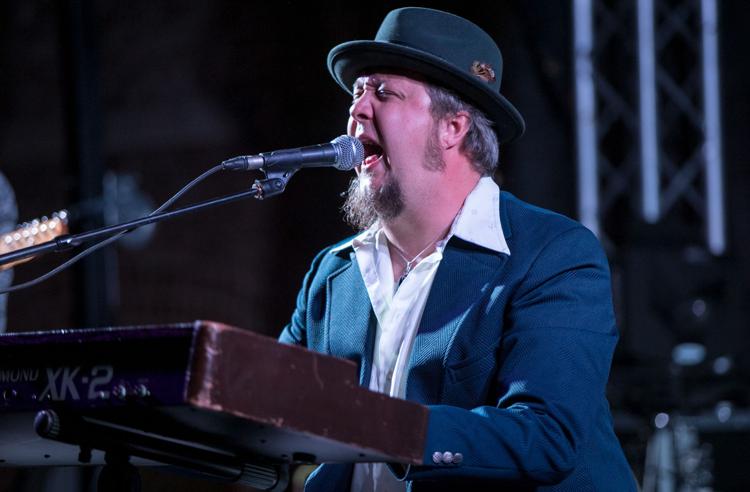 The Lied Center for Performing Arts has continued to remotely entertain its patrons during the last few weeks through its Lied Live Online series. On Friday, soul artist Josh Hoyer will continue the weekly set with a live-streamed concert at 7:30 p.m. on the Lied Center's Facebook page.
Based in Lincoln, Hoyer has been touring for the past eight years with his band Josh Hoyer & Soul Colossal. Hoyer said the band has played in 38 states and nine different countries, performing 125-150 shows per year. Combined with his solo concerts, he estimates that he plays about 200 gigs per year. 
Hoyer was a contestant on Season 12 of "The Voice" in 2017 and was eliminated during the battle rounds as a member of Team Blake Shelton. Although Hoyer said he enjoyed competing on the show, he was happy to return to the freedom of life as an independent artist.
"There may have been a little bit more name notoriety there the first year or two after doing that show, but more than anything, I'm still an independent artist," Hoyer said. "I don't have a booking agent, I do all that work myself … It was some kind of out-of-body experience a little bit, being on television and all that, but I prefer what I've done before and what I've done after, which is to play for people in music venues and meet people from all over the place, and really have the music make a connection with people."
Hoyer said he's already comfortable performing via livestream, as he experimented with it on his own before the Lied Center reached out to him. 
"It's similar to being in the studio where you're just on your own and still trying to … capture that live magic that you get from a live show," he said. "The only difference was that you could see the little emoticons bubbling up on the screen, so you know that there's people that are out there and you're connecting with them on whatever device they're watching on."
Hoyer said he has tried to keep his live-streamed concerts fresh by playing different sets each time. For his Lied Live Online show, Hoyer will play songs exclusively from one of his previous bands, Son of '76 and the Watchmen. He said viewers should expect story-oriented folk music with a bit of a New Orleans influence.
Like many performers, Hoyer said his gigs have completely dried up since the COVID-19 pandemic began to take hold across the country. He said live-streamed concerts like this are a good way to continue to support musicians during an extremely challenging time.
"The thing about musicians is, in this business, you have to plan tours six months to a year in advance," he said. "So, it's something you work toward for a long time and then it's yanked out from underneath you, and it's like, 'Aw shoot, now what.'"
In a time of mass social distancing, Hoyer said he hopes his concert will help bring people together and remind them they aren't alone.
"I did a livestream last weekend of material that I've written in the last two weeks that were a direct kind of meditation in response to what's going on currently," he said. "I went through all the comments afterward and responded to everyone, and it's cool to see people still reaching out and needing that human connection through music, particularly during this time."