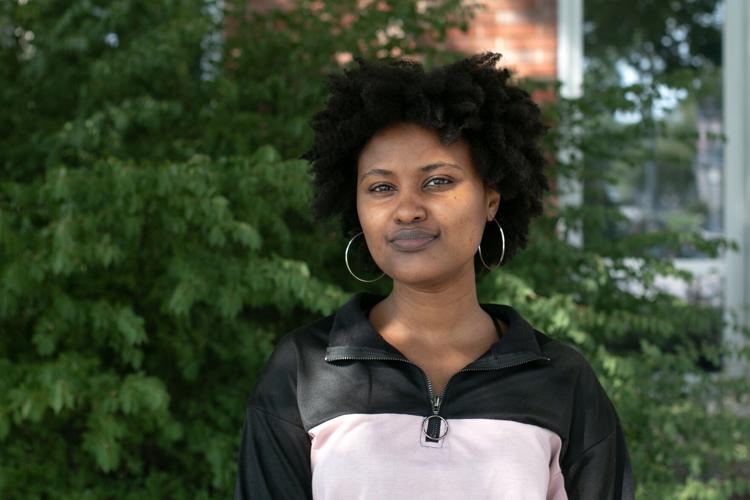 When Clare Umutoni made the immeasurable move to the United States from Rwanda as an international student in the fall of 2019, she said she expected a rewarding journey full of personal and academic growth. What she didn't anticipate was living in America during a global pandemic, online classes and a travel ban. 
Umutoni, a sophomore integrated science major at the University of Nebraska-Lincoln, said she had always wanted to study internationally. She desired a broader education in a more developed nation to gain skills she could take back home to Rwanda. She knew she wanted to pursue her education in the United States and subsequently decided to come to Nebraska.
"I'm not a very outgoing person," Umutoni said. "I like a calm place. I like a place where there aren't very many people. I did my research, and I felt like [Nebraska] would be a best fit state for me."
Back in Rwanda, Umutoni took a nine-month-long course through EducationUSA to prepare her for what she would experience here in the United States. The class helped her adjust to American culture before arriving here. What she wasn't prepared for, however, was the volume at which most Americans speak. 
"In my country, talking very loudly is a sign of disrespect," Umutoni said. "So, when I came here, I felt like I was speaking at full volume, but people still couldn't hear me. I had to learn how to adjust my voice to the people around me."
There were other adjustments she had to make as well, like withstanding the humidity, eating on her own time and other mundane aspects of life Americans may not think about on a daily basis. 
Umutoni said she expected to struggle in classes at UNL. She predicted the university to have a higher level of difficulty than what she was used to, and feared that would cause her to fall behind. Instead, she found that the university provided many resources that made it easier for her to adapt to the way students learn in the U.S.
"I was very amazed by the professors here," Umutoni said. "They made things very easy for me. I'd go to their office hours and get to know them on a personal level and they would get to my strengths and weaknesses. Then, they'd be able to check up on me in class and make sure I was keeping up with the material."
Additionally, Umutoni learned that working with her peers helped her to stay on track in classes because she was able to compare her progress with that of other students. She was also able to see American students' fast-paced approach to answering questions and learn how to better navigate the new learning environment.
Umutoni found she was able to adapt quickly due to that fact that she made friends much more easily than she had initially expected. She said she was surprised by how outgoing the people she met were and how they put in the effort to follow up with her and develop a friendship.
"I'm an introvert. It takes time for me to connect with people I don't know," Umutoni said. "I expected to go a whole year without friends, and I was so ready to adjust to that and accept that, but then it was different. In less that a month, I had friends everywhere."
Despite being from different cultures and backgrounds, Umutomi has been able to create meaningful relationships throughout her time at UNL. One such friend is Claire Eltze, a junior business administration major at UNL, whom she met through Navigators, a Chistian ministry group on campus.
"It has been really awesome to get to know Clare," Eltze said. "We really grew together through Christ and have been able to share our struggles despite our different cultures. Her stories always interest me, and I am always learning new things from her about both Rwanda and the way she lives her life." 
In addition to Navigators, Umutoni quickly got involved on campus with clubs like Toastmasters and the Rwandan Student Association. Between school, friends and clubs, Umutoni said she didn't have much time to miss home — that was until COVID-19 hit. 
During her freshman year, Umutoni, along with the other students from Rwanda on campus, were supposed to go home for winter and summer break. Due to the travel ban, however, they were unable to do so. The ban was especially difficult for Umutoni after her Grandma died and she was not able to return home.
"I was very close to her," Umutoni said. "When she passed away, I couldn't believe it even though she had been sick the whole time. And then not being there to at least be able to attend her funeral was very hard, and it was really hard to not be able to be there for my mom."
Despite the hard times, Umutoni said she has not once regretted her decision to come to UNL. She said she knew what she was getting into when she decided to come, and instead of dwelling on the bad, she decided to take it in stride and then move on. 
"A character trait about me is that I'm a very adaptable person," Umutoni said. "When something comes up I allow myself to feel it, but I know it has an expiration date. I go through it, but then I give myself a deadline to get over it."
Despite the chaos during her freshman year due to the pandemic, Umutoni is looking forward to the years ahead before returning to Rwanda after college. 
"2020 has taught us that you can have plans, and then they all fall apart," Umutoni said. "After graduation, I want to go back to Rwanda and do my grad school online. After that, I want to start working and begin my life back home."
This article was modified at 6:03 p.m. on Sept. 25 to clarify Umutoni's experience making friends at UNL.