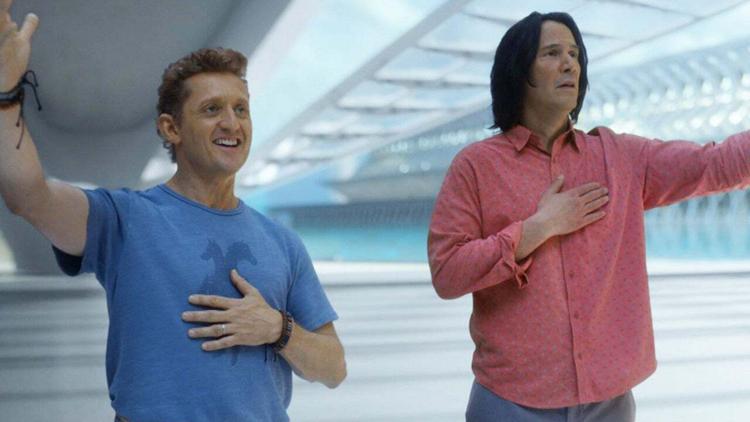 I should mention right off the bat that I'm by no means a diehard fan of the "Bill & Ted" movies. I saw the first film a few years back and had a pretty good time with it, but I never bothered watching its sequel nor have I revisited the first film.
With that said, I was looking forward to "Bill & Ted Face the Music," the third and likely last entry in the franchise. I'm a big fan of Keanu Reeves, and this series as a whole is just so unapologetically dumb and fun that I thought it could be a nice, temporary relief to the stressful year 2020 has been.
"Bill & Ted Face the Music" is exactly what I thought it would be.
The movie doesn't try to be anything other than what one might expect. It's a simple, yet strange 90-minute time-traveling romp that's tinged with the essence of rock and roll, jam-packed with a brainless yet incredibly charming sense of humor. 
The film sees Reeves and co-star Alex Winter return to the roles that made them famous in 1989. Though the two have had vastly different careers over the past three decades, they seamlessly come back together and recapture the most excellent chemistry they had in the first film. The film also takes place 30 years after the previous entries, and in that time Bill and Ted became fathers. However, these characters haven't changed at all. They're still the music-loving doofuses that audiences love, providing plenty of opportunity for Reeves and Winter to just relax and have fun with these characters.
"Bill & Ted Face the Music" once again follows the titular characters on their quest to write an epic song that will unite all of humanity and save the universe from an unexplained and heinous apocalyptic fate. Their journey takes them into the future, as their logical answer is to just go take the song from their future selves who already wrote it, putting the two into some truly absurd situations. This plotline makes for some pretty entertaining moments of Reeves and Winter acting not only off each other but off themselves, playing even more ridiculous futuristic versions of Bill and Ted.
The supporting cast of this movie is surprisingly solid as well. Though there are all sorts of stellar supporting performers, such as Jillian Bell, Beck Bennet, Kristen Schaal and Anthony Carrigan, the real show-stealers are Brigette Lundy-Paine and Samara Weaving. 
Lundy-Paine and Weaving play Bill and Ted's daughters, Billie and Thea — unsurprisingly, Billie is Ted's daughter and Thea is Bill's. The two were wonderfully cast. The characters are virtually carbon-copies of their fathers, and both actresses are able to pull that off remarkably well. The characters have the same almost-moronic mannerisms and have undoubtedly inherited their love for each other and an affinity for rock and roll. Lundy-Paine and Weaving also have fantastic chemistry together, and, though we've seen Weaving before in films such as "Ready or Not," I'm excited to see where they both go because every scene they're in is an absolute blast. If I'm being honest, I might have even enjoyed their subplot more than the core narrative surrounding their fathers. 
Admittedly, "Bill & Ted Face the Music" is far from a perfect movie. 
There are loads of things in this movie that don't work the best, such as a recurring bit about a murderous robot chasing Bill and Ted, but I think a majority of the film's issues can be forgiven simply because the movie isn't trying to be perfect. It's just trying to be a silly, nostalgia-filled movie looking to provide some dumb fun to its viewers.
It's a lighthearted laugh that doesn't try to be anything more than it is. When looking at the film through that lens, "Bill & Ted Face the Music" is as bodacious as it is excellent.