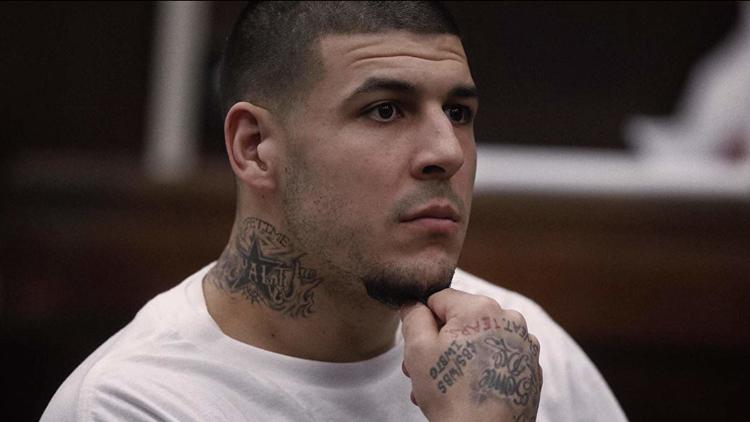 Aaron Hernandez grew up in Connecticut with an abusive family, using football as a way to escape the negativity in his household. After a successful run with the NFL Patriots, Hernandez was convicted of murder.
Netflix released "Killer Inside: The Mind of Aaron Hernandez," its newest true-crime documentary, on Jan. 15. It's a vicious three-episode series discussing Hernandez's life narrated by Hernandez's friends, family and former teammates. Throughout the series, recorded voice calls from Hernandez provide a glimpse of his emotions from within jailhouse walls. 
The show introduced the clashing duality within Hernandez — a gentle giant with a murderous ticking time bomb, derived from his abusive childhood household. It spans across his time as a star player in the NFL, to his death in his jail cell.
On April 15, 2015, the former Patriots tight end was convicted of murdering Odin Lloyd. He became nationally known as a villain for murdering Lloyd, which didn't help clean up his reputation after his alleged murders of Daniel de Abreu and Safiro Furtado in 2012. With the help of a celebrity attorney Jose Baez, Hernandez was acquitted of the charges.
The series is an expansion of director Geno McDermott's 2018 documentary "My Perfect World: The Aaron Hernandez Story." It covers the same concepts, but the Netflix series dives deeper into Hernandez's home life, the ups and downs of the NFL and his alleged hidden bisexuality.  
Neighbors and his high school best friend appeared in the show and emphasized that his actions were a result of being bisexual, which directly corresponded to the dual life he had been living since childhood. He grew up with a strict father who would have never accepted his sexuality. After his father's death, Hernandez's professional football career didn't allow him to be open about his sexuality.
It was later found that, after experiencing repeated head trauma, Hernandez developed Chronic Traumatic Encephalopathy, a brain condition that can change a person's personality, mood and behaviors. In more severe cases, the condition can lead to violent impulses. 
The dedication Hernandez had to his team and the NFL unfolds in "Killer Inside," which depicts the exploitation and harshness of a professional sport. The series portrayed him as eager and talented, which made him a success on the field. Off the field was another story, depicting him as introverted without many friends on the team. He was painted as standoffish and hard to get along with. Because of this, he was able to live a double life many knew nothing about.  
As the series continued to the final episode, Hernadez's friends, family and acquaintances became stiff talking about his death. On April 19, 2017, Hernandez was found hanging by a bedsheet in his prison cell at Souza-Baranowski Correctional Center in Shirley, Massachusetts. There was no real answer or explanation as to why he took his own life, but the combination of multiple bad decisions and a broken upbringing indisputably contributed. The series' creators left it up to the viewer to determine what kind of person Hernandez was. The show gave a variety of hardships in Hernandez's life that could have contributed to his suicide, leaving the audience with many questions.  
The upbringing and culture that surrounds a person can change and affect that person forever. "Killer Inside: The Mind of Aaron Hernandez" showed that even with talent, one's upbringing can ruin everything.