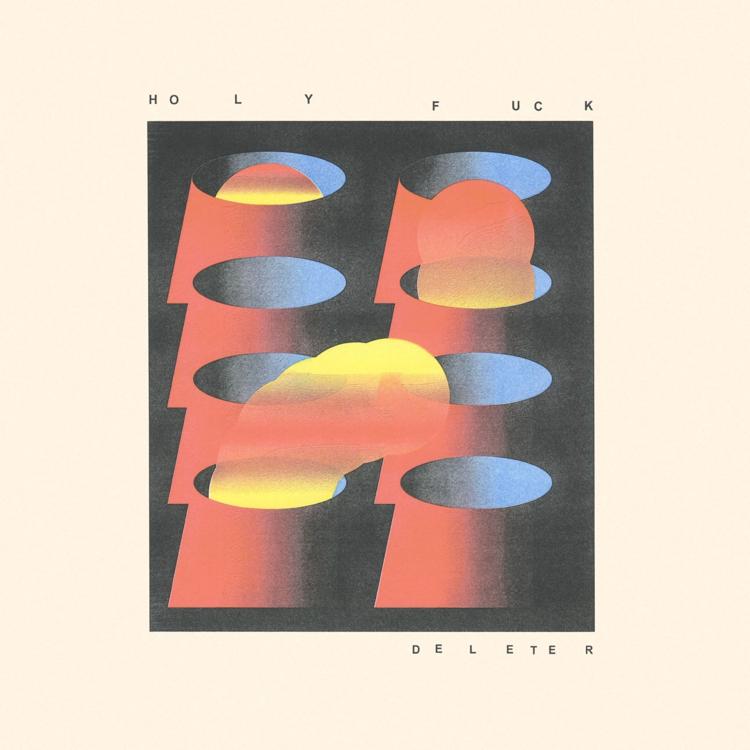 The art of picking a stage name is what I would consider the most underrated aspect of being a musical artist. The band name is often the first thing prospective fans hear, and it can make or break the recruiting process of new supporters and listeners. Names like The Sex Pistols, Led Zeppelin and Butthole Surfers all set a specific identity. They give a preconceived notion of what the artist and their art are all about. So when I discovered a Canadian electronic band called Holy Fuck, I knew I was in for a wild ride.
It's worth noting that I've never been a huge fan of electronic music. There's something about it to me that's just unappealing. I've always found it so homogenous, so uninteresting and — when there's no lyrics to grab onto — so empty. I'm saying all of this because I want it to be clear that when I say Holy Fuck's newest album "Deleter" is really pretty incredible, it shouldn't be taken lightly.
Since the band's formation in 2004, Holy Fuck has tried to differentiate itself from other electronic groups in the unorthodox way their songs are made. Tools like splicing, looping and programming are essential in creating the typical electronic sound most listeners are familiar with, but Holy Fuck opted to use live instruments and apparatuses, like a 35mm film synchronizer, toy keyboards and toy phaser guns to create its soundscapes. Their method of songwriting lends a feeling of authenticity to every song, which immediately sets the group apart from many of its contemporaries.
The fullness and warmth of the live instruments on the album is immediately apparent on the opening song "Luxe." The song implements a heavy use of synthesized keyboards that permeates throughout the entire record, accompanied by a sharp cymbal clash beat. This instrumental backbone is built upon with the implementation of an electric guitar, reverberated brass instruments and a crashing gong, which functions as a near perfect introduction to the body of work ahead.
The songs on the album often feel less electronic and more like the alternative grunge of the early 2010s. Often the instrumentals recall the likes of Gorillaz, Silversun Pickups and even Arcade Fire, with very front-and-center guitar riffs, blown-out sub-bass and ethereal acoustic guitar strumming. This resemblance is even more apparent when the band uses lyrics and traditional song structure on songs "Endless" and "Near Mint," in which the vocal work is bathed in a distant, distorted sheen over every verse and chorus.
More conventional electronic music gets to shine as well. The track "Deleters" is a synthesized rollercoaster injected with neck-breaking hi-hats, deep 808 bass drums and distorted vocals that become a mainstay across the entire album. 
"Moment" is also a standout electronic piece. The instrumental is bombastic and in your face, opening with fast-paced bongo drums and pulsating electric guitar strums. These sounds become drowned out by nonstop electric piano keys and intensified trap drum sounds to create some very authentic electronic sonics.
The weakest song on the album is "No Error," which is held together by a repetitive guitar progression, uninteresting trap drums and vocals so heavily distorted they become insufferable. At the end of the track, an equally distorted guitar solo slashes through the rest of the mix, it becomes so sporadic and unpredictable that it's difficult to listen to. Thankfully, this song is the albums shortest.
The other eight songs on the track list give the band plenty of time to experiment inside the musical playgrounds they've created for themselves. In most cases, the sparse vocal delivery and intermittent lack of lyrics work in the group's favor, as the various instruments can be brought in and out at the drop of a hat, tempos can change at random and songs can go from bombastic and assaulting to reserved and timid so quickly that many of the transitions are missed entirely. This works incredibly well to keep songs feeling fresh and unpredictable, despite many of them running over six minutes.
By the time the final song "Ruby" was ending, I was unsure how to process the album I had just heard, but knew I needed to hear it again. On my second, third and eventual fourth listen, new details, nuances and quirks from the band were present on every song. The love, time and care put into crafting the 41-minute album doesn't go unnoticed, and I strongly recommend Holy Fuck's "Deleter" to both fans of electronic music and anyone looking for something fresh.