For 12 years, laughter has poured out of the Tangerine Hair Artist Salon, a small, retro parlor that looks down on O Street from its perch above Duffy's Tavern.
Owner Ciara Searight opened the salon in March of 2008 to help new hair artists hone their talents.
"You're there daily, you have to enjoy your job — especially if it's something you went to school for. You just want to be happy where you're at, so it doesn't feel like a job," Searight said. "I've been really lucky to have the people that want to come here and work."
Searight said she chose to open the salon downtown to stay in the "heart" of Lincoln. According to Searight, the name was inspired by the song "She Don't Use Jelly" by The Flaming Lips.
Along with the location and the name, Searight has carefully selected four other stylists to work alongside her, such as Jamie Owen. Owen said each employee is well-rounded, but they also recommend one another for certain types of hair designs.
"We're a big, weird, dysfunctional family," Owen said.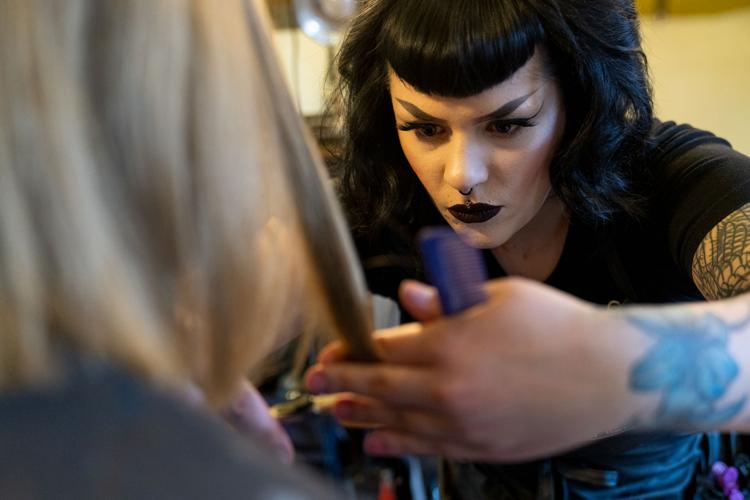 Owen said she values the close-knit atmosphere at Tangerine that not all salons provide. Some of her customers travel from Omaha every month to get their hair done and to catch up.
"I've grown with my clients so much that now I have clients who lived in apartments and are buying houses," Owen said. "They get really excited because I own a house, and we share pictures."
Employees at Tangerine Salon rent their space instead of making a usual week's salary. As independent contractors, they rely on their clients.
Tangerine Salon averages 100 to 150 clients a week, and Searight said the staff values each relationship formed. A majority of the clients are frequent customers, and some travel from around the world to have their hair done. Searight said she has one customer from Scotland and another from Los Angeles who only trust her to do their hair.
"You get to see your clients more often than friends, and they become your best friends," Searight said.
Cosmetologist Stuart Nelson said he took a pay cut by working at Tangerine Salon, but the empowering feeling of independent work keeps him around.
Tangerine Salon has its usual hours available for walk-ins and appointments, but the staff members are also willing to be at the salon whenever their clients need them. 
"'Can't' isn't really a thing ... in the salon," Nelson said.
While interacting with numerous strangers each day, Nelson said his favorite part of the job is the connection he gains from his clients after finishing their hair.
"I was definitely in it for the creative process, but what's kept me in the industry is that I've become utterly addicted to that 'aha' moment when you turn your client around in their chair," Nelson said. "There's nothing like it when you get exactly what they wanted, and you know they feel beautiful. It's honestly quite intimate when you know you made them feel strong or confident. It's a very empowering thing for me."