In its third annual project showing, the University of Nebraska-Lincoln College of Architecture presents the Project 2019 Exhibition. This exhibition features master of architecture student works and thesis projects from the 2018-19 school year. A major theme in this year's exhibition is housing. The projects look at housing through several different perspectives including affordability, scale, maximizing space and potential for artificial intelligence.
The exhibition will be held in the Architecture Hall at UNL until Oct. 6, and will be free and open to the public on weekdays from 8 a.m. to 5 p.m. On Oct. 4, the College of Architecture will also hold a closing reception for the exhibition from 5 to 7 p.m. 
Ellen Donnelly, an assistant professor of architecture at UNL, explained that each year, the curator of the exhibition does not have a theme in mind for the exhibition when they are collecting their students' work. The curator simply gathers the individual projects, then analyzes them for rising themes because each year there is a different focus or trend in the projects.
"What was interesting this year was the large emphasis on looking at housing through several different lenses," Donnelly said. 
For example, there is a project by Violet Bast, a professional year three student in architecture, that is showcased in the exhibition that has a focus on the scale of the house for a single family, in comparison to a multiple family home, and its ability to adapt and grow with the family. Bast does this by looking at the possibility of plug-in multiplex housing units.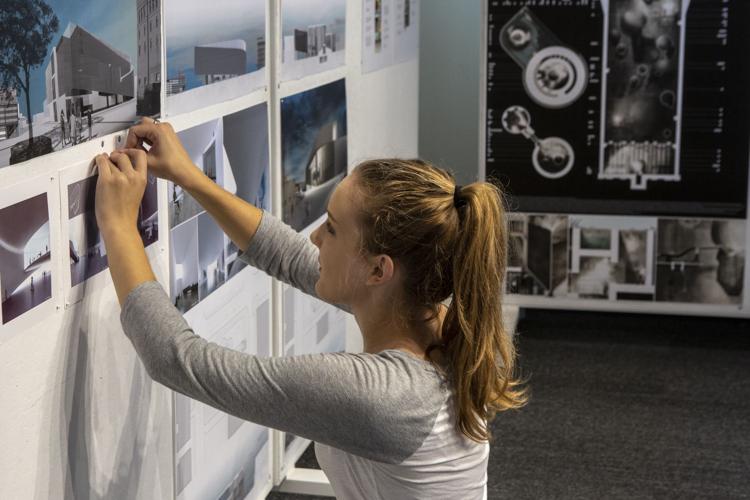 Neely Sutter, an alumni who graduated in May 2019 with a Masters in Architecture, focuses more on the exterior versus the interior and the visual disparities of the space inside an American home. Sutter looks at the spaces that go unused in homes, such as the area behind the fireplace. Her concept is to use that space and build it into a part of the home, kind of like a secret room. 
The exhibition is a collection of 11 projects by students and each one differs in concept, but according to Sarah Deyong, the program director of architecture at UNL, they are similar in what they speak to. 
"They all really speak to the history of our discipline, the idea of recreating how the architect and client are actually co-creating the house," Deyong said. "It goes back a long way, at the beginning of, I would say, the 20th Century, and you can see that translated in some of these projects."
According to Deyong, Architecture is inherently collaborative because so many people and factors need to be included and considered in the design and construction of any kind of building. Exhibitions are an excellent form of collaboration since it gives architects a chance to discuss their work with others. This is why exhibitions became a very embedded part of architecture. 
"Architecture is very visual so having an exhibition is a good way to communicate what we do to others," Deyong said. "The text becomes almost like a caption."
According to Donnelly, architecture exhibitions have risen in popularity. However, most of them are only ever seen in local colleges of architecture. For architects, exhibiting their work is an important part of their process because it not only educates the public, but it also creates a place for people to come together and begin a broader conversation on how architecture ties in with other subjects as well. 
"The motivation was really to celebrate the work coming out of our Master Architecture program, our thesis students and design research studios," Donnelly said. "And to be able to engage in disciplinary discussion because I think architectural education is a kind of mystery to students outside of the study."