Combating human trafficking in today's world can be done in multiple ways. The University of Nebraska-Lincoln International Justice Mission chapter plans to fight this issue by turning the Nebraska Union into an impromptu thrift shop to raise money for the International Justice Mission. Accepting donations from students, as well as members of IJM's friends and family, the chapter's income from the clothes sold will be used to further the outreach for those still enslaved and build back up survivors.
IJM is the world's largest anti-slavery organization, focusing on eliminating slave trade all around the globe. The volunteers work with local police to rescue those who are enslaved and help restore the lives of survivors with professional counseling, education and skills training. IJM has helped rescue more than 49,000 people from both slavery and other forms of sexual violence.
The pop-up thrift store Threads will feature fresh finds for any fashion-minded students. Threads will be up and running from 1-5 p.m. on Nov. 11-13 in the Nebraska Union Food Court hallway.
The UNL IJM chapter fights slavery through fundraising, prayer and advocacy. UNL IJM was recently created at the beginning of the fall semester by Joy Karges, chapter president and senior global studies major.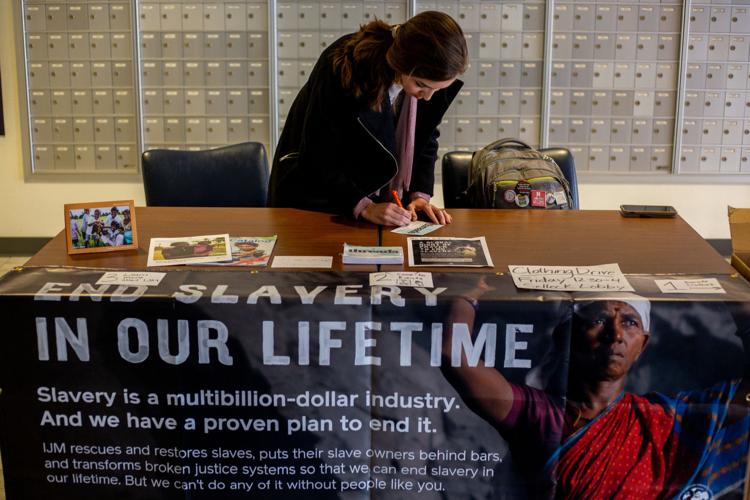 "I started IJM at UNL because I started learning about all the injustice happening around the world, and I wanted to do something about it," Karges said. "Soon after praying about it, someone from IJM came to ask if anyone wanted to start a chapter at UNL, and I knew this was the opportunity I was looking for."
The all-volunteer organization is composed of a group of students led by supervisor Chelsea Sernett. As a fellow volunteer with IJM, Sernett serves as the student coordinator for all Nebraska chapters consisting of UNL, University of Nebraska at Kearney and Concordia University. After learning about the horrors of human trafficking and sexual violence around the globe, she said she wanted to do something that would make a difference in the world.
"Growing up in central Nebraska, I honestly didn't realize that slavery still existed in today's world," Sernett said. "I was naive, and maybe a little too optimistic, to believe there are still individuals who prey on the vulnerable and impoverished." 
The UNL IJM chapter wants students to become more aware of the organization's existence on campus and hopes others will want to join the cause. 
"The goal of this thrift shop is to raise as much money as possible to go toward the IJM staff and rescue operations in countries around the world," Karges said. "We also hope to spread awareness about the reality of modern day slavery and the organization of IJM. Our ulitmate goal is to see an end to modern slavery in our lifetime."