A bright pink light, the smell of smoke and the vibrations of a guitar resonate from the apartment of Paul Swope, a local music artist. Up the three flights of stairs, a wide-open door reveals a dimly-lit, laid-back atmosphere.The living room is filled with guitars, keyboards, a drum set, microphones and vinyl records, and the walls are braced with various pieces of decor, including a portrait of Elvis Presley and Tim Allen's mugshot.  
 This is Swope's makeshift home studio, where he has recorded over 20 original songs. Swope goes by the pseudonym of Swaul Pope, a name that originated ironically from a friend calling him this while waiting to see the actual Pope in the Vatican's Papal audience. 
Since 2016, Swope has recorded in five different studios, which has kept him busy as he hopes to release his first album in two or three years. Currently, he is releasing a single every month. In addition to creating, Swope can be found performing alongside Andy Vaggalis and Past Casual, a group led by another local artist, Madeline Reddel, on Nov. 20 at Duffy's Tavern located on 14th and O Street.
 Since the age of nine, Swope has striven to make his own music. After graduating from Scotus Central Catholic High School in Columbus, Nebraska, Swope decided to attend Franciscan University of Steubenville with a major in philosophy.  
"I value education for the sake of growth and learning itself," Swope said. "Philosophy taught me that if you take it seriously, it's worth something that money can't buy, and that thing is peace." 
After his time in Ohio, he spent six months in Denver, where he dove into the local music scene. Now that he is living in Lincoln with his support system of friends and fellow musicians, Swope considers Lincoln to be the perfect size and culture for his music and personality.
 After working various jobs over the past three years, Swope has consistently returned to music and writing. Having dropped out of college, he works day and night to obtain the goal of being his own boss.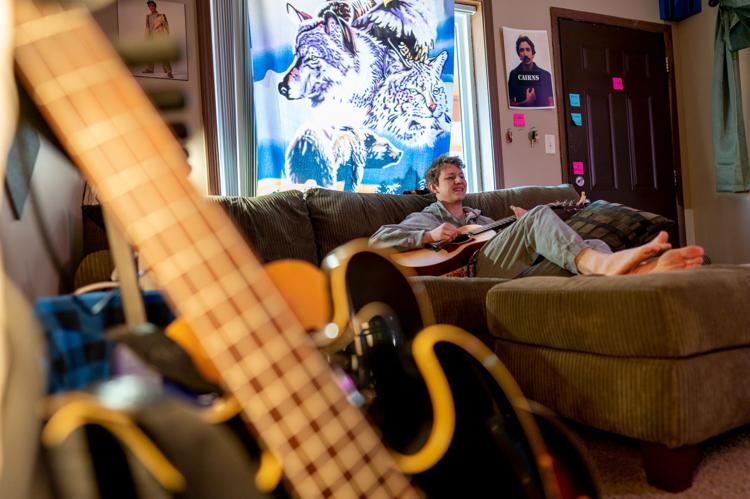 "I realized if I loved writing music the thing that was the most important thing to invest into it was my time," Swope said. "And that meant that I had to go all-in as soon as I possibly could. So I decided then and there to drop out of college and make music my goal at the end of every day."
 In addition to practicing and working on his own music, he has allotted time for collaboration with local artists such as Tony Connot, the lead singer of the rock band Thrust Watson, Noah and Chloe Gose from the old-time country-folk sound band The Wildwoods and Andrew Vaggalis of Andrew Vaggalis — a new folk-funk band.
Vaggalis, a 23-year-old musician and manager at Glass Edge, Inc., met Swope about four years ago. Since then, the two naturally shared their passion for music and decided to join forces and make tunes together.
"About two or three months ago, I started playing bass in [Swope's] group and that's where the musical relationship really started," Vaggalis said. "It's been a trip digging into these songs from a structure standpoint."
 Since meeting, Vaggalis said he has received musical guidance from Swope. This guidance has aided Vaggalis due to the risks Swope takes — always thinking of the next way to make something individualistic. Even though their styles are different, Vaggalis expresses that it's hard not to get inspired by Swope's story-telling lyrics.
 "Depending on the song, his lyrics can provoke thought or make you laugh or both," Vaggalis said. "It makes butts wiggle. It makes one's idea of what music can be and opens the door a little more."
 Swope said he doesn't believe in genres as a musician and finds it hard to describe his own music to himself and to others. He said he gathers inspiration from relationships, conversation, public interactions, books, art and internal social commentary, leading him to argue that there is inspiration all around us.
 "I have songs that lean towards modern funk, such as my newly released song, "Melt," and I have songs that I might think of folk, soul, contemporary blues, orchestral, cerebral, ethereal, abstract or simply its own genre," Swope said. "I never like to describe what can be heard … because I believe it defeats the purpose of the music."
 Being a recording artist and his own boss is not yet financially stable for Swope — but his consistent dedication and progression is getting him closer to his goal. He persists in his music to give people hope for a more meaningful life, beginning with the way one presently goes about living.
 "I think inner peace is the most important thing to master and I want to help people to join me through my music in my search for inner peace," he said. "I want to make it known how precious time is and how small and fragile it is, and ultimately I want to use my time on this earth in the most giving way as I can muster."