The Kindler Hotel, downtown Lincoln's new boutique hotel, could be mistaken for a posh upscale New York or Los Angeles luxury accommodation. Upon entering, one is greeted by high ceilings with a beautiful chandelier reminiscent of wind chimes. To the immediate left are small marble breakfast tables. The entire interior is a dark, marbled tone, which gives off the air of sophistication and grace. 
Owned by Nick Castaneda, the hotel opened its doors in January 2019, and the finishing touches are still being put in place to ensure the utmost quality care for its customers. The boutique combines a modern art-deco feel with five-star service centered around its guests.
The hotel is named after Ken Kindler, the father of Castaneda's wife. Kindler was a metal sculptor in Lincoln who died in 2014. Many of Kindler's sculptures and other artwork are featured on the property of the hotel, which adds to the hotel's goal to showcase Nebraskan culture.
Along with Kindler's artwork and sculptures, the hotel showcases a modern neo-classical and art-deco design. In its adjoining property, the hotel also features a ballroom and Boitano's Lounge, which has a menu of cocktails created by Olympic figure skater-turned Food Network star Brian Boitano.
Adding to the hotel's luxurious aura, each facet of the property was designed by Ross Vincent. Vincent is a Beverly Hills-based designer who has been featured on FOX News and KTLA, a Los Angeles news channel. He has also been the feature of interior design magazines such as San Diego Home and Garden Lifestyles, 944 Magazine and Riviera Magazine.
"He designed chandeliers to resemble wind chimes, which Mr. Kindler used to design," said Michelle Ventor, Director of Sales and Marketing and University of Nebraska-Lincoln alum.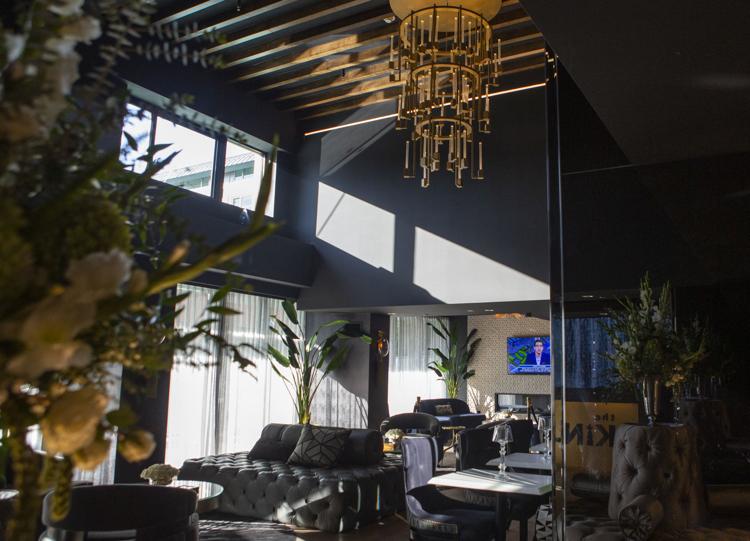 Besides the extravagant decor and bar service, The Kindler Hotel is also extremely focused on customer service and care. Ventor explained the training that goes on for the staff, as each member takes an entire course revolving around professional hospitality. Staff is regularly communicating with Ventor to strengthen their skills to work with high-end clientele.
"I sit down with our staff and work with them on communications. How to professionally communicate with a guest of this caliber, how to go above and beyond without getting in their way," Ventor said.
One of the biggest assets to the hotel is its small size, consisting of only 49 rooms. Because of this, the staff is able to provide very refined service and cater to each individual's needs and preferences.
"We can make everyone's stay super personal," Marketing Coordinator and UNL alum Jordyn Champoux said. "If we know it's someone's anniversary or a special occasion, we can have flowers in the room or chocolates or champagne right there for them when they come in."
The hotel not only has cutting-edge design and high-end hospitality, but it also works with local vendors from around Nebraska.
"All of our snack baskets have locally-curated products," Ventor said. "We're offering Arbor Day coffee. We want to support local, we are supporting local. This is not a branded property." 
Ventor said the goals for the hotel are reaching full occupancy throughout the year and expanding its appeal to the working class of downtown Lincoln. Boitano's Lounge is open daily to the public, which makes it possible to cater to the lunch hour and be booked for dinners and evenings as well.
Another big goal for the hotel is to launch the Elite Husker Packages, which will be offered in 2020. These packages will provide customers with the ultimate Husker game day experience.
Perks to the package include a two-night stay at the hotel, a champagne Sunday brunch and shuttle services to and from Memorial Stadium and downtown Lincoln. Castaneda also wants to expand in other markets, specifically in the Midwest. 
The Kindler Hotel's staff said they desire to expand and to be the standard for hospitality and luxury within the market by providing excellent service and individual attention to its guests.
"Long story short, for the future, I want each and every guest to be happy and have a good experience," Ventor said.